Grootste Knaagdierwinkel van Europa

Altijd 14 dagen bedenktijd

Zaterdag verzending

Ordered on weekdays before 5 pm, shipped the same day!
Product description
HayPigs Circus Hay Wagon 23 cm
Hay and grass make up 80-90% of a healthy diet for guinea pigs and they love it! This quirky circus wagon-themed hay stock will literally make your guinea pigs jump with excitement when they discover it's filled with their favorite grasses and hay!
✔ Encourage your guinea pig with a food challenge
✔ The cart is accessible from both sides
✔ Made from chewable pet-friendly wood and stained with pet-safe paint
The cart is made of non-toxic materials so that your guinea pigs can nibble on it safely. It also has a lid, so your CAVIAS don't accidentally scramble in! The rack can be filled with a variety of flavorful hay, grass and roughage, providing your guinea pigs with plenty of fiber. This aids their digestion and keeps their teeth worn out.
This hay rack is suitable for use as a basic hay rack.
A good hay rack
A good hay rack should be made in such a way that the rodents can get their muzzle part between the bars, but this usually only works very well with vertical bars (because most animal noses are not that wide, but they are high / long). However, the animals must not be able to stick their heads through, otherwise their heads can get trapped between the bars. If you see that the head of your rodent can pass through the bars and get trapped, take the rack out of the enclosure and choose a rack with a smaller distance between bars.
How wide the bar distance should be depends on the animal species, roughly the following distances are common for the following animal species:
Degus: 2.5 to 3 cm
Chinchillas about 2.5 - 3 cm
Guinea pig: about 3 cm
Dwarf rabbits: about 3 - 3.5 cm
Medium sized rabbits up to about 4 cm
Large Rabbits: up to about 4.5 cm
Specifications
| | |
| --- | --- |
| Size: | 23 x 11,5 x 22 cm |
| Suitable for: | Rodents, Guinea Pig, Rabbit, Chinchilla, Degu |
| Particularities: | - |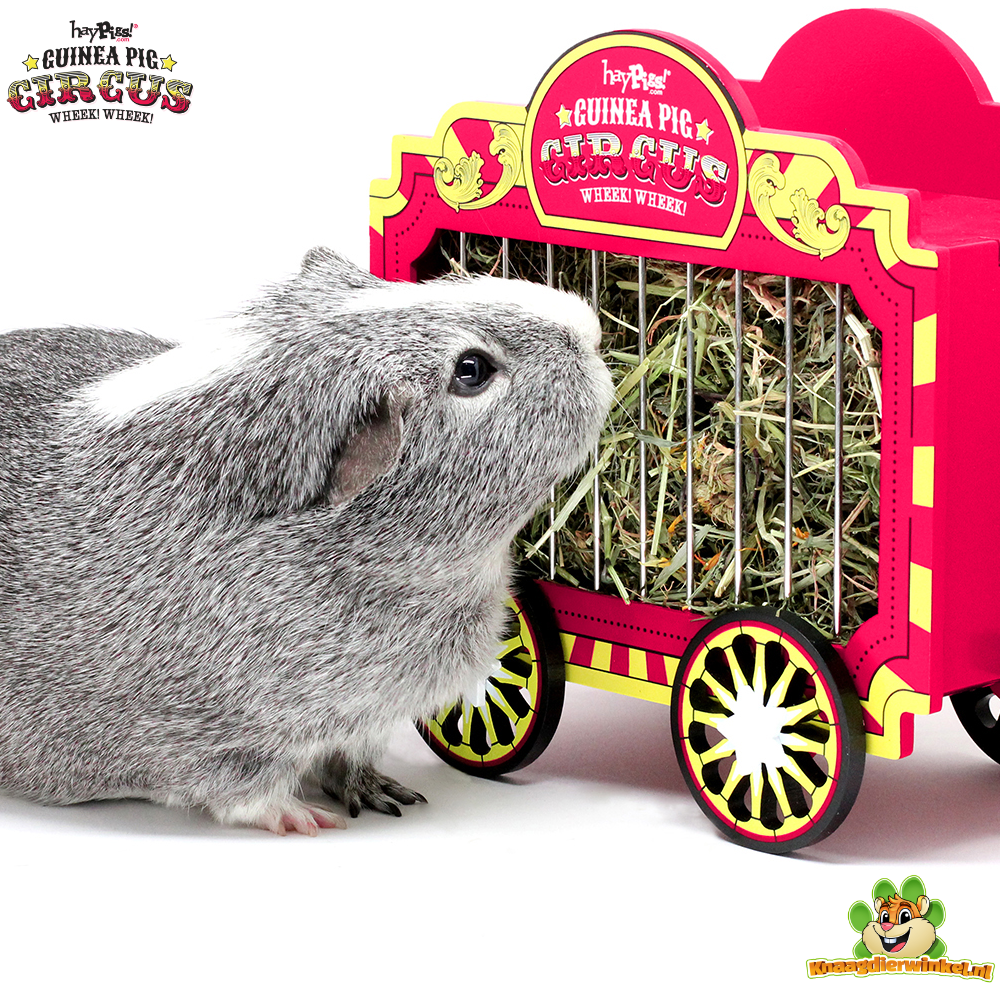 Leuke hooiruif. Let op: je moet deze wel zelf in elkaar zetten. Dit vond ik niet erg, maar wel iets om rekening mee te houden.
Melissa
13 September 2020
Wij hebben er 3 voor 6 cavias! Echt fantastische