Wooden Willow Bridge 55 cm
Zaterdag besteld, maandag in huis!

Altijd 14 dagen bedenktijd
Veilig en achteraf betalen
Product description
Trixie Wooden Willow Bridge 55 cm for small rodents
This wooden suspension bridge is attached with the ends at two random spots in the rodent stay. The willow bridge is flexible enough to bend and at the same time stable enough not to collapse under the weight of the Mouse, Gerbil, Hamster or Rat.
The Trixie Wooden Willow Bridge is approximately 55 cm long and 7 cm wide.
The bridge is made from untreated wood.
Save Save
Specifications
| | |
| --- | --- |
| Materiaal: | Wood (willow) |
| Afmetingen: | 55 × 7 cm |
| Diameter: | - |
| Geschikt voor: | Rodents, mouse, hamster, gerbil, degu |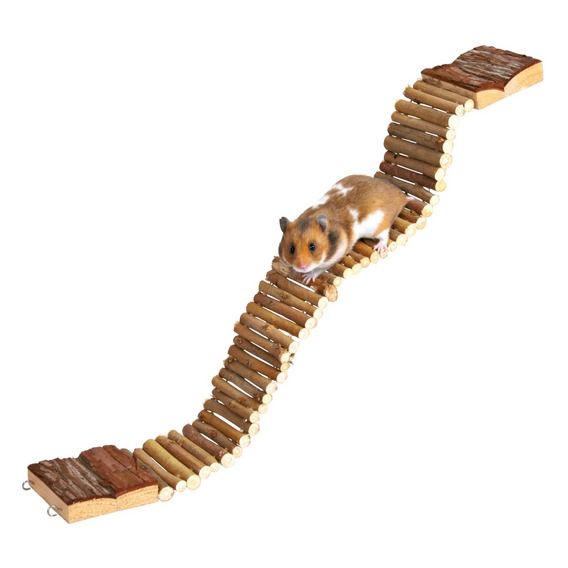 top, leuk en goed buigzaam
Goed buigzaam, mooi natuurlijk materiaal! Ik heb de haakjes aan de uiteinden niet nodig, ze zijn er gemakkelijk uit te draaien.
Ik moet even terugkomen op mijn eerder geplaatste revieuw waarin ik zo enthousiast was over de buigzame bruggen en ladders....dit formaat gebruik ik als hekjes omdat mijn hamsterhok 3 verdiepingen heeft en een hamster geen diepte kan zien. Toen ik vanavond bij mn hamstertje ging kijken vond ik haar bungelend over t hekje met een van haar achterpootjes bekneld tussen n heel smal openingetje tussen de "paaltjes".
Ik ben zo blij dat ik voor t slapengaan nog even bij haar ben gaan kijken anders had ze daar de hele nacht zo gehangen en had ze het misschien niet overleefd of had haar pootje wellicht geamputeerd moeten worden. Ik had op utube al n waarschuwing gezien dat dit vaker gebeurd maar mn hamstertje was nog nooit bekneld komen te zitten dus ik dacht eerlijk gezegd dat deze waarschuwing n beetje overdreven was...niet dus...ik ben nu bezig om de buigbare bruggen en ladders die ik als hekjes gebruik allemaal aan de uiteinden van de paaltjes te omwikkelen met henneptouw om de openingen dicht te krijgen zodat dit niet meer kan gebeuren.
Dus mensen wees hier alert op.
Tja wat kan ik nog zeggen van deze geweldige uitvinding, behalve dat de ontwerper er van een prijs zou moeten krijgen voor dit meest veelzijdige hamsterspeelgoed ooit. Ik heb er minimaal 3 van elke verkrijgbare lengte en breedte. Ze zijn onmisbaar. Je kunt er scheidingswanden mee maken..decoratieve muurtjes...bruggen..tunnels..huisjes..of ze tot allerlei klim en klauterspeeltjes buigen..echt fantastisch!
Precies zoals verwacht, bijna ommisbaar in elk knaagdierverblijf. Gebruik deze bruggen al jaren.
Super handig en stevig. Ik had er gelijk 2 moeten bestellen.
Wat een mooie buigzame brug. Onze dwerghamster is er heel erg blij mee.
Maartje L.
01 February 2018
Fijn en stevig, ook goed te gebruiken als muur voor een extra level
Leuk item om niveaus aan te brengen in de kooi. Spannend voor de hamster
Leonoor De Koning
15 June 2015
Wat ben ik hier blij mee zeg! wat een leuke brug leuk als extra muur in je kooi zodat je hamster verschillende kamers heeft inplaats van een grote openvlakte Heel fijn! binnenkort nog maar 1 bestellen.