Zaterdag verzending!

Altijd 14 dagen bedenktijd

Getest op geschiktheid

Ordered before 4 pm, delivered tomorrow!
Product description
Trixie Corner Toilet 36 cm for rodents and rabbits
Rodents and rabbits can relieve themselves comfortably and comfortably with this handy corner toilet. Most rodents and rabbits are house trained and often choose one corner of the enclosure where they relieve themselves. If a toilet is placed in this corner, it can save a lot of time and changing work!
✔ Made of plastic for easy cleaning
✔ Hygienic and easy to clean
✔ Saves ground cover
It might be nice to know that most herbivores (plant-eating) rodents such as Guinea Pigs, Rabbits, Chinchillas and Degus; like to poop where they eat. That may sound strange, but these animals have a different digestive system that is kept going by the animals eat all day long. If the hay rack is placed just above the toilet, even Guinea pigs will deposit a large part of their needs in the toilet.
The size of the toilet is important. Always have a spacious toilet for your rodent or rabbit, so that the animals have space. For smaller rodents that live in groups, a larger toilet is recommended so that it does not get dirty too quickly.
Instructions for use Corner toilet 36 cm
Most rodents and rabbits are house trained and often choose 1 corner or place in their enclosure where they do their business. It's up to us to figure out where that is. If we can figure that out, that's where the toilet should be. In the beginning, put a few old poo in the new toilet so that the animals can rely on the scent to know where to go to the bathroom.
Specifications
| | |
| --- | --- |
| Size: | 36 cm |
| Suitable for: | Rodents, rats, rabbits |
| Particularities: | - |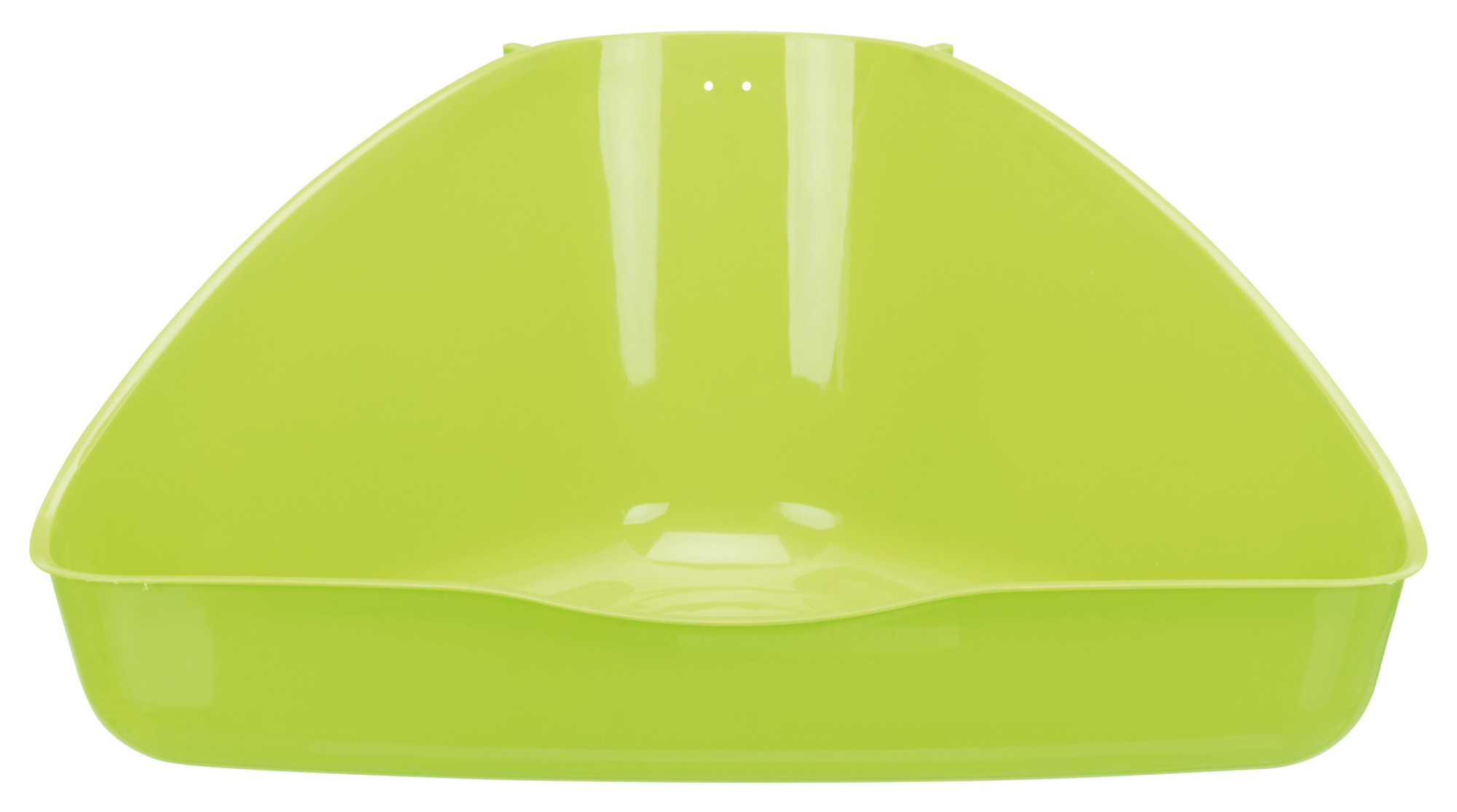 Best oke, maar de haakjes waar je hem mee op kan hangen breken snel af.
I bought this for my rats, it's good and works as it should but its a bit thinner than I expected so at some point my rats will probably chew it to pieces. Saying that, for the money it's very good.
Marlies v.
03 January 2018
Koper heeft geen omschrijving achtergelaten.
JOannie V.
03 January 2018
Heel goed voor 2 cavia's ,