Grootste Knaagdierwinkel van Europa

Altijd 14 dagen bedenktijd

Zaterdag verzending

Soon in stock
Product description
Rodent Grocery Dried Plantain for Rodents & Rabbits!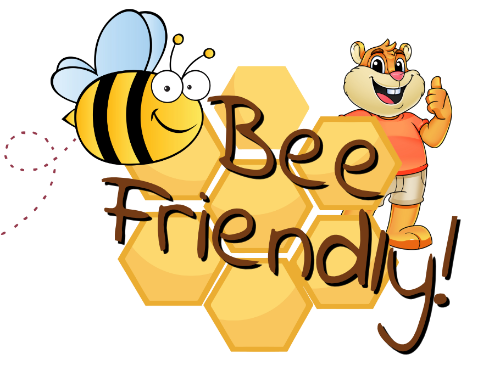 The Dried Plantain is of the highest quality. Carefully dried so that your rodent can enjoy the best quality plantain. Healthy treats with a high crude fiber content for a healthy rodent diet. With their many vitamins, minerals and trace elements, the Narrow Plantain herbs not only support natural resistance, but are also always a popular snack for all rabbits and rodents. The high raw fiber content ensures optimal digestion and thus increases well-being.
✔ Tannins
✔ Bitter substances
✔ Mucilages
✔ Flavonoids
✔ Minerals (Sulphur, Iron, Zinc, Silicon, Potassium, Zinc, Calcium, Manganese)
Plantain is traditionally used for: Bronchitis, Colds, Coughs, Insect bites, Abrasions. Stress, Blisters, Stab wounds, Toothache, Hoarseness, Kidney inflammation, Ulcers, Skin problems.
Storing herbs
It is important to store herbs in a dark, dry and well-ventilated place. Moisture is bad for the quality of herbs. If moisture gets to herbs, they can start to mold. That is why our herbs are never packed in plastic and only in paper.
! Herbs should not be stored in plastic.
Good to know
DRD Rodent Shop ® is the right place for fresh and traditionally dried herbs of the highest quality! In our herb shop you will find different types of dried herbs, leaves and flowers.
Herbs are a nice addition to the daily menu of your rodent or rabbit. How much herbs you give depends a lot on the type of animal. Guinea pigs, rabbits, chinchillas and degus will like to eat a lot of herbs.
The herb mixtures of the Rodent Kruidenier ® only contain first class quality Leaves, stems and flowers. Carefully packed in special paper (food) packaging. Directly from the grocer, so no between suppliers. The latter guarantees optimum freshness of the herbs. We store the herbs in a special dark room.
We have deliberately chosen paper to support not only the freshness of the herbs but also that of the environment. In addition, the paper bag shields better from light and allows the herbs to breathe. A suffocating plastic bag does not benefit the quality of the herbs.
Picking place of the herbs
The location of the herbs is very important. Herbs should not be picked from a contaminated area. So not next to the road, or around industrial areas. Our herbs are all picked in nature reserves.
Only the most beautiful plant is included
Only the most beautiful plant may be picked. Plants with spots, bugs or insects are not picked. A plant must be healthy and clean to be eligible for the rodents.
Harvesting herbs
Weather conditions play a major role when picking herbs. The weather should be dry and preferably sunny and windless. Those are the best conditions for picking herbs. It depends on the plant at what time of day they can be picked. Our grocer is aware of this and knows exactly what time to choose for which plant. In summer, the plants should be picked in the morning (because of the heat), before they wilt in the sun and the volatiles evaporate. So early in the morning but after the dew evaporates.
Picking herbs after a rainy day is also not allowed. The herbs are then very difficult to dry and can mold and rot more quickly.
In order to retain as many active substances as possible, it is important to keep an eye on the times of harvest. Our grocer does this very carefully.
Branches : Our branches are usually cut off in the winter, when there are no more leaves hanging on them and the nutrients are well preserved within the branch.

Bark : Best harvested in early spring. Just before the flowering period, the juice flows freely through the twigs and branches.

Leaves : These are best picked after the buds appear at the beginning of the flowering period. This is the time when leaves contain a lot of juices. Picking too early makes the leaves too wet and picking them too late makes them poor in active ingredients.

Flowers : These are best picked early in the flowering period. Just before opening, but before they open fully. The timing has to be perfect! Our roses are therefore harvested as buds.

Fruits : Our fruits are harvested just before ripeness. This is the perfect time.
Harvesting in a respectful way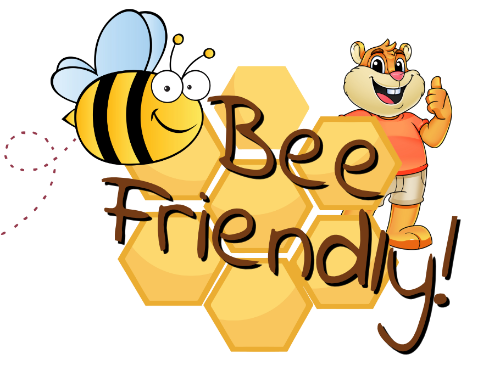 We find it important that our herbs are harvested in a way that is respectful to nature. This means that nature is not trampled, the animals that live within this nature are not bothered and the harvesting places are not thinned out. Harvest places must be able to relax. We also take into account protected plant species, which must not be affected.
We support the butterfly and bee population through the way of sowing and harvesting.
Drying herbs
A dried herb can be used all year round. Once all the moisture has evaporated, there is no more chance of mold and rot. This is also the reason why we advise not to pack the herbs in plastic. At high humidity, moisture can get into the plastic and cause mold and rot. Bacteria have free rein when the environment is moist. A properly dried herb normally contains no more than 10% moisture.
Before our herbs are dried, they are cleaned. That is to say, freed from earth, soil, moss and excess plant parts. This happens immediately after harvesting the plant. Then the drying process can begin.
The flowers should be dried in the dark, while roots dry better in the open air. For example, each plant part has its own preference for a drying process. We take this into account so that we can guarantee the best quality.

Specifications
| | |
| --- | --- |
| Content: | 150 grams | 250 grams |
| Composition: | 100% Natural Dried Plantain |
| Analysis: | - |
| Suitable for: | Rodents, Mouse, Hamster, Gerbil, Rat, Guinea Pig, Rabbit, Chinchilla, Degu |
| Particularities: | 250 grams is finer |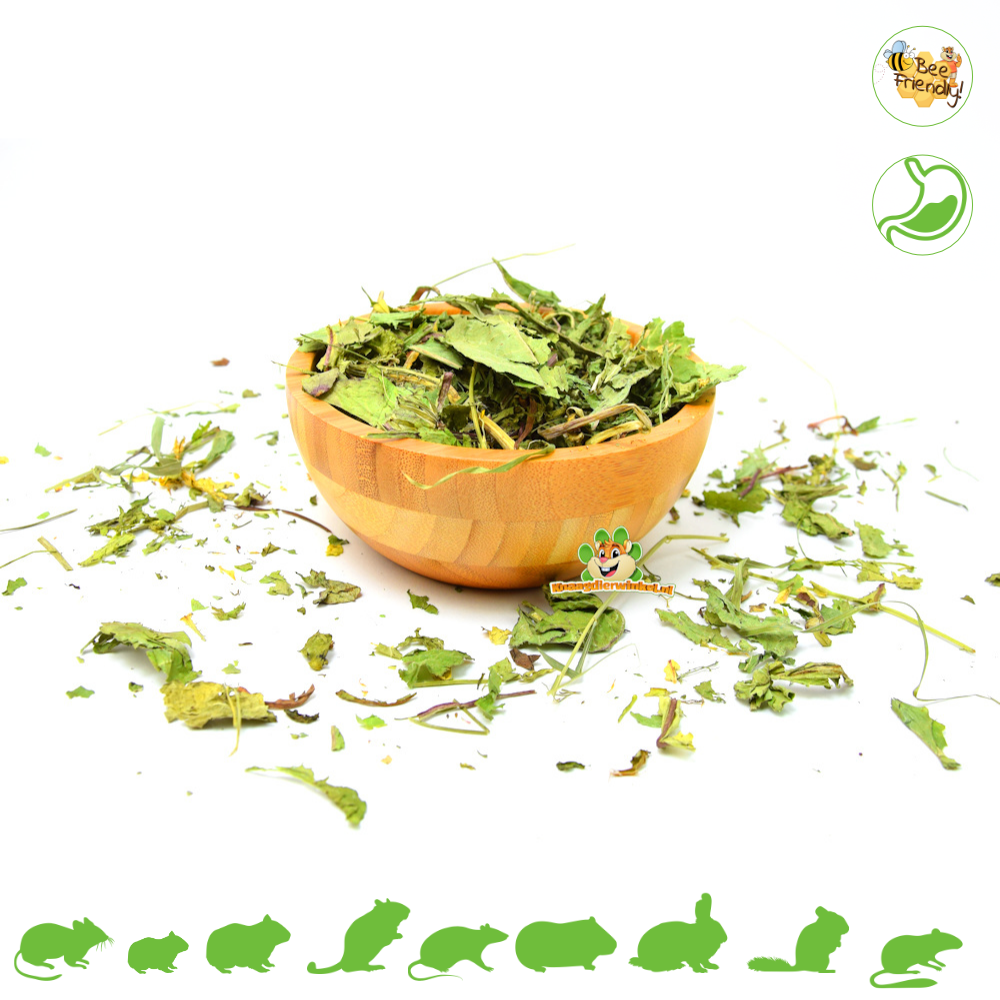 Moeilijk te beoordelen ... ik weet niet hoe dat moet smaken :-)
Mijn konijn vind Weegbree nog lekkerder dan kruidenmix, bevalt dus erg goed. Ik mix met hooi.