Sandpit Blank with two entrances 20 cm
Zaterdag verzending!

Altijd 14 dagen bedenktijd

Getest op geschiktheid

Ordered before 4 pm, delivered tomorrow!
Product description
Trixie Blank sandpit with two entrances 20 cm
Let the digging begin with this handy sandpit from the Trixie brand. A sandpit made of untreated natural wood, with two entrances and a beautiful plexiglass "viewing window" at the front. Once filled with chinchilla sand, the animals can take a bath and take care of their fur while the owner can watch!
✔ For nail and body care
✔ With plexiglass plate to observe animals
✔ Lid keeps the sand inboard
✔ Wood
Tip! This sandbox can also be used as a digging bucket for dwarf hamsters. Fill the sandbox with playful bedding such as carefresh, Cotton N Card or coconut fiber, then sprinkle some treats around and let your little friend search for the treat.
User manual Sandpit Blank with two entrances
Fill the sandbox with enough chinchilla sand. By sufficient we mean a layer that is thick enough for bathing and high enough for the animals to climb out of the sandbox. Only use chinchilla sand for bathing sand. Other types of sand are less or not suitable as bathing sand. Shell sand should under no circumstances be used, as it is too sharp and can damage the skin and fur of the animals.
Because the sandpit has openings at the top, it can even be buried for a large part under the ground cover if desired. Placing the sandbox deeper in the bedding will help the animals to get in too. It is also great fun to watch the animals bathe from the front!
Specifications
| | |
| --- | --- |
| Size: | - |
| Suitable for: | - |
| Particularities: | - |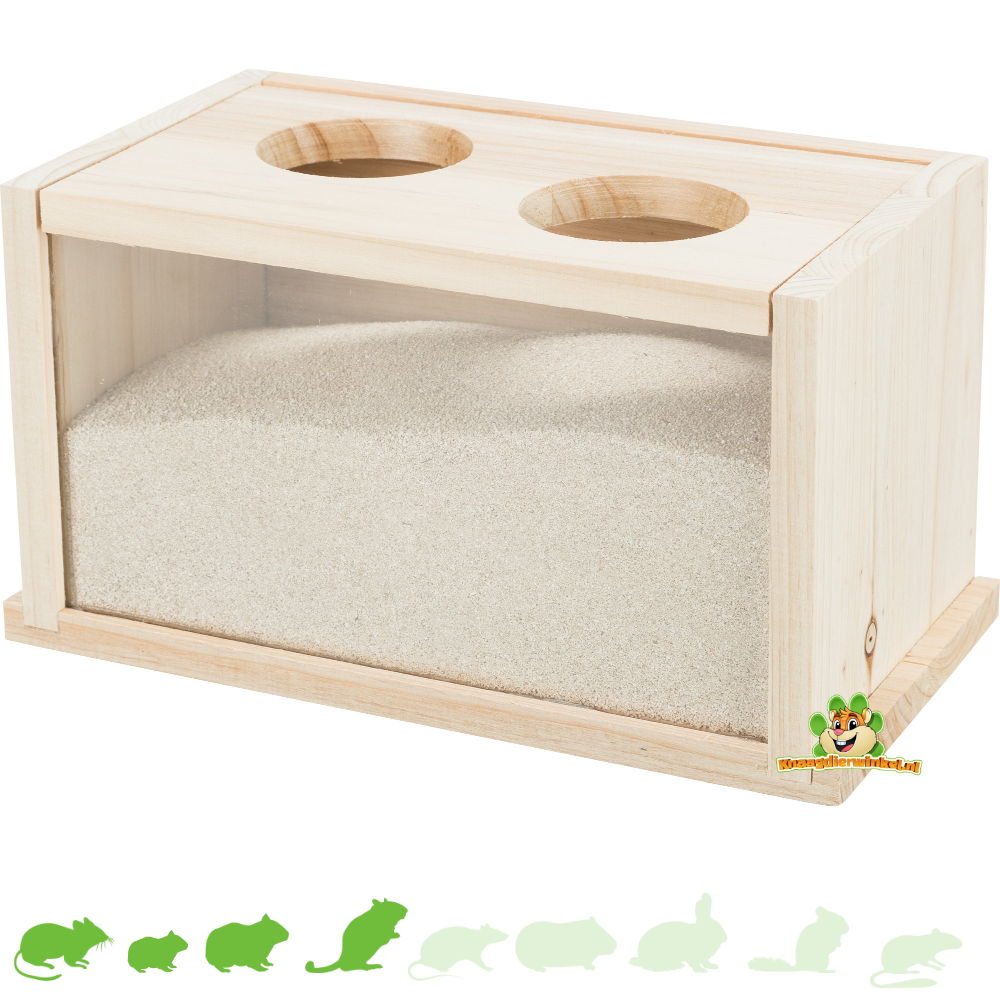 Super makkelijke en fijne zandbak. Ben benieuwd of ze het gaan gebruiken maar anders een leuk extra slaap/graaf holletje voor de gerbils.