Zaterdag verzending!

Altijd 14 dagen bedenktijd

Getest op geschiktheid

Ordered before 4 pm, delivered tomorrow!
Product description
Beaphar Vitamin C tablets for guinea pigs
New in the Beaphar range are the vitamin C tablets for guinea pigs. The tablets are precisely tailored to the vitamin C requirement of an adult guinea pig (40mg) and have a delicious orange flavor. The daily supplement for the guinea pig!
Beaphar Vitamin C for guinea pigs is suitable as a daily source of Vitamin C. Because guinea pigs do not make this substance themselves, daily delivery is required. Vitamin C, is important for the bone structure, the teeth and the connective tissue. The vitamin C present in the tablet is stable and therefore does not evaporate. The tablets with delicious orange flavor are eaten well and therefore this product is ideal as a supplement to the daily diet.
Guinea pigs can not make vitamin C. They lack the enzyme L-gulonolactone oxidase, which is necessary for the synthesis of vitamin C from glucose. Vitamin C is not stored in the body, so the guinea pig must receive it daily through the diet. It is also known that the guinea pig breaks down vitamin C faster than, for example, humans. If a guinea pig does not get enough vitamin C, problems can arise within 10 days.
Instructions for use Beaphar Vitamin C tablets
Dosage: Guinea pig 1kg: 1 tablet per day
Dissolve the dose in the case of bearing, sick or recovering animals.
Preferably administer the tablet in the morning.
Composition Beaphar Vitamin C tablets
Crude fiber: 7.1%
Crude fat: 0.87%
Crude ash: 0.19%
Moisture: 0.84%
Calcium: 0.06%
Sucrose: 79%
Glucose: 0.088%
Vitamin C (ascorbic acid): 120,000 mg (40 mg) per tablet

EFFECTS OF VITAMIN C DEFECTS
Vitamin C is important in the guinea pig for the formation of collagen, which occurs in: blood vessels, bones, cartilage, teeth and skin. In addition, vitamin C is important for the resistance and the functioning of the nervous system.
CHARACTERISTICS OF A VITAMIN C DEFICIENCY
A vitamin C deficiency can include problems with blood vessels, mucous membranes and teeth. Symptoms of a vitamin C deficiency can be:
Diarrhea
Not being able / willing to eat due to painful jaw joints and dental problems
Weight loss and poor growth due to not being able to eat.
Painful joints and lameness (due to bleeding in joints)
Bad coat and hair loss
Wounds heal badly or very slowly In short, it is very important that a guinea pig gets enough vitamin C.
VITAMIN C IN CAVIA FEEDING
Vitamin C is added in most guinea pig nutrition. However, not always in a stabilized form; this means that vitamin C can break down faster under the influence of light and air. Because food is not always stored under optimal conditions (dark, airtight, dry) after opening, the vitamin C content can quickly run back. In these cases it is necessary for the guinea pig to receive extra vitamin C.
CAN A CAVIA BECOME EXTREMELY VITAMIN C?
Vitamin C is a water-soluble vitamin, so any overdose can get rid of the guinea pig through the urine. Vitamin C is not stored and is broken down quickly in the body. Usually, excess vitamin C can not hurt. However, bladder stones may develop at high doses in combination with a high calcium content in the diet.
Specifications
| | |
| --- | --- |
| Content: | 100 tablets |
| Composition: | Crude fiber: 7.1% Crude fat: 0.87% Crude ash: 0.19% Moisture: 0.84% ​​Calcium: 0.06% Sucrose: 79% Glucose: 0.088% Vitamin C (ascorbic acid): 120,000 mg ( 40 mg) per tablet |
| Analysis: | - |
| Suitable for: | Knaagdieren, Guinea pigs |
| Particularities: | - |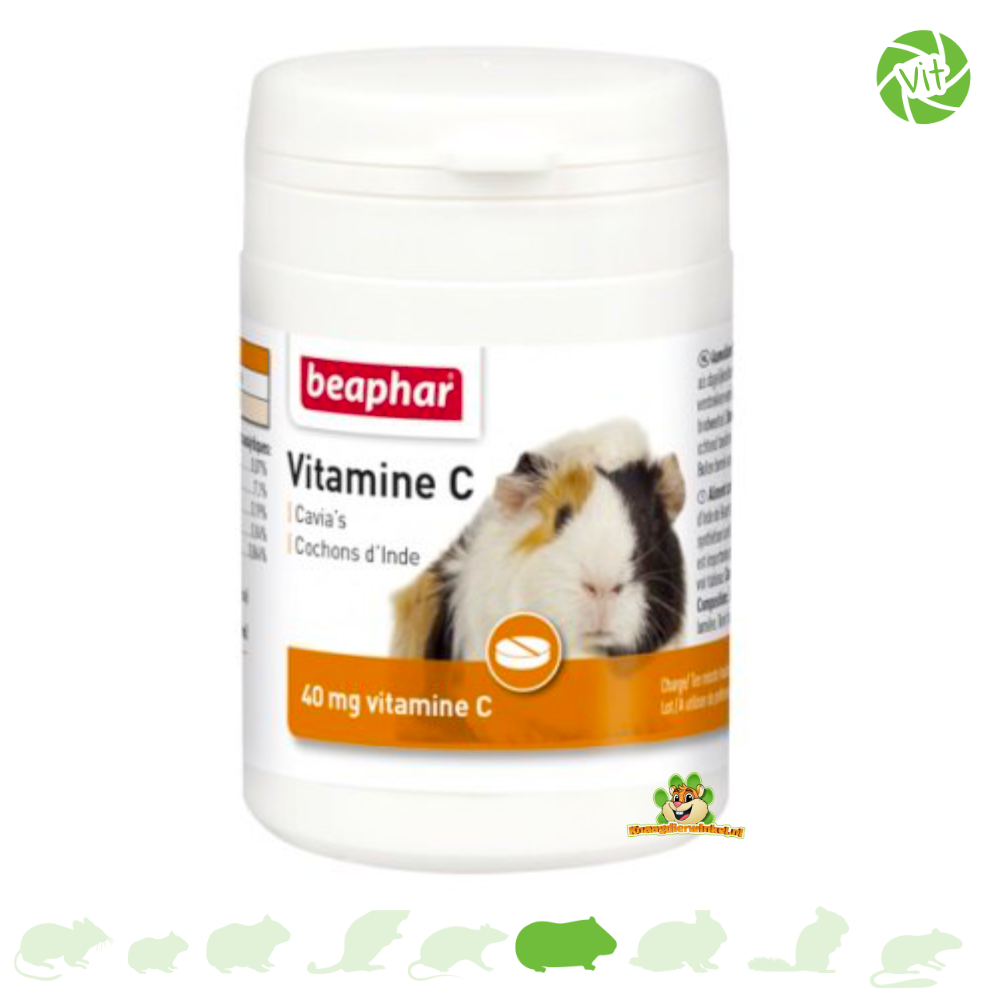 Op zich vonden ze het wel lekker. Ik had 2 cavia's (broertjes), maar door mijn gezondheid (omstandigheden) heb ik de cavia's naar een opvang moeten doen.
het zijn goeie vitamine tabletjes en mijn caafjes zijn er gek op ook makkelijk te breken
De diertjes vinden het heel lekker en handig dat je weet hoeveel mg/dag vit. C ze op hebben
Nou ik heb het ze gevraagd, maar krijg geen duidelijk antwoord van de twee
Mijn meisje caviake is terug actiever + nog een meisje caviake verloor iets teveel haartjes tijdens de rui en na 4 dagen volledig gestopt, moet tabletje rond stukje andijvie doen. Het zijn kieskeurige meiden ☺️
Gemakkelijk in 2 te breken, en worden door de cavia's gesmaakt