Harry Hamster complete Muesli 700 grams Hamster food
Grootste Knaagdierwinkel van Europa

Altijd 14 dagen bedenktijd

Zaterdag verzending

Ordered before 4 pm, delivered tomorrow!
Product description
Supreme Harry Hamster complete Muesli Hamster food
The first food ever approved by the UK's National Hamster Council. It is a complete and balanced food for the hamster. The mix is composed of extruded soy, peanuts and pumpkin seeds to make it extra attractive to hamsters. With this carefully composed food you can feed your hamster daily. All ingredients are specially selected for their high nutritional value and high palatability.
Benefits Supreme Harry Hamster complete Muesli Hamster food
✔ Complete, balanced nutrition
✔Improves Digestion
✔ Promotes natural foraging behavior
✔ Promotes tooth wear
✔ Very tasty
✔ No added sugars
Harry Hamster is an attractive looking mix of ingredients, the different shapes, sizes and textures offer variety and also stimulate natural food seeking behavior which will keep your pet healthy and happy. This unique recipe contains a mix of natural ingredients that fully meet the natural nutritional needs provide each hamster and make the meal a feast.
Haary Hamster is formulated to meet the nutritional needs of adult hamsters and contains whole peanuts and sunflower seeds that increase attractiveness and also fit into the diet. Thanks to the careful composition of harry hamsters, there is no need for nutritional supplements anymore, you can rest assured that your hamster(s) are getting all the vitamins and minerals needed for optimal health.
Each 10 grams of food contains 100% of the daily recommended amount of protein, fiber and calories.
Save Save
Specifications
| | |
| --- | --- |
| Content: | 700 grams |
| Composition: | Wheat, torrefied wheat, pea flakes, soybean meal, maize, flaked corn, sunflower seeds, soybean flakes, alfalfa, peanut, soybean oil, shelled peanuts, pumpkin seeds, soybeans, wheat, extruded locust beans, calcium carbonate. |
| Analysis: | Crude protein: 18% Crude fiber: 6% Crude fat: 6% Crude ash: 5% Calcium: 0.8% Phosphorus: 0.6% Vitamin A 20,000 IU Vitamin D3 2000 IU Ferrous sulfate monohydrate 61 mg Calcium iodate anhydrous 1.5 mg Pentahydrate 20mg Manganese Oxide 32mg Zinc 87mg Sodium |
| Suitable for: | Rodents, Hamster |
| Particularities: | - |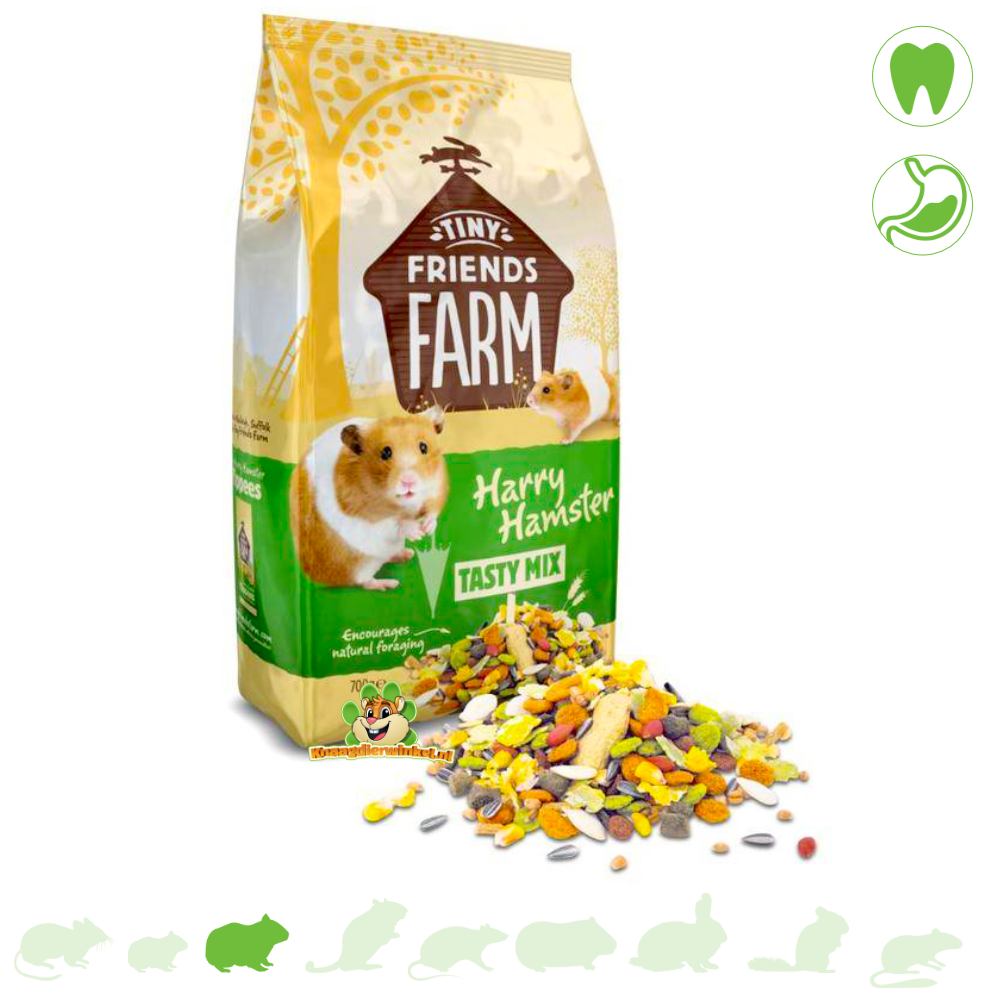 Onze hamster is er dol en er zit veel verschillende zaadjes in dit voer.
Goed voer met weinig pellets.
De Roborovskis zijn er niet gek van.
Valt iets beter in trek bij de Bellies en Rusjes.
Onze hamster is er dol op!
Heerlijk veelzijdig voer voor de hamster met alle benodigde voedingsstoffen. Mijn hamsters smullen er van.
Supreme Harry Hamster is al jarenlang mijn vaste merk hamstervoer. Harry Hamster is sinds kort veranderd. Ik vind het nooit leuk als de fabrikanten dingen gaan veranderen zoals de samenstelling etc, maar bij de Harry hamster is dat wel ten goede gekomen. Mijn hamsters eten het nog steeds heel goed. Als mijn hamsterhobby zoch nog verder uitbreid dan ga ik de grootverpakking eens aanschaffen.