Zaterdag verzending!

Altijd 14 dagen bedenktijd

Getest op geschiktheid

Ordered before 5 pm, delivered tomorrow!
Product description
JR Farm Kapok Nesting material for small rodents!
Kapok is a legume of the large Kapok tree, these trees can grow up to 70 meters high. The fruits of the tree are safely hidden in a hard shell and lie in a bed of very soft fibers. It is precisely these fibers that are very suitable as a nice soft and fine nesting material for small rodents.
But the kapok holds even more surprises for your rodent. In addition to the soft cotton-like content that can be used to make a delicious nest, it also contains tasty seeds that are delicious to eat.
✔ Pure Nature and sustainable
✔ Soft and warm nesting material
✔ Seeds are rich in vitamins and essential oils
The kapok fiber is a very soft, fine and especially fragile fiber. Due to its appearance, these fibers are often confused with hamster wadding, but that is completely unjustified. Both products may look alike in appearance, but in terms of texture, composition and material they are completely different products that do not have any properties in common.
Kapok keeps the nest dry
The kapok fiber is a water-repellent fiber that keeps moisture out of the nest. That way the nest is always nice and dry and the humidity will not be too high quickly. This is very pleasant on warm days.
Nice and warm during cold days
Kapok fiber is wonderfully warm. When it comes to nesting material, there is no other material that can match it when it comes to warmth. It is wonderfully insulated and maintains its temperature. The animals experience this as very pleasant. It's nice to know that small rodents regulate their nest temperature themselves. If it gets too hot, they remove nesting material from the nest in order to lower the temperature.
Instructions for use Kapok
Offer yourself to the animals
The skin of the kapok is quite hard and for that reason has to be opened for the animals. One kapok fruit contains a lot of nesting material. At first glance, this does not seem like the case when the kapok is opened. The fibers are pressed very compactly around the seeds. This makes it seem like little, but once the fibers are taken out and take on their volume, it is very much!
Let the animals do the work
It is also possible to offer half of the kapok in shell to the animals. They will be happy to work with it and eagerly remove the fibers from the kapok and then place it in their nest. In the meantime, the seeds are eaten and taken to the nest.
Eat the seeds in the kapok
The seeds contained in the kapok are safe for the animals to eat. These small seeds are contained in their own protective shell, which is opened by the animals in a professional manner so that the content can be swallowed. Small rodents are mainly seed eaters, which makes these seeds very popular.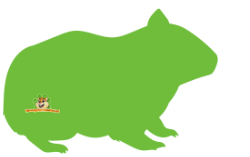 Kapok is really only suitable for small rodents that make nests such as Mice, Dwarf Hamsters, Hamsters and Gerbils. The seeds that can be found in kapok are also liked to be eaten by the animals. Kapok actually has no function for the larger rodents.

Specifications
| | |
| --- | --- |
| Content: | 1 Piece |
| Composition: | 100% Kapok |
| Analysis: | - |
| Suitable for: | Rodents, Mouse, Dwarf Hamster, Hamster, Gerbil |
| Particularities: | - |
Mijn dwerghamster vindt hem geweldig! Plukt er elke dag wat van de pluizige vulling uit en heeft er veel plezier van. Ik moet hem wel zelf openbreken, want hij had zelf niet de intentie om de kapoknoot open te knagen.
Onze hamster vind het heerlijk zowel de pitjes als het wol.
Een hartstikke fijn product. Hamster is er dol op!
Mijn Russische dwerghamster ging er gelijk mee aan de slag. Een geweldige verrijking, en een zacht slaapholletje.
Super super super spul voor je hamster als nestje! Je hamster neemt echt alles mee, warm en ongeloof zacht! Ook echt goedkoop. Er zitten ook zwarte dingen in die heel goed zijn voor de vacht! Die ze op eten.
elsjedevisser
03 December 2018
Dit leek me nou echt zulk heerlijk nestmaterial voor mn hamster..zo lekker warm en zacht en het staat ook zo mooi natuurlijk...maar de fokster waar mijn hamster vandaan komt gebruikte nestmateriaal van papier en ook de winkel waar ik haar kocht gebruikte datzelfde papieren nestmateriaal. Dat is dus vertrouwd voor haar en heeft haar voorkeur dus hou ik het voortaan maar bij papieren nestmateriaal. Is ook heerlijk warm en zacht hoor.
Ik vind Kapok erg leuk nestmateriaal voor mijn hamster. Hij gaat er ook echt mee aan de slag en is er gek op. Ik breek de kapok door de helft en leg de ene helft in het verblijf de andere bewaar ik altijd voor later. Het is zeker een aanrader ;)