Hemp Nest material 50 grams
Zaterdag verzending!

Altijd 14 dagen bedenktijd

Getest op geschiktheid

Ordered before 5 pm, delivered tomorrow!
Product description
Hemp Nest material 50 grams
Nest material made of 100 percent naturally pure hemp fiber for rodents and birds. Mini-Hemp Soft offers protection against drafts and gives a fluffy warmth. Due to the unique properties of hemp fiber, the nest stays dry for longer and free from odors. Mini-Hemp Soft is identical to the materials that animals use in the wild to build a nest.
Hemp nesting material is 100% vegetable and is therefore perfect for small rodents that can line and decorate their caves and nests with it. Corridors and burrows created by the rodents do not collapse and remain stable. This gives the rodents an excellent nest that fits well with the animals' natural needs. The thermal insulation retains the necessary nest heat. Due to the given air circulation, nests, passages and caves remain clean and hygienic.
Instructions for use Hemp Nesting material
Using Mini Hemp Soft is simple, put a tuft of the hemp fiber in the cage. The animal uses this to build a soft and warm nest itself. After use, Mini Hemp Soft is suitable for the GFT container and can be used after composting as an organic fertilizer for the garden.
Store Store Store Store
Specifications
| | |
| --- | --- |
| Material: | - |
| Liter: | - |
| Weight: | - |
| Suitable for: | Knaagdieren |
| Particularities: | - |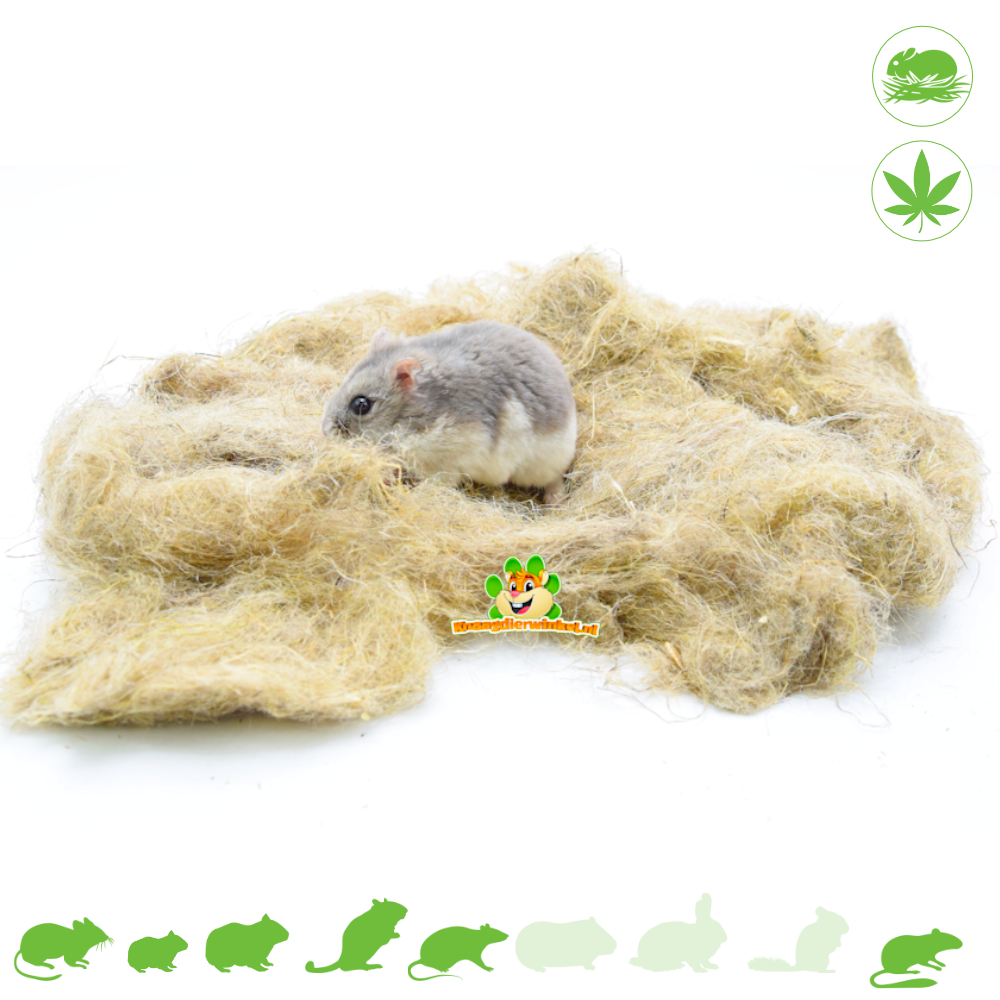 Onze gerbils vinden het heerlijk om in te slapen en maken er een echt nestje van
Onze Rus was er gek op. Wat losse plukjes in zijn verblijf en hij maakte er zelf een heerlijk nestje van :)
Hamster gebruikt dit zeer graag, (goed alternatief I.p.v hamsterwatten: die zijn namelijk gevaarlijk) & mijn gerbils vinden het ook zeer leuk om hun nestje daarmee te maken. Een aanrader.
Mijn hamster vind het fantastisch nest materiaal.
Mijn hamster en gerbils zijn er zot op! Ze maken er graag een knus nestje van.
Mikki vindt het super fijn nestmateriaal, net wat beter dan papier (wat ik weer leuk vind qua kleur ☺️)
Mijn mannetje doet er niets mee. Maar het vrouwtje vind het GEWELDIG! Ze maakt de mooiste nestjes!
Net een vogelnestje haha.
Heel ooi en zacht nestmateriaal. Mijn hamster kunnen er hele mooie nestjes mee maken en het valt ook niet meteen in elkaar.