Gerty Guinea Pig Tasty Mix
Zaterdag verzending!

Altijd 14 dagen bedenktijd
Veilig en achteraf betalen

Ordered before 4 pm, delivered tomorrow!
Product description
Supreme Gerty Guinea Pig Tasty Mix
The Tiny Friends Farm products offer a balanced diet. They have been developed with the help of nutrition experts to meet the daily requirement of each specific rodent species. A supplemental diet for guinea pigs of all ages with vitamin C. This is necessary for the health of guinea pigs, because they cannot produce it themselves.
✔ Promotes natural foraging behavior
✔ Added Vitamin C - 250mg / kg, an essential daily requirement
✔ Improves digestion and promotes dental wear
✔ Carefully chosen natural ingredients for variety and fun
✔ Without added sugars to prevent obesity
All our packaging shows the Recommended Daily Allowance (RDA). This way you can be sure that your pet is getting everything it needs.
! The fiber content is below 20%
This RDA table also always shows '+ hay + water' - because rabbits, guinea pigs, chinchillas and degus need enough hay and water for good health and to wear down their continuously growing teeth.
The ingredients we use provide the necessary proteins (to grow), carbohydrates (for energy), fiber (for digestion and dental health), oil (for a healthy, shiny coat), and vitamins and minerals ( for bones, teeth and skin).
With mixed feed, the bowl must always be empty before giving new feed. This prevents selective eating behavior (when your pet only eats certain pieces of the food and leaves the rest). If your pet starts to eat selectively, he will no longer receive the necessary nutrients. Then consider switching to our Selective food - a tasty chunk that contains 100% of all necessary nutrients.
Nutritional advice Supreme Gerty Cavia
For herbivorous rodents such as rabbits, we recommend a minimum fiber content of 20% when it comes to nutrition. Because the Supreme Gerty Tasty Mix has a fairly low fiber percentage, it is extra important to provide enough fiber. A valuable addition can be the Supreme Fibafirst . It is very rich in crude fiber. In addition, it is important that the animals have unrestricted access to hay at all times.
The average adult guinea pig needs 40-50 g of Gerty Guinea Pig per day. Fresh vegetables, good quality hay and clean drinking water should also be provided. Always keep the food in a cool, dry place.
Specifications
| | |
| --- | --- |
| Inhoud: | - |
| Samenstelling: | - |
| Analyse: | - |
| Geschikt voor: | Knaagdieren |
| Particularities: | - |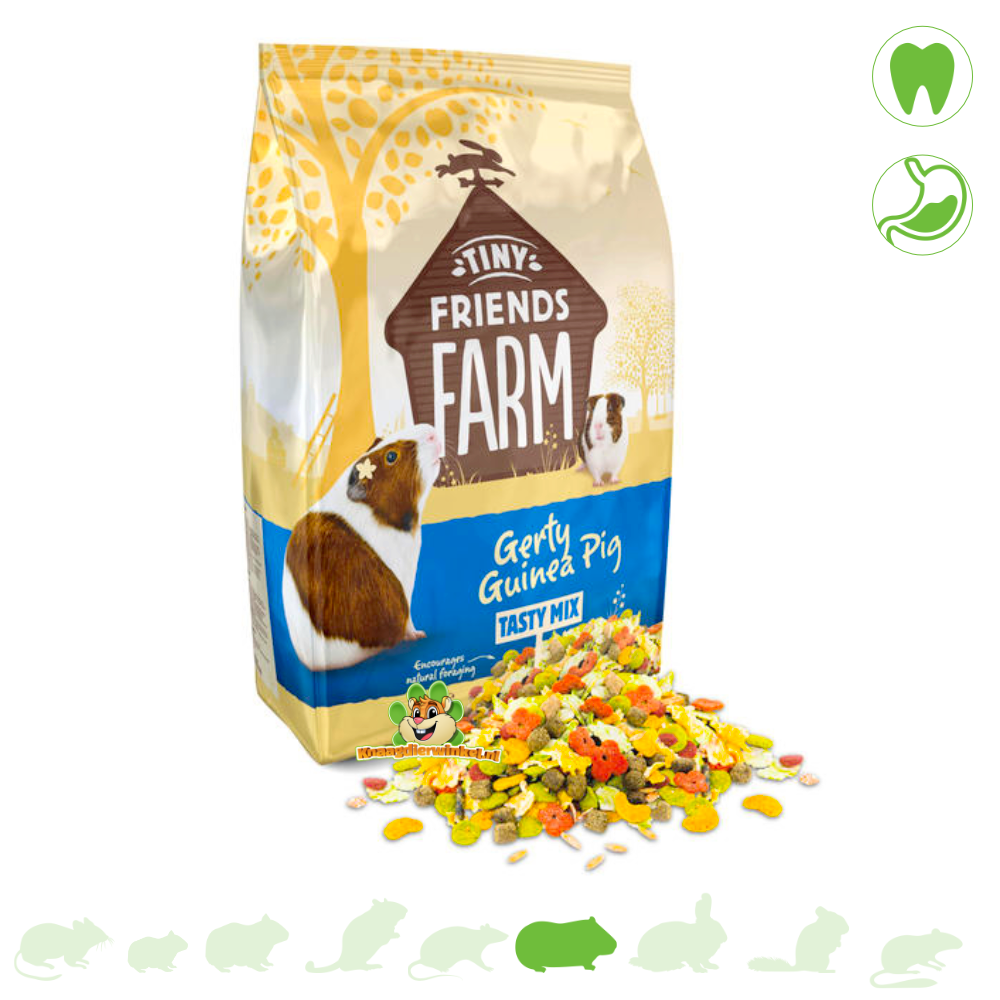 Onze cavia's krijgen dit als extra voer naast het gewone eten met vitamine C en hooi. Ze zijn er elke keer blij mee.
Mijn cavia's vonden de mix erg lekker. Vooral de erwtenvlokken waren een hit!
Ziet er goed uit en de caafjes eten echt alles op