Zaterdag verzending!

Altijd 14 dagen bedenktijd

Getest op geschiktheid

Ordered on weekdays before 5 pm, shipped the same day!
Product description
HayPigs Circus Feeding Bowl for Rodents & Rabbits!
This magical circus bowl is perfect for your guinea pig! Not only does it look nice, but it is also drop resistant, stackable and dishwasher safe. Watch your guinea pig or rabbit sit with their paws on the bowl, like majestic lions propping up their stuff ...! Or dig with their heads deep, as if they haven't eaten in a week!
✔ Drop-resistant, stackable design with non-slip rubber feet. The 16 cm bowl has anti-slip feet
✔ Made from pet safe, food grade melamine plastic. Dishwasher safe
✔ 16 cm diameter, 5 cm high.
✔ Also suitable for rabbits, ferrets, chinchillas, hedgehogs and squirrels, but also for dogs and cats!
Use the food bowl as a food bowl
A food bowl ensures that the animals know where to expect their food. The caretaker can clearly see how much the animals have eaten from the contents of the food bowl. In addition, the food remains hygienically clean in a food bowl. In short, a food bowl has many advantages! Place the food bowl in a fixed place in the enclosure and fill it with the recommended amount of food for the animal.
Use the food bowl as a water bowl
A food bowl can also be used as a water bowl. It is very important here to properly guarantee the hygiene of the water. Water gets dirty more quickly in a water bowl than in a drinking bottle. Fill the water container with clean water and replace it every day or more often if it is soiled.
Specifications
| | |
| --- | --- |
| Size: | 11 x 11 x 4 cm | 16 x 16 x 5 cm |
| Suitable for: | Rodents, Hamster, Rat, Guinea Pig, Rabbit, Chinchilla, Squirrel, Hedgehog, Dog, Cat |
| Particularities: | - |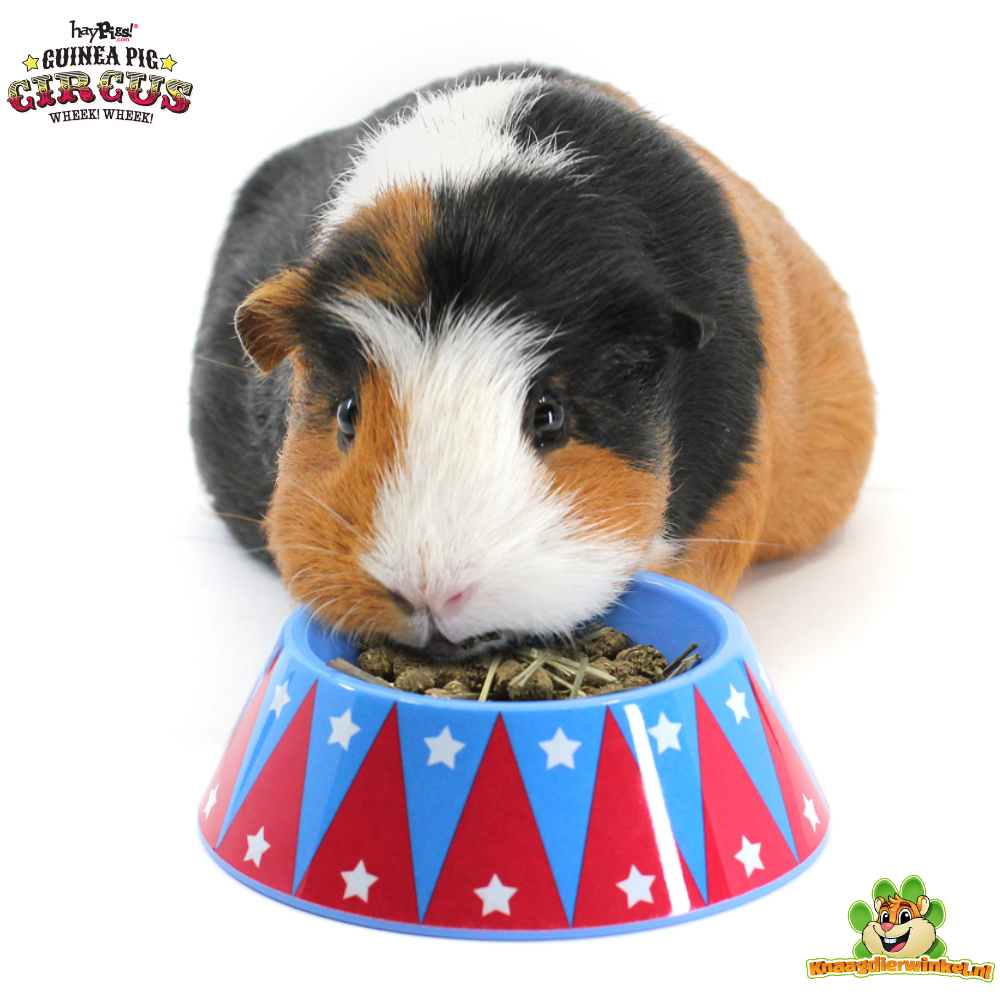 Gina Van den Berg
20 April 2021
Wat zien er leuk uit in onze cavia kooi. Staat super vrolijk en door de hoge rand komen er geen keuteltjes in
Stevige, vrolijke kom. Valt niet om tijdens het eten. Hoog randje, dus niet vaak uitwerpselen in de bak. En gemakkelijk te reinigen, ook via de vaatwasser. Na een paar vaatwasserbeurten ziet hij er nog uit als nieuw. De grote gebruiken we als voerbak voor meerdere cavia's. De kleine als extra waterbakje of om soms iets fruitigs in te geven.
Melissa
13 September 2020
Wij hebben er 6 voor 6 cavias en we vinden het geweldig