Zaterdag verzending!

Altijd 14 dagen bedenktijd

Getest op geschiktheid

Ordered before 4 pm, delivered tomorrow!
Product description
Trixie Half Coconuts (3 pieces)
Small rodents love shelters, which is why half of Trixie's coconuts are very nice for the stay. You will receive 3 immediately! Very nice to spread them all three in the residence, so your little rodent always has a hidden spot nearby. These coconut nuts are very nice for Muisjes, Dwerghamster and Gerbils.
Specifications
| | |
| --- | --- |
| Dimensions: | 0 |
| Openings: | - |
| Material: | - |
| Open Bottom: | - |
| Suitable for: | Knaagdieren |
| Particularities: | - |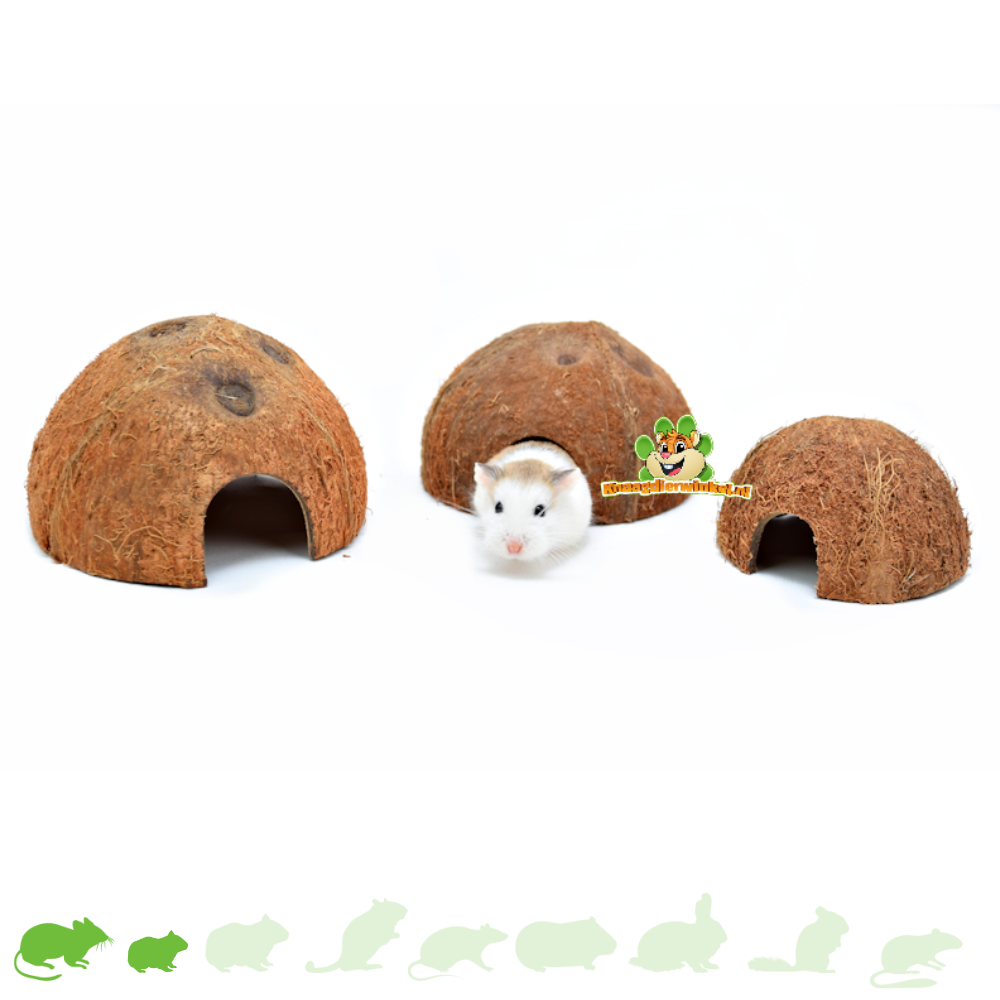 Paula Roza
08 January 2021
De kleinste komen ze niet in. De middelste af en toe maar de grootste is altijd bewoond :) ook erg leuk om te zien in de kooi.
Mijn hamster is er gek op. Ze slaapt liever in de kokosnoot dan in de huisjes. Ik wissel steeds af tussen de verschillende grotes.
Mijn hamster is er dol op!
Mooie uitstraling, maar veel kleiner dan gedacht. Ik denk dat mijn muisjes zelfs niet in de grootste kokosnoot geraken... Jammer. Heb ze nu maar als 'versiering' in hun kooi liggen. Kan meerwaarde bieden aan je inrichting maar niet functioneel.
De halve kokosnoten bieden veel mogelijkheden. Erg leuk ook die natuurlijke uitstraling. Mijn dwerghamstertje slaapt alleen in de grootste van de drie. De andere twee zijn aan de kleine kant, vooral de kleinste heeft n te kleine opening waar ze niet doorheen kan, maar die gebruik ik als opstapje en omgekeerd soms ook als voerbakje. Dus toch nog nuttig.
Ine Smolders
07 December 2016
3 kokosnoten van 3 verschillende grotes, ideaal voor dwerghamsters. Super mooi en mijn hamster houd ervan
Wat een grappige kokosnoten. Ik had al eerder van die hangende kokosnoten, maar deze zijn ook heel leuk. Ik heb ze gekocht voor mijn Muizengroep :)