Products tagged with Schep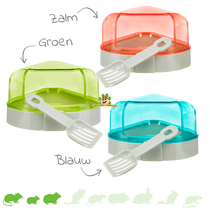 This nice Trixie Corner Toilet can easily be placed in a corner of the cage, so it takes up less space. The toilet can also be used as a sandpit and thanks to the closed design, the sand remains largely within board. With the supplied scoop, the toilet ca
Read more
€4,49
Deliverytime
In stock
It remains a challenge to close bags of feed and get feed out in a pleasant way. By hand or with a bowl? Thanks to this handy feed scoop with clamp, the bag can be easily closed again and feed scooping is easier than ever. The scoop has a ml scale up to 2
Read more
€6,99
Deliverytime
In stock
This little scoop helps you keep the toilet and sandbox clean! The scoop is ideal for sifting sand from the sandbox. Most of the droppings and debris are collected by the scoop and can be easily removed from the sandbox. The scoop is suitable for toilets
Read more
€1,99
Deliverytime
In stock
The Trixie Shovel is a handy scoop that can be used to remove bedding or change the pee corner.
Read more
€2,99
Deliverytime
In stock
Voor 17 uur besteld dezelfde dag verzonden!

Achteraf betalen!

10 JAAR het BESTE voor knager & konijn!
Handy feed scoop to scoop your rodent's feed. Also suitable for scooping up bedding.
Read more
€2,49
Deliverytime
In stock
This multifunctional shovel can be used for anything and everything. We find this shovel very pleasant, for example, to scoop more feed or bedding. For example, many animals also use a sandbox. With this shovel you can easily scoop up the desired amount o
Read more
€1,99
Deliverytime
In stock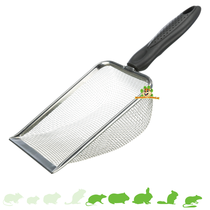 Thanks to this sieve shovel, the sand is sifted in no time and all excrement is removed. The shovel has a pleasant handle made of plastic. The sieve itself is made of stainless steel (stainless steel).
Read more