Zaterdag verzending!

Altijd 14 dagen bedenktijd
Veilig en achteraf betalen

Ordered before 5 pm, delivered tomorrow!
Product description
Bunny Nature RescueFeed
Bunny Nature RescueFeed is special forced feeding that is used by rodents & rabbits veterinarians. This food supports the weakened body thanks to the easily digestible fibers and optimum diversity of the composition, the animal quickly regains its strength.
Optimal component diversity
Easily digestible fibers
Naturally medicinal herbs
Structured carbohydrates (lignin / cellulose)
- High-quality proteins as an easily available energy source
Energy supplier
Limited calcium content
- Suitable for animals with urolithiasis

Instructions for use Bunny Nature GoVet RescueVet
The porridge has a ratio of 1: 4 Mix RescueFeed with warm water until a syrupy porridge is formed. The stirred porridge can slowly draw the porridge into a syringe.
Divide the daily ration into 3-5 servings per day.
The porridge can be offered for stand-alone intake in the bowl or slowly administered via a syringe for oral administration in the lateral corner of the mouth.
Moreover, sufficient high-quality hay and fresh water are very important.
Specifications
| | |
| --- | --- |
| Inhoud: | 40 gram |
| Samenstelling: | Permanent pasture growth *, oat husk bran, sunflower extraction meal, apple waste, sweet lupine, buckwheat, whole plant corn, carrot pomace, linseed meal, wheat bran, quinoa, rapeseed meal, breweries, lignocellulose, brewer's yeast, rib |
| Analyse: | Crude protein 14%. Crude oils and crude fats 3%. Crude fiber 19%. Crude ash 7%. Calcium 0.6%. Phosphorus 0.4%, Vitamin A 8,800 IE. Vitamin D3 600 IE. Vitamin E / all rac alpha tocopheryl acetate 53 mg. vitamin C as ascorbyl monophosphate, calcium sodium s |
| Geschikt voor: | Rodents, Guinea Pig, Rabbit, Chinchilla, Degu |
| Particularities: | - |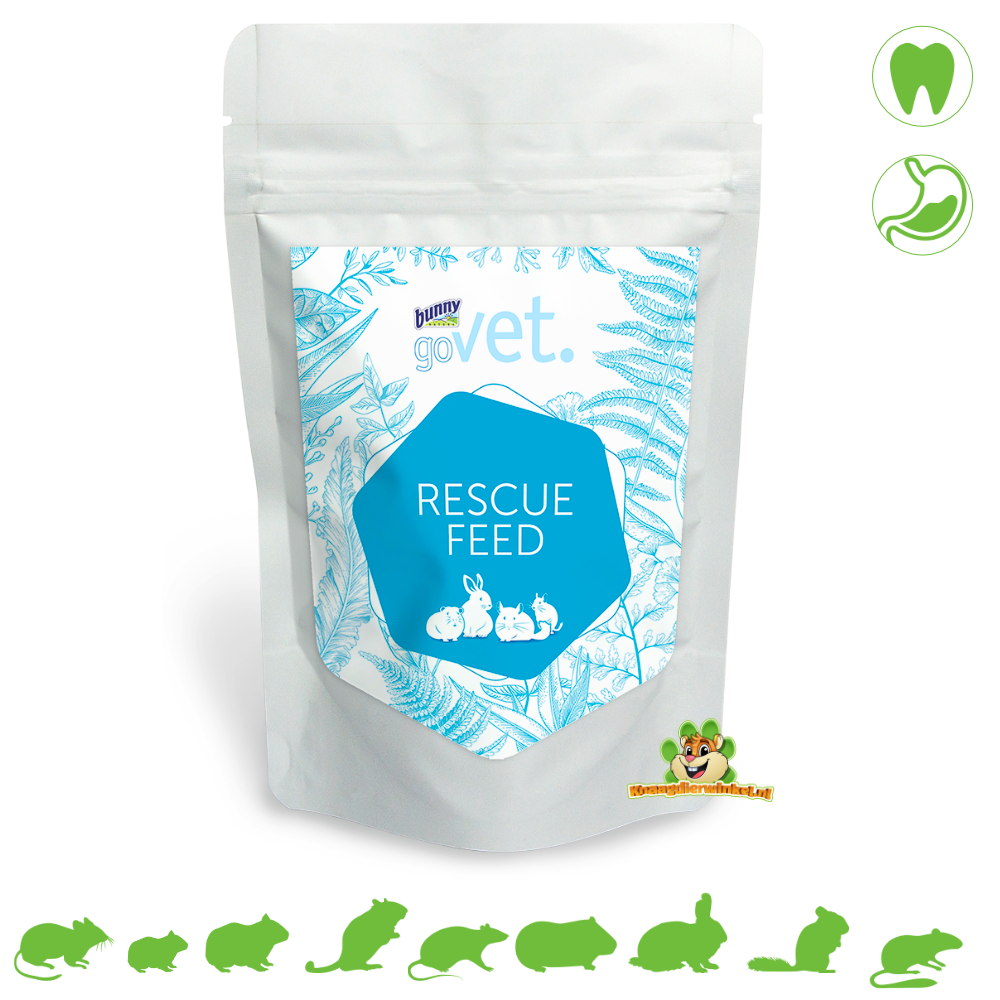 Zeer goede voeding voor een ziek konijn , om hem weer op krachten te krijgen.