Anti-Myiasis (magenta disease) spray 75 ml
Zaterdag besteld, maandag in huis!

Altijd 14 dagen bedenktijd
Veilig en achteraf betalen

Ordered before 4 pm, delivered tomorrow!
Product description
Anti-Myiasis (magenta disease) spray 75 ml
Beaphar Anti-Myiasis (Ivermectin 0.5 mg / ml), skin spray for rabbits and guinea pigs to prevent and control Myiasis (magenta disease caused by the blue-green bluebottle fly).
Myiasis in rabbits and guinea pigs is mainly caused by the blue-green bluebottle that lays eggs in caked droppings, wounds or a foul-smelling fur. The maggots from the eggs eat through the skin and can cause blood poisoning or infections, causing the animal to die within 24 hours.
Pay attention! this product kills the eggs and maggots of the fly that causes Myiasis. Not the adult fly. If you observe maggots on the animal, you should contact the vet immediately.
✔ Works against eggs and larvae of the fly that cause maggot disease
✔ Offers 2-3 months of protection
✔ Easy application through spray bottle
Myiasis is lurking especially in the spring when the temperatures start to rise and the bugs wake up. It is a bit dependent on the weather, but usually the blue-green bluebottle becomes active around apri. This remains active until November. When these flies are active, rabbits are at risk for Myiasis.
Instructions for use and dosage Beaphar Anti-Myiasis
Remove the droppings and ensure good hygiene in the loft. Spray the correct amount of liquid on the back of the animal, from the middle of the back to the tip of the tail. The area under the tail and between the hind legs of the animal deserve extra attention. Treat early in the summer, before there are flies. Bathing may reduce the effect of the drug and may require more frequent administration. Do not repeat the treatment within 4 weeks. 12 weeks working. Do not use in rabbits and guinea pigs younger than 8 weeks.
Measures to prevent Myiasis
! Protect the accommodation against flies, for example with fly gauze or a mosquito net
! Keep the accommodation clean, use a soil cover that absorbs urine well
! Prevent diarrhea in the rabbit; do not give too much fruit and vegetables, give food with sufficient raw fiber and give unlimited hay
! Clean up leftover fruit and vegetables, this has an attraction to flying
! Check the rabbit daily, especially at the back and bottom. This must be clean and dry. Of course, no bugs / maggots should be visible
! The coat can be cleaned with a comb and / or Beaphar shampoo for rodents and rabbits
! Treat rabbits preventively with Beaphar Anti-Myiasis this spray protects against maggot disease. Start spraying on time and continue long enough; Flies are active from April to November. The advice is to treat it monthly.
If maggots are visible, contact the vet urgently.
Specifications
| | |
| --- | --- |
| Inhoud: | - |
| Samenstelling: | - |
| Analyse: | - |
| Geschikt voor: | Knaagdieren |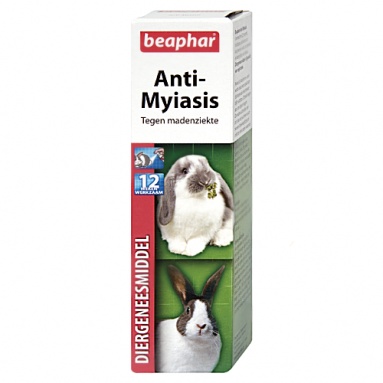 Reviews
No reviews found
Read or write a review