Grootste Knaagdierwinkel van Europa

Altijd 14 dagen bedenktijd

Zaterdag verzending

Ordered before 4 pm, delivered tomorrow!
Product description
Supreme Fibafirst Rabbit
Supreme Petfoods has developed a new generation of food that meets nutritional needs and promotes the overall wellbeing of rabbits and meets the concerns of current pet owners. Because of its unique appearance and texture, it naturally looks, feels and smells for the animal and provides for its natural feeding behavior.
A few more characteristics of FibaFirst for your rabbit
✔ Food with the highest fiber content
✔ Without added sugars
✔ Our fibers are 100% effective
✔ Mimics natural eating behavior
✔ Improves the living environment
✔ Promotes tooth on tooth wear
✔ Stimulates natural behavior
Nutritional advice Supreme Fibafirst Rabbit
Many foods for small animals contain molasses (syrup) or other sugary ingredients. This extra sugar in the diet can lead to overeating and being overweight. It can also cause dental problems.
The transition to Fibafirst must happen gradually over a period of 4-6 weeks. In the beginning, mix a little Fibafirst with the current diet and gradually reduce the current diet and expand the Fibafirst. A rapid change in diet can cause digestive disorders, even when switching to a better diet, so be careful!
If the animal is used to a diet with sugar, the transition to a natural diet can take longer, but persists, because this will benefit the animal's health in the long term.
An average adult rabbit (2.5 kg) needs 75 grams of Fibafirst per day (or 30 grams per kg of body weight per day). Fibafirst can be fed freely, but the weight must be checked regularly. Always give Fibafirst in combination with water & hay.
Did you know that?
Fiber is essential for many important processes in the body of small pets
The teeth of rabbits are constantly growing.
Rabbits eat an enormous amount in relation to the size of their stomach.
Rabbits actually produce 2 kinds of droppings, one kind they have to eat again to get the maximum amount of nutrients they need.

What to do if they don't like the food?
Like humans, animals are "creatures of habit" and a change in diet needs time. Be patient and persistent because it benefits health in the long run.
Supreme Fibafirst has larger kibbles than most foods, so make sure you give them enough and always feed them with as much hay as they can eat and plenty of fresh water!
Specifications
| | |
| --- | --- |
| Content: | 2 kg |
| Composition: | Timothy hay, alfalfa stalks, wheat flour, soy flour, peas, locust bean flour, alfalfa protein extract, oat flakes, linseed, soybean oil |
| Analysis: | Crude protein: 14% Crude fiber: 30% Crude fat: 3.5% Crude ash: 7.5% Calcium: 0.8% Phosphorus: 0.4% Sodium: 0.4% Vitamin A: 15000 IU Vitamin D3: 1500 IU Vitamin E: 60 mg Iron sulfate monohydrate 152 mg Calcium iodate anhydrous 1.5 mg Copper sulfate pentahy |
| Suitable for: | Rodents, Rabbit |
| Particularities: | - |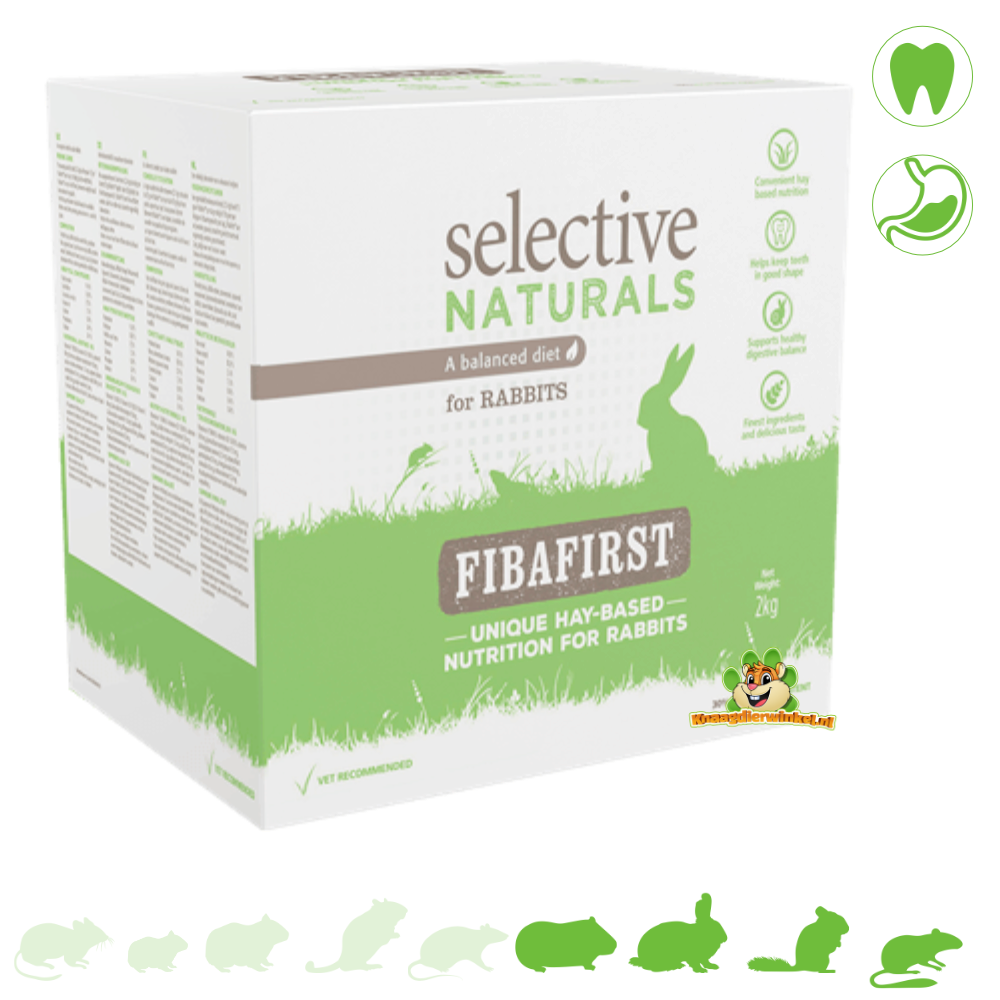 Hele fijne sticks, onze konijnen zijn er wild van. En vooral fijn dat er niet allemaal rotzooi aan is toegevoegd. Gewoon puur product.