Spotted Mouserys Mouse Food
Zaterdag verzending!

Altijd 14 dagen bedenktijd

Getest op geschiktheid

Ordered before 5 pm, shipped the same day!
Product description
Mixerama Spotted Mousery Mouse Food Organic Food
The Mixerama Spotted Mousery Mice Food is designed to meet all the nutritional needs of colored mice and is considered a balanced complete diet as it already contains animal protein. The food consists of 77% flour seeds, 18.6% oilseeds, 2.5% animal proteins, 0.7% flowers, 0.7% herbs and 0.5% vegetables.
The combination of high-quality grains makes the mix so special. The relationship between seeds to be harvested by the animals and flakes makes the food a sensory experience for colored mice. Oilseeds with predominantly monounsaturated and polyunsaturated fatty acids contain many minerals and trace elements that small rodents need.
The feed mixture is supplemented with animal proteins and with selected flowers, herbs and vegetables. The river flea shrimp, also called gammarus, and the mealworms are eaten by mice. The same applies, for example, to the healthy flowers of the marigold (calendula) or cornflower.
✔ 100% Natural
✔ Packed under protected atmosphere
✔ Plastic-free packed in cellulose. These bags are biodegradable and can be composted
Feeding advice Mixerama Spotted Mousery Mice Food
Depending on the individual needs of the colored mice, 2-4 teaspoons per day and animal.
Storage advice Mixerama Spotted Mouserys Mice food
Keep cool dark and dry. Use within 4 weeks of opening. We do not recommend buying too much food at once. If a larger stock is needed, always keep it dark, cool and tightly closed.
Composition Spotted Mouserys Mice Food
Platahiret, red millet, wheat, barley, oats, rye, canary seed, oat flakes, dari, Japanese millet, Senegal millet, silver millet, milo, cardi, grass seeds, sunflower seeds, peanut fragments, carrot seeds, barley flakes, rosehip seeds, linseed, spinach, hemp seed sesame seeds, brook shrimp, mealworms, parsley stalks, cornflakes, pea flakes, dill stalks, hibiscus flowers, marigold flowers, daisies, cornflower blossoms, sunflower blossoms, green peppers, tomato flakes.
Specifications
| | |
| --- | --- |
| Content: | 1 kg | 2,5 kg | 5 kg |
| Composition: | Japanese millet, manna millet, platah millet, red millet, Senegal millet, silver millet, pointed seeds, oats, barley, wheat, rye, spelled, sunflower seeds, chopped peanuts, grass seeds, cardi seeds, dari, milo, oat flakes, sesame seeds, cress seeds, spina |
| Analysis: | - |
| Suitable for: | Rodents, Mouse |
| Particularities: | Complementary food |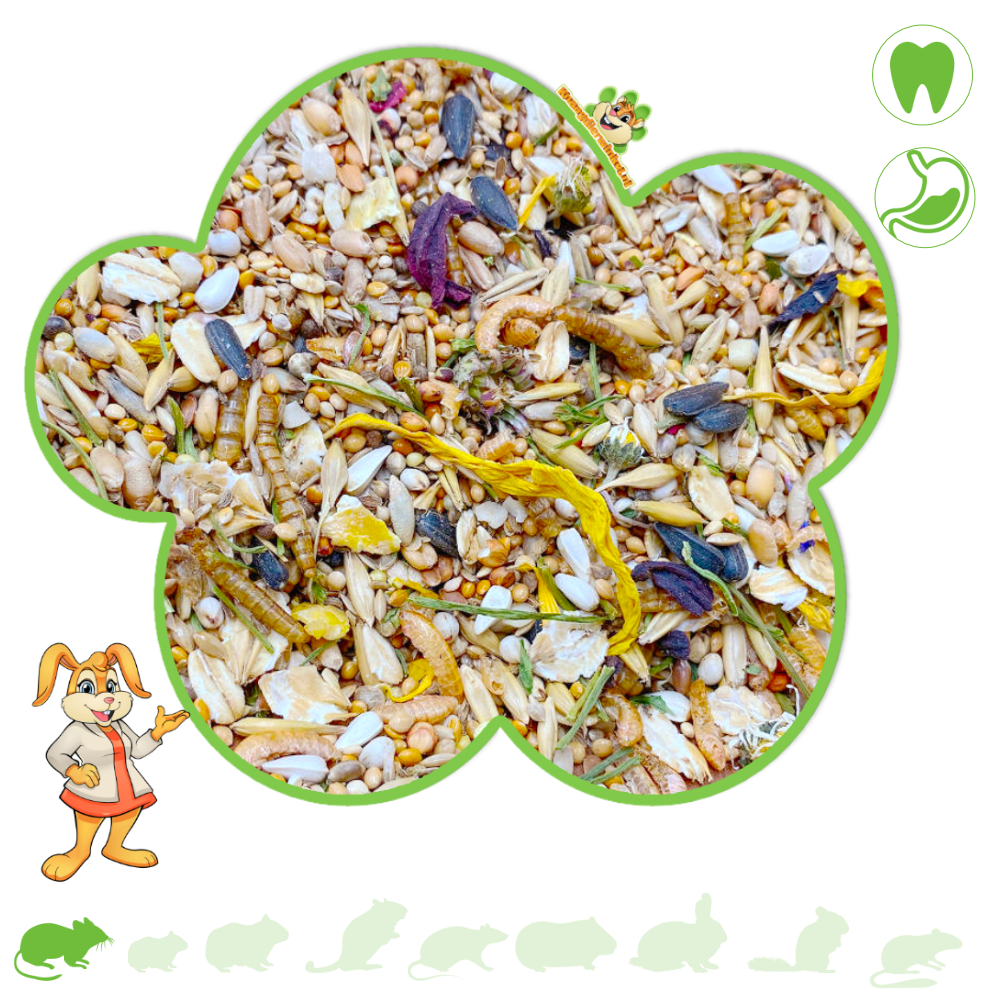 Reviews
No reviews found
Read or write a review