Zaterdag besteld, maandag in huis!

Altijd 14 dagen bedenktijd
Veilig en achteraf betalen

Voor 16:00 uur besteld morgen in huis!
Product description
Joris No Smell Card N Colors for rodents & rabbits!
Colored egg cartons!
The Joris No Smell Card N Card Colors is a colored ground cover consisting of egg boxes. A special feature of egg cartons is that they are very soft and therefore pleasant for the legs. Egg cartons have an open paper stricture so they absorb moisture very quickly. This ground cover can be used as ground cover in itself, but can also be used very nice as a second (play) layer. Especially for larger rodents this can be a lot of fun and promote foraging behavior. We therefore advise to occasionally sprinkle some treats through the playing layer to encourage the animals to search.
✔ Soft and comfortable
✔ Great for long-haired animals
✔ For a clean and dry surface
✔ Dust free
✔ Very good absorption
✔ Visually attractive
A second layer consisting of the Card N Card Colors can also be very nice for small rodents. Small rodents such as: mice, hamsters and gerbils can toss through this layer. Scattering a bit of goodies is an exciting challenge for them, too.
Thanks to the strong absorption of the Joris No Smell Card N Card Colors, puddles are quickly absorbed. It is best to replace the wet puddle corners regularly for the best and most efficient use.
Specifications
| | |
| --- | --- |
| Materiaal: | - |
| Liter: | - |
| Gewicht: | - |
| Geschikt voor: | Knaagdieren |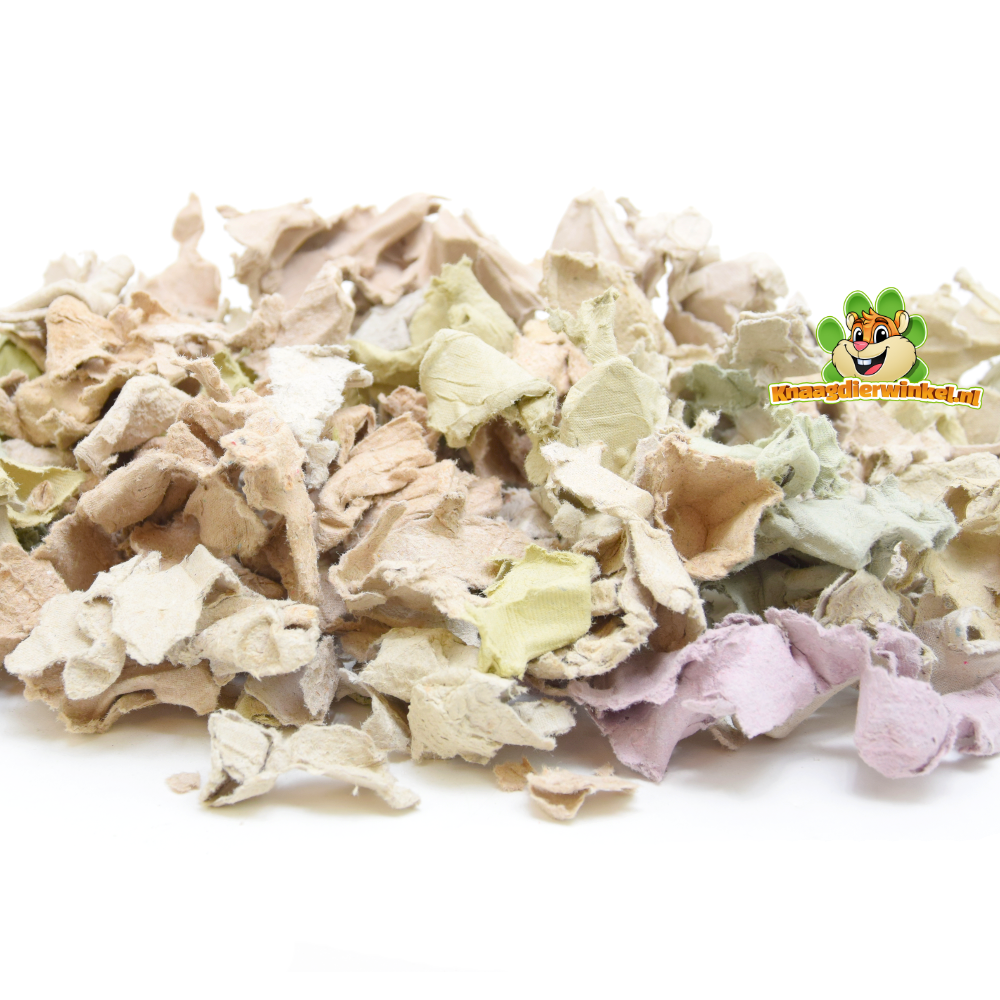 Jeannette
23 December 2019
prijs kwaliteit is okay. grote verpakking dat is ook handig als je een groot hok hebt. het is lekker zacht en het hok ziet er lang fris uit.
Ik gebruik het graag. Het is goedkoper dan Carefresh. Wel zijn het nogal grote stukken, zouden wel wat fijner gemaakt mogen worden.
Danielle
02 September 2019
ziet er leuk uit maar niet gebruiken voor Cavia s, normaal carefresh is prima maar dit gaat snel stinken. By hamster wel ok. Goedkoper dan Carefresh maar ook mindere kwaliteit.
Apart geurtje. Voor de rest lijkt het op Carefresh maar groffer. Prima maar ik verkies toch Carefresh.
Ik vind het best een goede bodembedekker: het lijkt op Carefresh, maar dan veel groffer. Ik gebruik het als bodemlaag en daarbovenop gooi ik een dikke Carefresh om tunnels in te maken. Dat scheelt toch behoorlijk in de kosten, aangezien het de helft van de prijs van Carefresh bedraagt. Een nadeel vind ik de geur, maar dat ruik je alleen als je je neus in de kooi steekt. Nu er Carefresh bovenop zit, ruik ik het eerlijk gezegd amper. Het absorbeert wel goed. Ik gebruik het nu pas een aantal weken, maar tot nu toe vind ik het dus wel een goede bodembedekking t.o.v. de meeste anderen.