Zaterdag verzending!

Altijd 14 dagen bedenktijd

Getest op geschiktheid

Ordered before 4 pm, delivered tomorrow!
Product description
Trixie Glass Drinking Bottle for rodents
The Glass drinking bottle from Trixie is made entirely of hard glass, making the drinking bottle 100% gnaw resistant. All parts are gnaw-proof, the hanging system is also made of metal. Gerbils, Degus and Chinchillas cannot gnaw them apart. Glass drinking bottles insulate better, so that water stays fresh for longer.
✔ Including gnaw-resistant metal drinking spout
✔ Entire drinking bottle is gnaw-proof
✔ Easy water control thanks to float
✔ Easy and secure to attach thanks to tension spring / groove and wire bracket
✔ Closure with ball technology
✔ Drinking bottle 125 ml and 250 ml can be combined with a wooden drinking bottle holder


PAY ATTENTION! The 500 ml drinking bottle does NOT fit in the Trixie Natural Living Bottle Holder
A drinking bottle provides animals with dosed water. The animals have to press against the ball to get water. Each drinking bottle provides water in a different way. One drinking bottle gives water very easily so that it can drip / leak and the other drinking bottle gives water less quickly. These product properties differ per drinking bottle.
Social rodents that live in a group should have several drinking bottles, so that enough water is available for all animals. Dominant animals can claim a water bottle that prevents other animals from drinking.
Young animals are best given a water bowl in addition to a drinking bottle, so that they always have water until they are used to drinking from a drinking bottle.
With every change of drinking bottle it is advisable to also place a water bowl for the animals until they are used to the new drinking bottle. If the animals are used to a drinking bottle that gives water easily, they may have difficulty with a drinking bottle that gives less water.
If the animals do not want to or cannot drink from the drinking bottle, try another one that does suit the animals. Every rodent is different and sometimes has its own preferences.
Always fill the drinking bottle until it is full and tap the nozzle to make sure that no air bubble is left behind. If an air bubble remains in the spout, no water will come out of the drinking bottle. Then hang the drinking bottle straight up and tap the water ball with your finger until the bottle gives water and your finger is wet. Now you know for sure that the bottle gives water and the animals can drink.
To keep
Specifications
| | |
| --- | --- |
| Content: | 125 ml | 250 ml | 500 ml |
| Suitable for: | Rodents, Hamster, Gerbil, Rat, Guinea Pig, Rabbit, Chinchilla, Degu |
| Particularities: | - |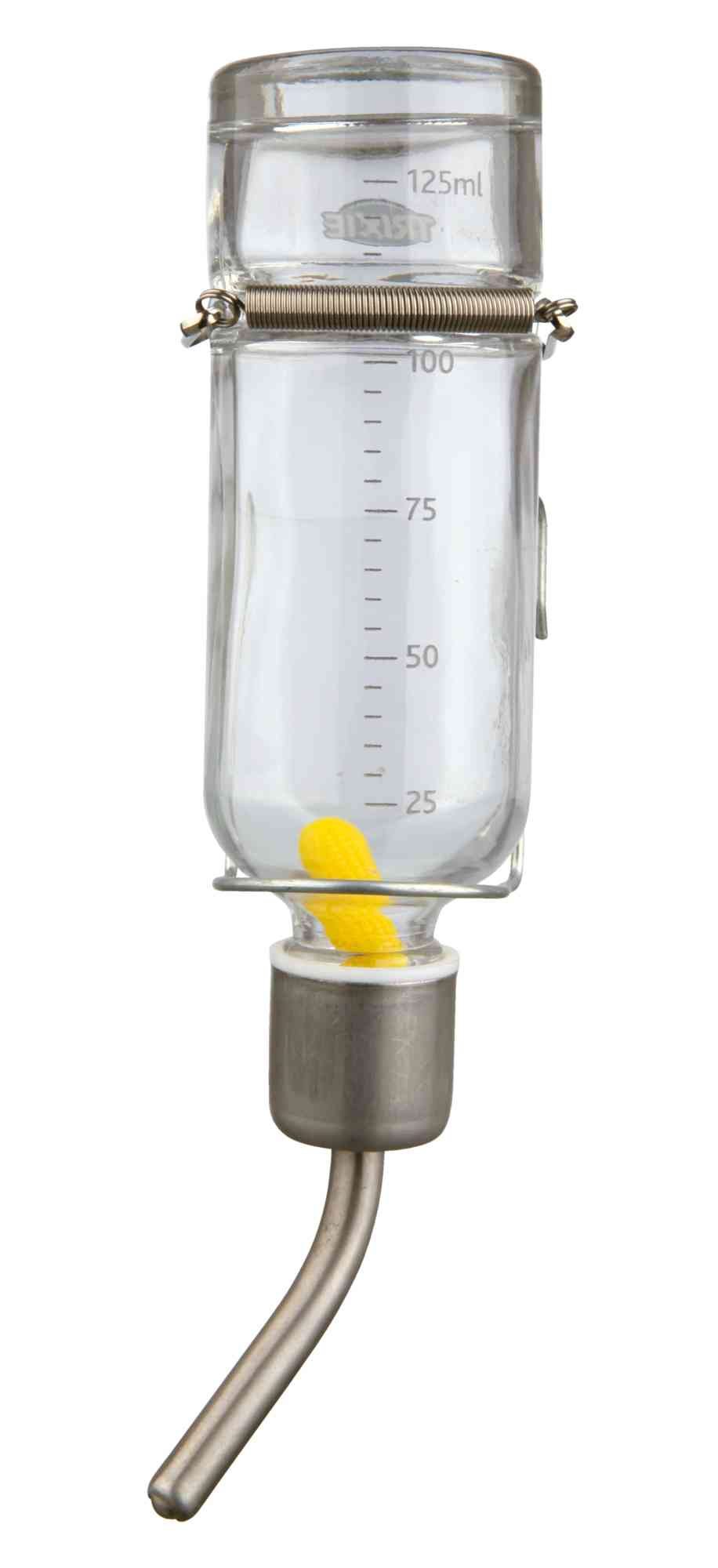 Deze flessen hebben nog geen uurtje aan het hok gehangen en lekte gelijk al stuk van het hok was nat vind het geen fijne flessen geen aanrader
Voor mijn kleine knagertjes is dit ideaal. Kunnen ze niet kapot bijten.
Deze is niet kapot te krijgen, ideaal dus voor de echte knaagdieren die de normale plastic flesjes in een mum van tijd kapot hebben.
Eindelijk een flesje gevonden dat gerbil-proof is.
Ik heb deze drinkfles voor mijn hamster. De fles geeft goed water en het tuitje is subtiel.