Zaterdag verzending!

Altijd 14 dagen bedenktijd

Getest op geschiktheid

Ordered before 5 pm, delivered tomorrow!
Product description
Ham-Stake Birch chips 100 grams
The Ham-Stake Birch Chips are crispy chips made from natural birch wood "breaded" enriched with parsley, echinacea, mint, beetroot or carrot. A unique combination of a healthy treat and nibble pleasure. The Chips also help wear out teeth and keep teeth healthy!
❤ Pure Nature
❤ Enriched with parsley, echinacea, mint, beetroot or carrot
❤ Supports digestion and tooth wear
Did you know? De Berk regulates the metabolism and cleans the liver and kidneys. In addition, the birch also has anti-inflammatory and antibacterial properties and at the same time strengthens the body.
The beneficial properties of peppermint have been known for centuries. It is mainly used in digestive system disorders to aid digestion.
It has a relaxing effect on the smooth muscles of the digestive tract and this has many beneficial effects. Thanks to its anti-inflammatory and antibacterial properties, it can also be used successfully as a disinfectant and pain reliever.
Carrots are among the vegetables with the highest curative properties. First of all, thanks to the content of lutein and vitamin A, it supports vision. The beta-carotene contained in it stimulates the body's natural immunity. Provitamin A also has strong anti-cancer properties. Carrots also contain compounds called bifidus. They stimulate the growth of good bacteria and support the natural intestinal flora.
Echinacea has a supporting effect on the immune system. Echinacea is used to treat viral, bacterial and fungal diseases. It is recommended in the complementary therapy of parasitic diseases.
Due to its richness in vitamins and minerals, beetroot is a valued part of the diet of small animals. It is a vegetable that provides a large dose of complex carbohydrates, dietary fiber and small amounts of proteins and fats. Beets contain many active biological compounds, including. antioxidants and natural nitrates. Their beautiful color is due to the presence of anthocyanins and betalains, which are also powerful antioxidants that protect the body cells against damage.
HAM-STAKE USES NATURAL PRODUCTS
It is good to know that Ham-stake glues the vegetables with a natural adhesive derived from the hydrolysis of sweet potato inulin, so without the addition of sweeteners, preservatives and colorants! 100% natural! All Ham-Stake snacks are therefore prepared in a traditional way and that makes them each unique and rich!

Specifications
| | |
| --- | --- |
| Content: | 100 grams |
| Composition: | Carrot, Beetroot, Echinacea, Peppermint, Parsley, Birch, Starch |
| Analysis: | - |
| Suitable for: | Rodents, Mouse, Dwarf Hamster, Hamster, Gerbil, Rat, Guinea Pig, Rabbit, Chinchilla, Degu |
| Particularities: | - |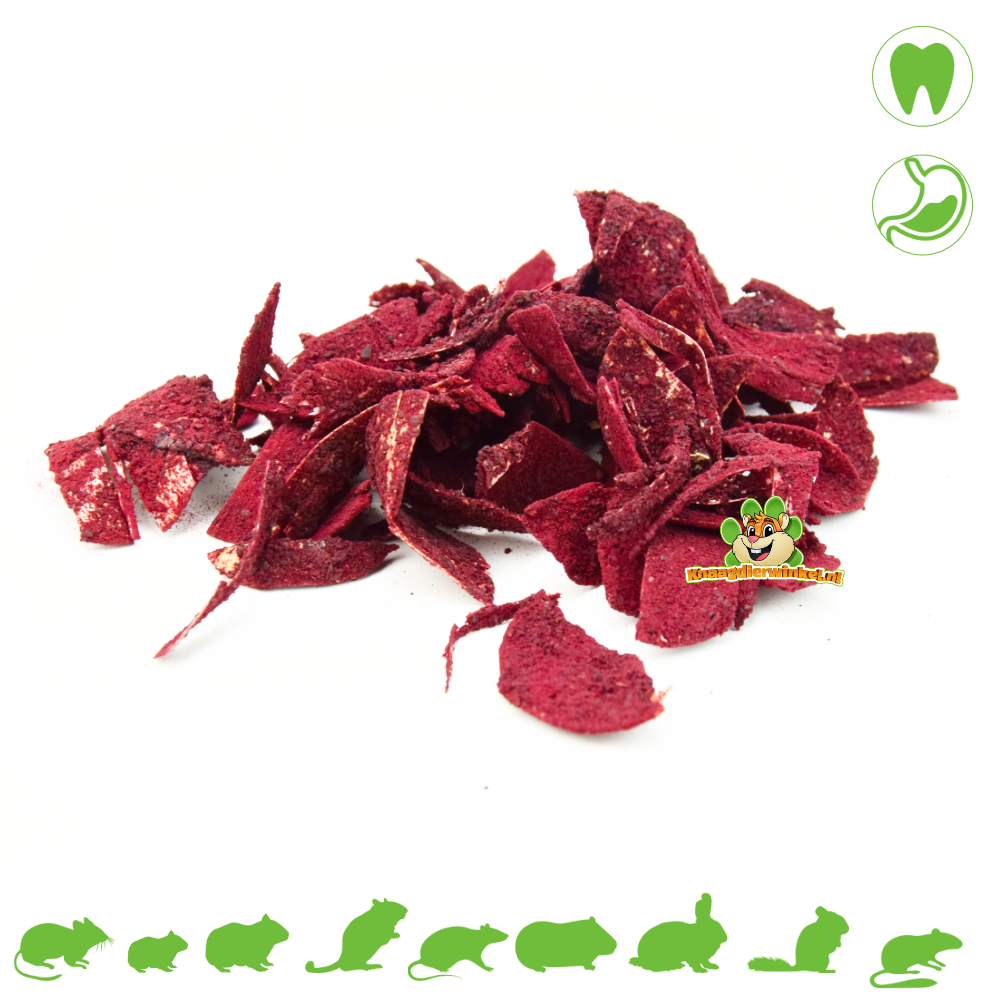 Reviews
No reviews found
Read or write a review