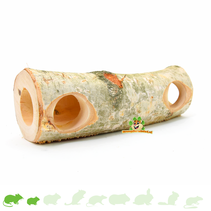 Ordered before 5 p.m., shipped the same day!*

Postpay!

12 YEARS THE BEST for rodents & rabbits!
ALLIANCE WITH NATURE - HUGRO, THE ROTHING COMPANY
Imagine: Günter Leugers, a bird lover and canary breeder, lugs heavy bird sand into his aviaries. But the rodent hero Günter comes up with a brilliant idea! He discovers hemp litter and voilà, a revolution in the world of rodents and birds is born!
HUGRO's adventure begins in a dark garage. Günter, full of enthusiasm and a touch of genius, looked for a lighter alternative to bird sand. He came across hemp litter and guess what? It was perfect for aviaries! With its fantastic moisture absorption, cleanliness and thermal insulation, Günter not only saved himself a lot of work, but also the hassle of cleaning the aviaries. The litter is organic and can therefore be easily disposed of.
From a cozy garage entrepreneur to a real manufacturer! The news about the great HUGRO hemp litter spread like wildfire among bird lovers. At first, the litter was only sold in large containers, but Günter decided to help his gnawing customers by packing the waste in smaller containers after work. The success was so great that he eventually acquired exclusive distribution rights for Germany. Guess what? Smaller HUGRO packages will also soon be available for rodent owners. In this way they gnawed their way into a whole new market and the company grew like a never-ending gnawing dream!
But it doesn't just stop at hemp litter. The HUGRO range grew steadily thanks to ideas from customers, growers and partners, and of course the specialist trade. In addition to various types of litter, you will now also find food and rodent housing in their fantastic product portfolio. Business owner Günter, as a great nature lover, still attaches great importance to quality and sustainability. And it pays off! In 1990, HUGRO even won the "European Pet Product Award" for their hemp litter. In 2007, they became the proud winner of the "Aviary Nest" innovation competition with their active litter made from hemp granules.
But let's not forget who the real employees are at HUGRO - the animals themselves! A dedicated research team consisting of guinea pigs, degus, gerbils and countless other rodents conducts product tests every day. Without the strict assessment of these critical nibblers, not a single new HUGRO product will come onto the market. Because who better to judge the gnawing ability and coziness of their range than the gnawing experts themselves?
HUGRO, the rodent-friendly company, in perfect harmony with nature!