The auratus cup is a hollowed-out tree trunk that can be used as a food bowl or as a small sand bowl for small rodents. The cup has a beautiful natural look and is very sturdy.
Read more
The Berken Tunnel Heinsberg is no less than 30 cm long. A beautiful birch tunnel where small rodents can play and hide to their heart's content. The tunnel responds to the animals' natural behavior, namely walking through tunnels. In nature, small rodents
Read more
The Bounty Paradise is a very robust hollowed-out tree trunk that is perfect for real rodents, such as Chinchillas and Degus. The animals can hide in the house, sit on top of it and chew on it if they feel like it. The dense shape gives the animals a safe
Read more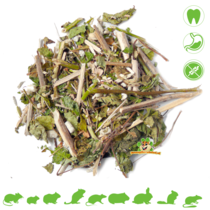 Rodent teeth deserve extra attention. The teeth grow throughout their life, so it is important that the animals can wear them on something. The Denta Herbs mixture helps with this. This one contains Jerusalem artichoke stems and echinacea - all perfect fo
Read more
Voor 17 uur besteld dezelfde dag verzonden

10 jaar de GROOTSTE voor uw knaagdier

Zaterdag verzending
You would think there is a witch nearby, but nothing could be further from the truth! This broom is for the rodents. The broom consists of many fine birch branches, which the animals can gnaw and nibble to their heart's content. Did you know that rodents
Read more
For omnivorous rodents such as the mouse, dwarf hamster, hamster, gerbil and rat, protein in the diet is very important. The protein mix contains naturally dried animal proteins with alfalfa, green oats, dandelion leaves and blossoms, daisies and cornflow
Read more
Small rodents live in tunnels and corridors in the wild. They also dig the most beautiful corridors at our home! The Rodent Tunnels make it possible to design a beautiful corridor system for the animals that really stands up. The tunnels are available in
Read more
ALLIANCE WITH NATURE
Tired of replacing the heavy bird sand in his aviaries, Günter Leugers made a virtue out of necessity and discovered hemp litter. Today, award-winning natural products are very popular with rodents and birds.
It all started in a garage when avid bird lover and canoe breeder Günter Leugers went in search of a lighter alternative to bird sand and discovered hemp litter himself. His tests quickly showed that the natural product is ideally suited as an aviary covering. The high moisture absorption, the cleanliness of the product and the thermal insulation save labor and also make the disposal of the used bedding, as it is biological, very easy.
FROM GARAGE ENTREPRENEUR TO MANUFACTURER
The good news of HUGRO hemp waste is spreading like wildfire among bird watchers. Initially, hemp litter is only marketed in large containers. Günter Leugers lends a hand himself and packed the waste in smaller containers in his garage after work.
The high sales success finally gave the pioneer of the hemp litter the exclusive distribution right for Germany. In line with the wishes of the customer, the first small HUGRO packaging will soon be on the market. Shortly afterwards, rodent owners discover that HUGRO hemp litter is also ideal for their darlings.
A new market is being won and the company is growing unimaginably. Today, the former garage has grown into a company with more than 1500 m² of production and storage facilities and an office wing in Saerbeck.
AWARD-WINNING PRODUCTS FROM NATURE
The ideas of customers, growers and partners, as well as the specialist trade, have allowed the HUGRO range to grow steadily. In addition to different types of litter, they now also have food and rodent home furnishings find their place in the product portfolio. Company owner Günter Leugers as a nature lover quality is still very important to his products and sustainability. A concept that works: In 1990, HUGRO was awarded the "European Pet Product Award" for its hemp litter. In 2007, HUGRO's active bedding made from hemp grains will be launched on the market. Winner of the "Aviary nest" innovation competition.
ANIMAL EMPLOYEES
The company motto "Recommended by leading small animals ..." is lived at HUGRO. A dedicated research team, consisting of guinea pigs, degus, gerbils and many other rodents, conducts product testing on a daily basis. Without the critical rodent assessment, HUGRO will not have a new product on the market.