Products tagged with Houten Looprad
This beautiful wooden running wheel from the forest collection is made of untreated natural wood. This Hamster Mill has a very pleasant natural look thanks to the wood. The running wheel stands on a sturdy stand so that it cannot fall over...
Read more
The Super Silent Cork Running Wheel from Rodipet is, as the name suggests, really super quiet! The only audible sound is the thumping of the small feet on the surface of the running wheel. The running surface is covered with soft cork and therefore ideal
Read more
€39,95
Deliverytime
Out of stock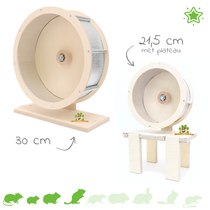 The DRD Rodent Shop® wooden running wheel is enriched with aluminum parts. The running wheel rotates smoothly and quietly thanks to the double ball bearings. The running wheel is made of high-quality birch wood, enriched with first-class high-quality alum
Read more
Discover Getzoo's cork running wheel! The walking surface is covered with cork and is therefore particularly soft for the sensitive paws of small rodents. The running wheel has a completely closed structure, ie the running surface is closed, but so is the
Read more
€34,95
Deliverytime
In stock
Voor 17 uur besteld dezelfde dag verzonden!

Achteraf betalen!

10 JAAR het BESTE voor knager & konijn!
With the Wooden Running Disc from Trixie your little rodent can run in an ergonomically responsible way. The Wooden Running Disc is quiet and very safe for your rodent. The running surface allows your little rodent to run at a stretch. Because your rodent
Read more
Discover the Wooden Running Wheel from Getzoo! The running wheel has a completely closed structure, ie the running surface is closed, but so is the back, so tails are safe! A nice side effect in addition to the superior quality is that the running wheel i
Read more
€34,95
Deliverytime
In stock
The Trixie Wooden Running Wheel is an ideal running wheel for rodents. The running wheel is made entirely of untreated natural wood. It has a soft, almost soothing color that will suit any residence. The running wheel has a very pleasant and above all saf
Read more
The Hugro Wooden Running Wheel is made of high-quality wood and gives small rodents the opportunity to lose their energy. The tread is covered with cork. Wooden running wheels generally turn more heavily than plastic running wheels. Animals that are used
Read more
Deliverytime
Out of stock