Products tagged with Tent
A cozy and safe circus themed house where your guinea pigs can sleep or hide in! Comes with two interchangeable, removable plasma mats. The cabin can be machine washed and flattened for storage without creasing.
Read more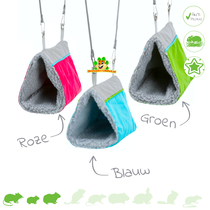 Nice soft hammock for hamsters. The Tent Hammock is made of soft material and can easily be hung in the accommodation.
Read more
€4,99
Deliverytime
In stock