Products tagged with Muizenkooi
The Elmato Paradise is truly a paradise for small rodents such as hamsters and mice. The accommodation is very spacious and comes with a basic furnishing consisting of a plateau and a staircase. Thanks to the dense shape, a lot of ground cover can be used
Read more
The Falco skyline is a beautiful residence that combines glass and bars. Thanks to the high glass bottom tray, a lot of ground cover can be used without it falling out. The lattice top provides sufficient ventilation and contact options.
Read more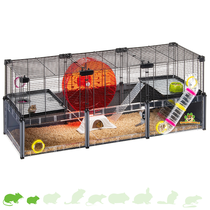 The Ferplast Multipla is a very special stay, with an emphasis on special. We also had to take a look at what we actually saw. The enclosure has a modular structure and that has many advantages, but the cage for hamsters should not be built in the height,
Read more
The rodent terrarium is suitable for rodents such as: Mice and Dwarf Hamsters. The terrarium has good ventilation thanks to the open top and special ventilation strip. The ventilation strip at the front has been specially placed higher so that it is possi
Read more
Voor 17 uur besteld dezelfde dag verzonden!

Achteraf betalen!

10 JAAR het BESTE voor knager & konijn!
The Terrarium Black Scape is ideally suited for, for example, "Hamsterscaping". Thanks to the high edge, a lot of ground cover can be used, which the small rodents can then dig into. The terrarium is suitable for small rodents such as: Mice and Dwarf Hams
Read more
This beautiful terrarium is fully equipped and suitable for small rodents such as Mice, Dwarf Hamsters, Hamster and Gerbils. The deep bottom tray makes it possible to use a thick pack of bedding that the animals can dig in. The climbing system is included
Read more
Terrarium with sliding doors for rodents. Thanks to the spacious sliding doors, you can easily access the terrarium. Optimal ventilation system with 1 mm perforated plate for better air circulation. Made of float glass. Trap door: 1 ventilation grille in
Read more
The Trixie Wooden Rodent House is a very spacious enclosure made of wood. The enclosure has a deep bottom tray that provides space for more than 25 cm of ground cover. At the front, watching the animals is possible thanks to the acrylic glass. Both the li
Read more
€169,-
Deliverytime
In stock