Products tagged with Dille
Dill belongs to the natural food of rodents. They come across dill everywhere in the wild and love to nibble on it. Dill is a particularly aromatic plant and is rich in fiber and vitamins. A natural snack and also fun for a natural rodent enclosure!
Read more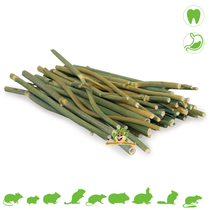 The JR Farm Dill Sticks give your rodent aromatic, healthy nibbling pleasure in its most original form. Dill supports digestion and has a calming effect. Also for all pet birds.
Read more