Crispy snack carrot 25 grams
Zaterdag verzending!

Altijd 14 dagen bedenktijd

Getest op geschiktheid

Ordered before 5 pm, delivered tomorrow!
Product description
Bunny Nature Crunchy snack carrot 25 grams
Food supplement for dwarf rabbits and rodents
The Bunny Nature Crispy Snack from the BunnyInteractive range is delicious and extremely popular with all rabbits and rodents. This makes it an ideal reward snack that no animal can resist. Small, light and crunchy-crunchy - the crunchy snacks are super tasty and easy to nibble. This makes them the ideal reward for many activities.
✔ Small snacks ideal for e.g. clicker training and snufflemat
✔ Resealable practical jar
✔ Without added sugars, flavor enhancers, preservatives and aromas
✔ The Reward Snack
✔ The Ultimate Reward
Bunny Nature Crispy Snack Root for Clicker Training!
The Bunny Nature Crispy Snack is also ideal for clicker training. The Crispy's are the perfect size, super light and crunchy, making them ideal as a snack. You can continue training immediately after the meal. This is important to get a good training result. Of course the Crispy Snack is a real hit, it makes training with our Click & Snack training cards even more fun!
The Bunny Nature Crispy Snack is also suitable for all animals that have done something special! Were you brave while cutting your nails? Or have you waited patiently at the vet? Then they deserve the ultimate reward!
Bunny Nature Crispy Snack Carrot for the Snuff Mat
The crunchy snack makes searching for snacks in our snufflemats even more exciting. Just hide some crunchy on the mat and the SEARCH PLAY SNACKING begins. A successful "taste trip" is rewarded with the super tasty crisps.
WITHOUT: Sugar added, flavor enhancer, preservative, flavors
Nutritionist Bunny Nature Crispy Snack Carrot
Give a maximum of 1 teaspoon per day - depending on the size and weight of the animals.
Specifications
| | |
| --- | --- |
| Content: | 25 grams |
| Composition: | Corn, carrots (35%), sunflower oil |
| Analysis: | - |
| Suitable for: | Rodents, Mouse, Dwarf Hamster, Hamster, Gerbil, Rat, Guinea Pig, Rabbit, Chinchilla, Degu |
| Particularities: | - |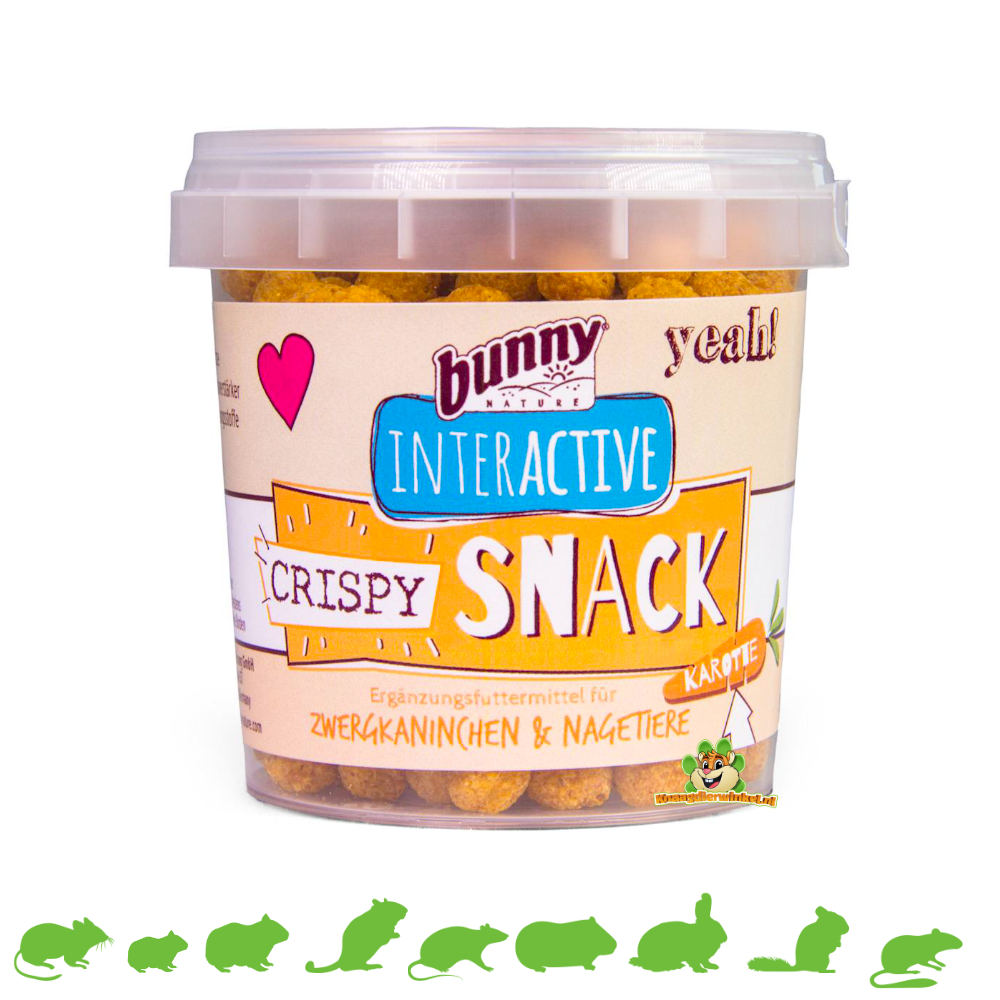 Mijn hamster vond de knapperige snackwortel heel lekker, elke keer als ik het haar gaf at ze het meteen op