Products tagged with Brandnetel
The Nettle leaves are of the highest quality. Carefully dried so that your rodent can enjoy the best quality Nettle leaves. Aromatic natural vegetables, known from national medicine and medicinal herbs. Stimulates digestion. Has detoxifying properties and
Read more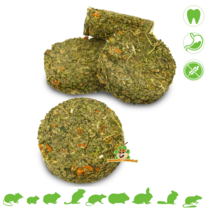 The JR Farm Grainless Herbal Roll Nettle & Carrot are round and healthy! Made from fiber-rich herbs and flowers without grains for a healthy, allergen-free diet!
Read more
Puik Herbal Hay with Cornflower & Nettle is a real treat for your rodent! Puik Herbal Hay consists of fragrant high-quality hay, nettle leaves and cornflowers. The natural product contains a high proportion of crude fiber, which promotes good digest ...
Read more
Carefully dried grasses and herbs with a very high proportion of leaves. Enriched with Nettle with a high crude fiber content. The super premium hay for all gourmets among rodents.
Read more
Voor 17 uur besteld dezelfde dag verzonden

10 jaar de GROOTSTE voor uw knaagdier

Zaterdag verzending
Nettle is a natural food for rodents. They come across nettle everywhere in the wild and love to nibble on it. Nettle is particularly rich in fiber and vitamins. A natural snack and also nice for a natural rodent stay!
Read more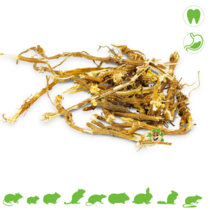 With their many vitamins, minerals and trace elements, the nettle roots not only support the natural resistance but are also always a popular snack for all rabbits and rodents. The high crude fiber content ensures optimal digestion and thus increases well
Read more
The rodent pellets are so richly filled that it is almost a complete food. The balanced ingredients provide the rodents and rabbits with all important vitamins, minerals and trace elements. The ingredients such as hay and alfalfa provide an optimal raw fi
Read more