Zaterdag besteld, maandag in huis!

Altijd 14 dagen bedenktijd
Veilig en achteraf betalen

Ordered before 4 pm, delivered tomorrow!
Product description
Hope Farms Guinea Pig Balance
Hope Farms Guinea Pig Balance is a healthy, complete diet with valuable raw materials and tasty ingredients such as grains, seeds and alfalfa. This guinea pig food contains all necessary vitamins and minerals to keep guinea pigs in good condition. Enriched with 3,500 mg of Vitamin C for optimum condition and the right fiber content for good digestion.
Tasty food with a high acceptance
Contains a large amount of stable vitamin C, essential for healthy Guinea pigs
Contains a lot of fiber for good digestion and a healthy intestinal flora

Contains carefully selected ingredients that guinea pigs would also find in nature and that they love. Hope Farms Guinea Pig Balance is a healthy, balanced menu of extruded premium food with valuable natural ingredients and tasty ingredients such as alfalfa, grains and seeds. Guinea Pig Balance is enriched with extra vitamin C, because a guinea pig is unable to make it itself and store it in their body.
No synthetic colors, fragrances and / or flavorings have been added to Cavia Balance. It contains all the vitamins and minerals needed to keep your guinea pig in good condition. With the addition of Yucca, the unpleasant smell of urine and stool is greatly reduced. In addition, Cavia Balance is enriched with Ginseng because of the proven positive effect on vitality and well-being.
The raw materials have been carefully selected and the premium food contains in particular those ingredients that rabbits would also find in nature and that they also love. Each kibble is exactly the same in composition, so that the animals can not only extract their favorite taste. This prevents shortages occurring.
Specifications
| | |
| --- | --- |
| Inhoud: | - |
| Samenstelling: | - |
| Analyse: | - |
| Geschikt voor: | Knaagdieren |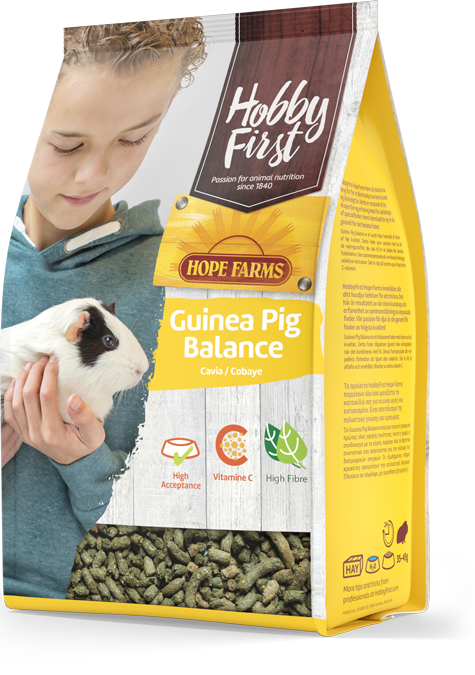 Onze zeer kieskeurige cavia's eten dit het beste. Geen mogelijkheid om het lekkerste eruit te pikken. Enig nadeel, het voer verkruimelt snel, en die kruimels laten ze liggen.
De cavia's vinden het erg lekker en het is gezond.
sylvi W.
31 December 2017
Koper heeft geen omschrijving achtergelaten.
Francien V.
12 December 2017
De cavia's vinden het lekker. De dierenarts complimenteert ons dat zij er -door het goede voer- goed uitzien, met een mooie glimmende vacht. De cavia's komen van de opvang. Toen wij de cavia gingen halen bij de opvang, hebben we voer meegekregen zodat ze iets vertrouwd hadden en konden acclimatiseren aan de nieuwe omgeving... Ze heeft er geen hap van genomen, want er stond ook een bakje Balance...