Zaterdag verzending!

Altijd 14 dagen bedenktijd

Getest op geschiktheid

Ordered before 5 pm, delivered tomorrow!
Product description
JR Farm Meadow Hay Ball
The JR Farm Meadow Hay Ball gives rodents and rabbits extra play and nibble fun! The ball consists of more than 20 different types of grasses and herbs. Completely edible and delicious!
✔ 100% Natural
✔ Prevents boredom
✔ Nibble fun
✔ Natural herbs and grasses
Composition JR Farm Meadow Hay Ball
Oat Grass, Orchard Grass, Fluffy Oats, Pasture Grass, Red Clover, Sharp Buttercup, Sweet Spring Grass, Yorkshire Mist, Gold Oats, Narrow Vetch, Hop Screw Clover, Dandelion, Plantain, Primrose, White Daisies, Large Bibernelle, Meadow Cabbage, Parsnip , sorrel, gamander honor award, common hornbill, giant hogweed, German ryegrass, soft trespe, bird vetch, fence vetch, three-pronged orchid, bulbous buttercup, small rattle jar, cow's melley, yarrow), cellulose
✔ Pure Nature
✔ Rich in fiber and prebiotics
✔ Supports the intestinal flora

Specifications
| | |
| --- | --- |
| Content: | 1 ball | 125 grams |
| Composition: | The plant life which grows on the permanent pastures of the Alpine foothills, cellulose, starch |
| Analysis: | - |
| Suitable for: | Rodents, Mouse, Dwarf Hamster, Hamster, Gerbil, Rat, Chinchilla, Degu |
| Particularities: | - |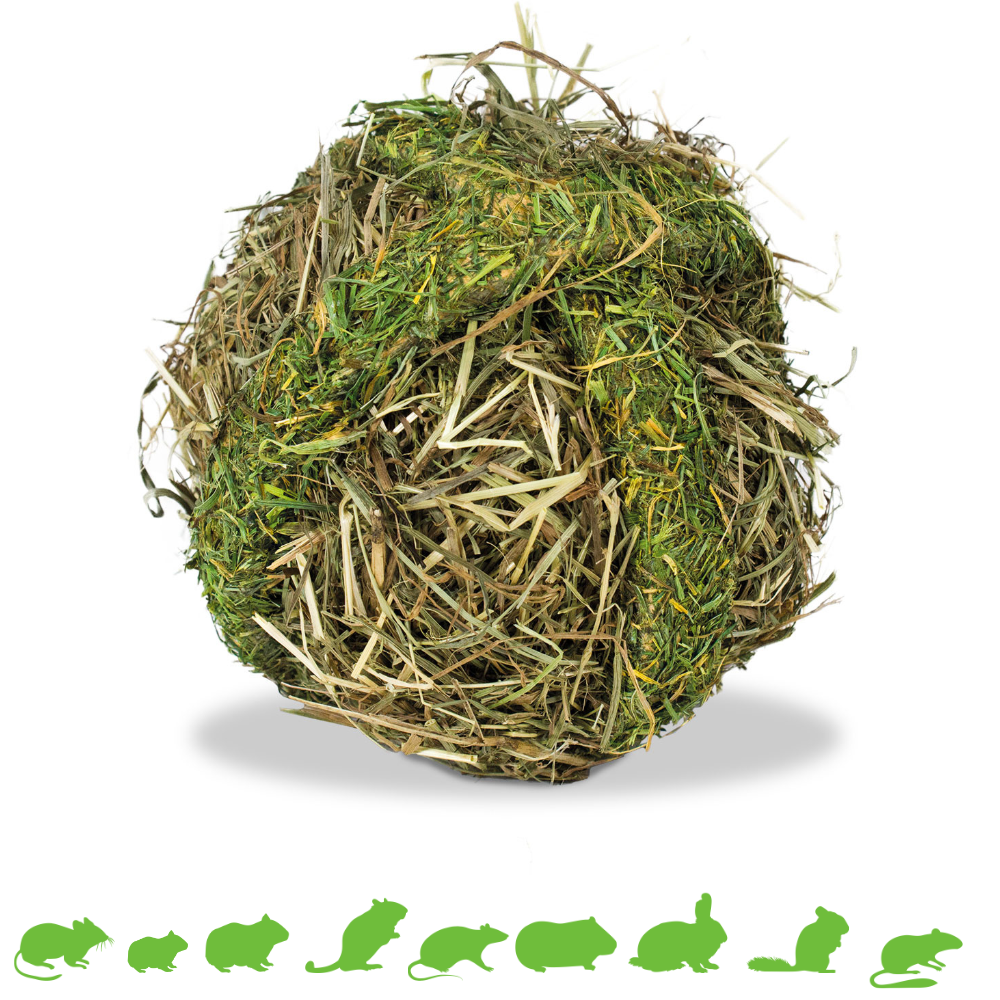 Echt heel leuk voor mijn cavia! Hij speelt er heel veel mee en vindt het heel lekker! Je kan het ook steeds bijvullen. De grootte is misschien iets te groot, maar mijn cavia vindt dat niet erg... :)
Ons konijn vind hem superleuk en speelt er ook mee.
Wat een super leuke bal om in je kooi neer te leggen. De grote is voor mijn cavia's ook perfect! Het hooi vinden ze echt heel erg lekker! Lekkerder dan wat ze normaal krijgen! Het was daarom ook al heel snel op! Nu gebruik ik de bal nog steeds om het te hervullen!

Het is zeker iets wat ik nog een keer ga bestellen!
Mijn konijnen vonden het heel lekker.
Mijn cavia's waren er dol van .