Organic Gold Hamster Food Senior 500 grams
Zaterdag verzending!

Altijd 14 dagen bedenktijd

Getest op geschiktheid

Soon in stock
Product description
Rodipet Organic Gold Hamster Food Senior 500 grams
The Rodipet Gold Hamster Food Senior is a mixed food specially formulated for golden hamsters (Syrian Hamsters) from the age of 13 months. This age-adjusted food mix for older golden hamsters is based on the food as the animals eat it in the wild.
✔ Nutrition appropriate for the age
✔ With herbs and vegetables and high-quality, natural ingredients
✔ Corresponding to the hamster's natural diet
✔ From controlled organic cultivation DE-ÖKO-021
In the course of life, the behavior and with it the nutritional needs of the Golden Hamster change. Young animals need a lot of protein, among other things, so that their bodies can develop healthily; young adult hamsters have a higher energy requirement as they move from their mother's nest to their own territory and from there look for a mate; and older animals need more fiber and vital substances to grow up healthy.
Our senior mix is ​​tailored to the needs of adult and older golden hamsters. The higher proportion of crude fiber and the lower proportion of energy and protein give golden hamsters a balanced diet from the age of 13 months.
Recipe of Nature!
The basis of the Rodipet® nutritional composition is a whole series of research trips to the natural habitat of the Syrian Hamster (Golden Hamster) in Syria. The results of these trips, the observations of the animals in the wild as well as scientific studies are the basis of the Rodipet diet.
Carefully selected, delicious herbs, high-quality seeds, tasty organic roots and vegetables are reminiscent of the steppe landscapes of Syria, where hamsters of the species Mesocricetus auratus originally came from.
22 selected ingredients from certified organic cultivation
Each of the 22 components of our organic Syrian hamster food is selected based on the food available to wild Syrian hamsters in the Aleppo area and is carefully controlled by us. Only ingredients that meet the highest quality standards are used in our feed mixes. This makes every bite a feast for the senses for your little gourmet. And to make sure no fertilizer or even pesticide residues spoil the little furry friend's appetite, we use 100% organic ingredients in this food.
Always fresh from our feed kitchen!
Vitamins and other micronutrients are broken down in long-term storage and especially through contact with air - that's why we keep our stocks small, mix our food fresh every day and fill it into airtight cans.
Composition Rodipet Organic Gold Hamster Food Senior
Plata millet, cornflakes, barley, oat flakes, pumpkin seeds, carrots, hemp seeds, rye, parsnips, parsnip peas, beetroot, amaranth, buckwheat, parsley leaves, birch leaf, golden linseed, brown linseed, spinach leaves, sesame seeds, hazelnut leaves, roasted fennel seeds, all dandelion seeds Ingredients from organic farming) DE-ÖKO-021. Analytical components: crude fiber: 8.2%, crude protein: 14.2%, crude fat: 8.6%, crude ash: 3.6% Naturally present elements per 100 g: calcium: 200 mg, phosphorus: 370 mg magnesium: 240 mg, potassium: 540 mg, sodium: 46 mg Naturally present trace elements: iron: 13.96 mg, manganese: 5.00 mg, zinc: 4.21 mg, copper: 0.89 mg
Specifications
| | |
| --- | --- |
| Content: | 500 grams |
| Composition: | Plata millet, corn flakes, barley, oat flakes, pumpkin seeds, carrots, hemp seeds, rye, parsnips, precooked peas, beetroot, amaranth, buckwheat, parsley leaves, birch leaves, golden linseed, linseed brown, spinach leaves, sesame seeds, hazelnut leaves, ro |
| Analysis: | Crude fiber: 8.2%, crude protein: 14.2%, crude fat: 8.6%, crude ash: 3.6% Naturally contained elements per 100 g: calcium: 200 mg, phosphorus: 370 mg, magnesium: 240 mg, potassium : 540 mg, sodium: 46 mg Naturally contained trace elements: iron: 13.96 mg, |
| Suitable for: | Rodents, Hamster |
| Particularities: | - |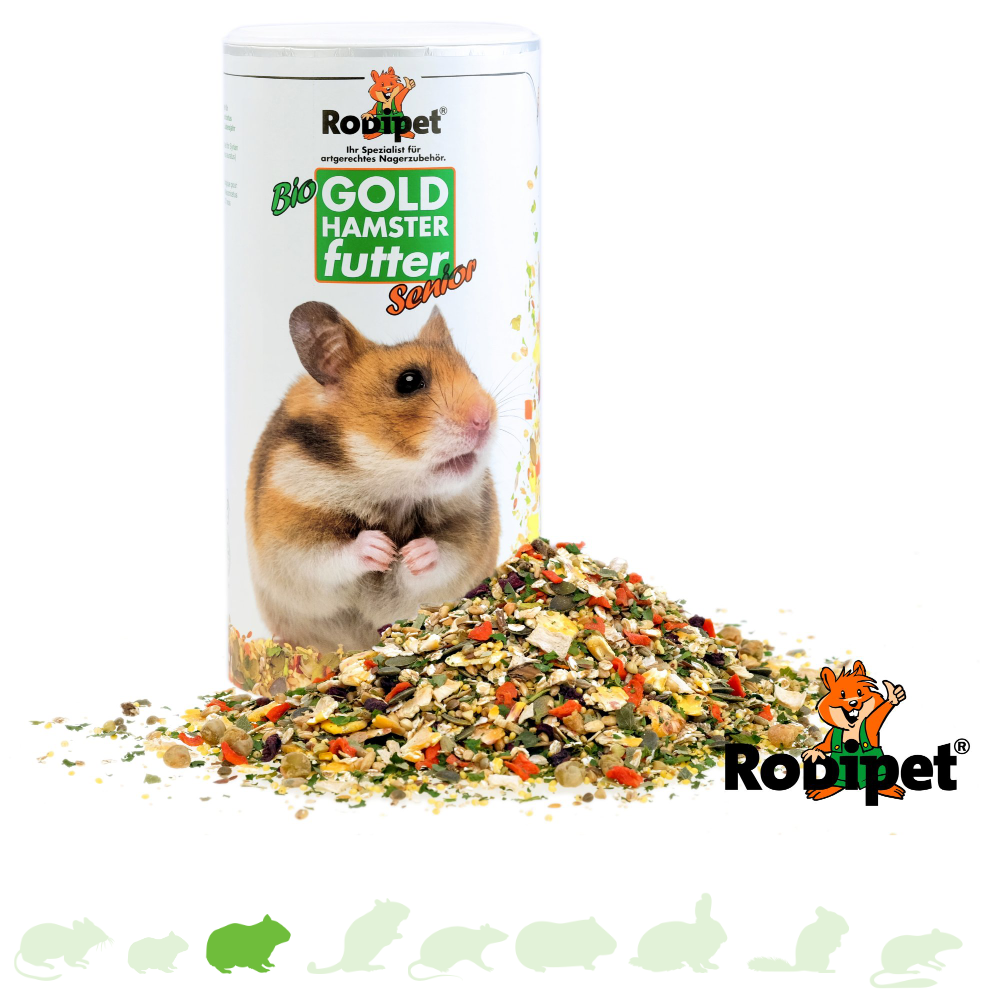 Reviews
No reviews found
Read or write a review