Grootste Knaagdierwinkel van Europa

Altijd 14 dagen bedenktijd

Zaterdag verzending
Product description
Trixie Dried Moss 200 grams
A special and natural nesting material for your rodent! The moss is dried and gives a natural look to the rodent enclosure. It is 100% safe for rodents.
✔ Increases and maintains the humidity in a terrarium
✔ Of course
The moss is especially nice for small rodents such as mice, hamsters and gerbils. The enclosure of a larger rodent is often more difficult to arrange in a natural way, but certainly not impossible.
The moss is not specially treated by the manufacturer, but it is dried for a long time. Due to this drying process, most micro-organisms do not survive.
New experience on the legs!
Moss ensures that the animals feel a different ground cover on their legs. This new experience is very good for them. It stimulates and works surprisingly. Keep surprising your rodent that prevents boredom!
Moss on a plateau
The moss can be placed on a plateau. This can be done directly on the plateau and does not require a floor covering. Because the moss consists of slices, it is fairly easy to lay down.
Moss over the ground cover
The moss can also be placed over part of the ground cover. The small rodents can then crawl under and over it.
Moss as nesting material
In practice we see that the rodents pick pieces of the moss and take them to the nest.
*Because it is a natural product, the color and shape may differ.
Save
Specifications
| | |
| --- | --- |
| Material: | - |
| Liter: | - |
| Weight: | - |
| Suitable for: | Knaagdieren |
| Particularities: | - |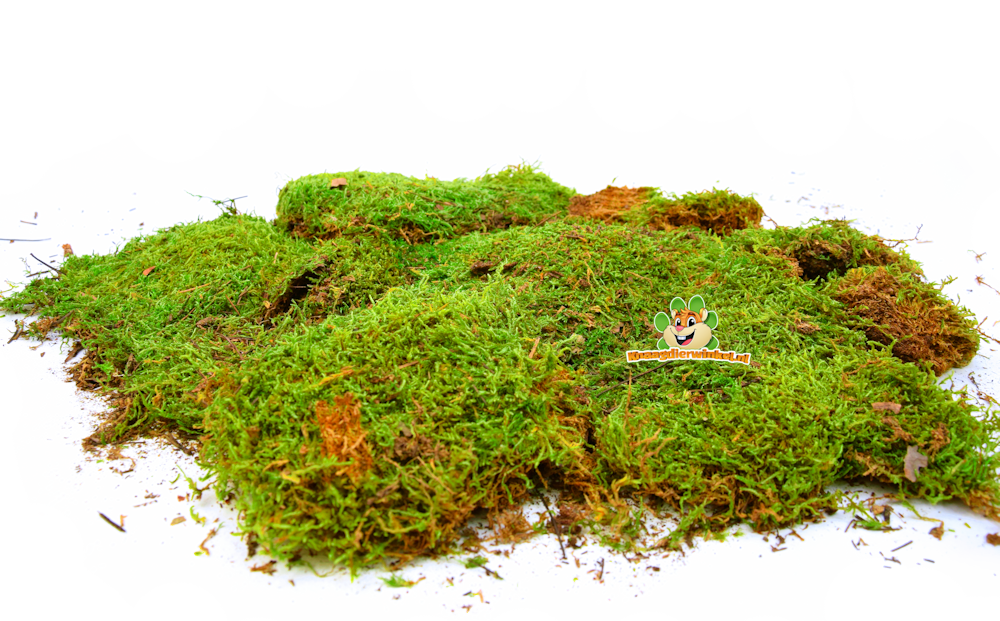 Erg mooi mos! Het maakt het verblijf zo veel leuker en ze kunnen het ook nog als nestmateriaal gebruiken. Mijn hamster vind het echt superleuk!

Instagram: @thehamsterscaping
Paula Roza
08 January 2021
Altijd mooi voor decoratie ik het hok
Het mos geeft het verblijf een natuurlijke uitstaling en de hamsters gebruiken het ook als nest materiaal.
Maakt de kooi veel natuurlijke. Super goed en mooi mos .
Staat heel leuk in de hamster bak
Liza de Graaf
20 December 2019
Niet zo mooi groen als op de foto's, maar m'n hamster Newt vind het super en gebruikt het als nest materiaal haha!
De hamster vind het heerlijk om over te lopen en aan te knabbelen. Een bakje mos van 35 gr. bij de BloemenSuper kost 2 Euro, dus dit is de helft goedkoper!
Het heeft een natuurlijke uitstraling
elsjedevisser
05 August 2018
Eerst n paar nachtjes in de vriezer gelegd. Daarna kun je t heel lang gebruiken. Bij het verschonen van het hok klop ik de plakken mos voorzichtig af om eventuele poepjes te verwijderen. En controleer ik even of t stinkt. Dat is bijna nooit het geval want plassen doet mn hamstertje in haar wc tje. En zolang t nog niet stinkt blijf ik t hergebruiken..soms wel 3 maanden.
Mooie plakken groen mos. Leuk om het verblijf een natuurlijke uitstraling te geven. Blijft ook na langere tijd mooi. Mijn hamster doet er verder niks mee en loopt er alleen maar overheen. Voor gebruik heb ik het wel een tijdje in de vriezer gelegd en daarna uit de verpakking laten drogen.
Ik vind dit een erg goed product het geeft je kooi een natuurlijke uitstraling
Meteoschoonebeek
23 February 2018
Erg leuke mos maar wel op maat maken buiten want het smeert wel maar ziet er erg natúúrlijk uit gerbils vinden het erg leuk
Senn (bram) Z.
29 October 2017
Mooi groen gedroogd mos wat makkelijk in elke vorm te knippen is.