Products tagged with Reinigen
Beaphar Odorway removes unpleasant odors caused by pets, such as urine and vomit. The product provides a thorough cleaning. The added probiotics break down odors quickly and leave a layer against future pollution.
Read more
Powerful cage cleaner from Trixie. This cleaner ensures that the rodent accommodation is and remains optimally clean and hygienic. The cage cleaner has a fresh lemon scent, which makes the rodent enclosure smell very fresh after cleaning.
Read more
Care Natural consists of the pure natural pine pine extract. The natural immune system of the pine core ensures that the loft is very mildly committed. This is especially positive for the sensitive eyes and noses of the small mammals. Moreover, it spreads
Read more
Beaphar Multi-Cleaner is suitable for cleaning baskets, litter boxes, rodent enclosures, peels, floors, surfaces, fabrics, etc. The product provides excellent cleaning and promotes a safe and healthy environmental microbiome.
Read more
Voor 17 uur besteld dezelfde dag verzonden

10 jaar de GROOTSTE voor uw knaagdier

Zaterdag verzending
Powerfull Cage Cleaner is an all-round cleaner for cages, benches, stables and other animal enclosures based on eucalyptus. Due to the powerful degreasing effect, animal shelters are cleaned of excrement and skin fats and the product is extremely suitable
Read more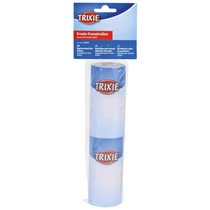 Handy refills for the Lint Roller. The standard lint roller contains 60 adhesive layers. The 2 refill rolls each contain 60 layers. This refill is suitable for the Trixie Lint Roller.
Read more
Beaphar Stain Way removes urine, stool and vomit stains. Stain away contains friendly bacteria that eat the remnants of the stain so that they disappear. Stain away leaves no circles and also removes the odors from the stains.
Read more
Ecopets Urine Buster is the most powerful urine odor and stain remover of its kind and belongs to the latest generation of cleaning products. Standard cleaning agents only clean superficially and temporarily mask the foul odor. Urine Buster, on the other
Read more