Products tagged with Hooiwagen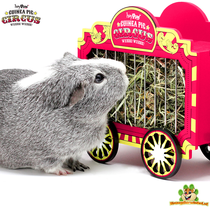 Hay and grass make up 80-90% of a healthy diet for guinea pigs and they love it! This quirky circus wagon-themed hay stock will literally make your guinea pigs jump with excitement when they discover it's filled with their favorite grasses and hay!
Read more
The Wooden Hay Wagon is a special hay rack for rodents and rabbits. The wagon has plenty of space to put in hay and the animals can nibble on their favorite hay all day long. The hay wagon is made of untreated natural wood.
Read more