Products tagged with Grasnest
Nice natural grass basket for rodents and rabbits! The animals can now relax in a natural basket made of grasses.
Read more
A grass bed for rodents to lie in. The grass bed is made of natural braided grass. For all rodents who like to lie in the grass!
Read more
The Trixie Grass Hammock is made of 100% natural material and is easy to hang in the cage. The Trixie Grass Hammock is very popular with rodents such as: Mice, Hamsters, Gerbils, Rats, but also Degus!
Read more
The JR Farm igloo is made from 100% natural miscanthus grass, which naturally has a very high crude fiber content.
Read more
Voor 17 uur besteld dezelfde dag verzonden

10 jaar de GROOTSTE voor uw knaagdier

Zaterdag verzending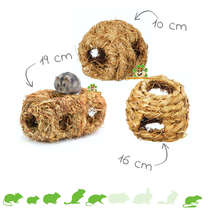 The grass nest is one of the favorite hide and play equipment for rodents and rabbits! Small rodents can hide in the nests and larger rodents can play with them. Rabbits, for example, like to throw them around.
Read more
This grass nest is similar to the small grass nest but is slightly longer. It has multiple entrances. Small rodents like to retreat to a cozy nest. The Elmato Grass Nest 20 cm offers this cosiness. Afterwards...
Read more
The Gras Tunnel is a lot of fun to play and nibble on! The tunnel is no less than 44 cm long and has several openings. The rodents can hide and crawl through the tunnel. This emphasizes the natural behavior of small rodents. The grass tunnel is made entir
Read more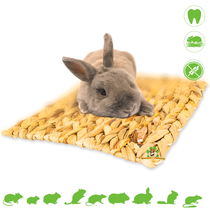 The JR Farm Rodent Nibble Mat is ideal for lying down, sleeping, nibbling or as a windbreak. This 100% natural braided water hyacinth nibbler is suitable for rodents and rabbits.
Read more