Products tagged with Cornet
An ice cream for your rodent how nice is that? Lolo Pets ice creams are specially made for rodents with full of seeds, vegetables, nuts and dried fruit. Available in three tasty flavors.
Read more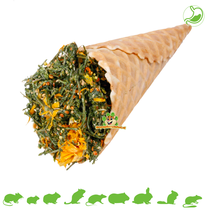 The JR Farm Herbal Cornet is a crunchy wafer cornet filled with a tasty mixture of herb flowers. The cornet can also be attached to the bars. Surprise your rodent with a delicious Ice Cream!
Read more