Products tagged with Chips
The JR Farm Apple Chips are carefully dried (without the addition of preservatives such as sulphur) and carefully packed by hand. In this way a large part of the natural vitamins is preserved.
Read more
€2,95
Deliverytime
In stock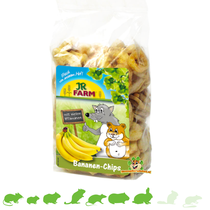 The JR Farm Banana Chips are carefully dried and packaged (without the addition of preservatives) so that the natural vitamins are largely preserved. Pure nature! The chips are not only a tasty and crunchy treat, they also contain essential nutrients. ide
Read more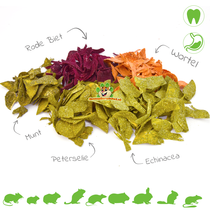 The Ham-Stake Birch Chips are crispy chips made from natural birch wood "breaded" enriched with parsley, echinacea, mint, beetroot or carrot. A unique combination of a healthy treat and nibble pleasure. The Chips also help wear out teeth and keep teeth he
Read more
The JR Farm Carrot Flakes are carefully dried and steamed to retain a high percentage of the natural vitamins and essential beta-carotene. These flakes are especially stomach-friendly and above all a tasty and healthy snack for all rodents!
Read more
Voor 17 uur besteld dezelfde dag verzonden!

Achteraf betalen!

10 JAAR het BESTE voor knager & konijn!
Leeks are rich in Vittamine C, vitamin K, folic acid, minerals and iron. Leek is an antioxidant and also has an antibacterial effect, in addition, leeks stimulate digestion. These Dried Leek Flakes are of the highest quality! Dried carefully so that your
Read more
The JR Farm Rosehip & Apple Chips is a vitamin-rich mix of sun-ripened apples and fresh rosehips. Especially low in fat!
Read more