Mice that have a genetic predisposition to diabetes can best be given a natural and low-sugar diet. The food shown on this page is suitable for these animals.
Read more
Mice food from Bunny Color Mouse Dream Expert is a complete food for mice. The nutritional needs of mice and the latest scientific research were central to the development of Bunny MuizenDroom Basic. The composition is optimally adapted to the natural nut
Read more
€9,49
Deliverytime
In stock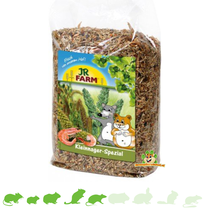 A feast for all-eating rodents! The JR Farm Rodent Protein Special is a protein-rich supplemental mixture for small rodents. With many different seeds and sources of animal protein.
Read more
Diabetes is most common in the red mice. Mice that have a (genetic) predisposition to diabetes can best be fed a low-sugar diet for this reason.