Low-sugar food for Degoes
Degudes that have a genetic predisposition to diabetes can best be given a natural and low-sugar diet. The food shown on this page is suitable for these animals.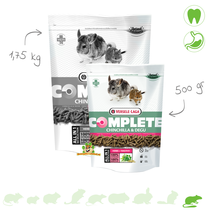 Chinchilla and Degu food from Versele Laga Complete Chinchilla & Degu is food without worries. The tasty All in 1 pellet prevents selective eating behaviour. This way your Chinchilla or Degu gets all the essential nutrients and stays perfectly healthy. Th
Read more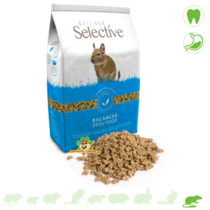 Supreme Selective Degu is a balanced diet for your Degu. Broccoli & Basil – A unique baked food specially formulated for the nutritional needs of degus. This carefully and scientifically chosen mix of high-quality ingredients...
Read more
Deliverytime
Out of stock