Plasmats & Fleece Blankets for Rats
Plasmats are ideal for Rats! Not only to collect urine, but the soft mats are also wonderfully soft on the paws and as we know Rats love soft bedding. The biggest advantage of plasmas is that they catch the urine droplets that Rats leave here and there to
Read more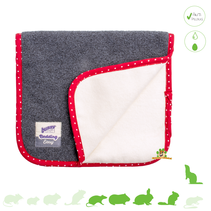 Voor 17 uur besteld dezelfde dag verzonden!

Achteraf betalen!

10 JAAR het BESTE voor knager & konijn!
Order Plasmats and fleece rugs easily and quickly at DRD Rodent Shop ®
Plasmats are ideal for Rats! Not only to collect urine, but the soft mats are also wonderfully soft on the paws and as we know Rats love soft bedding. The biggest advantage of plasmas is that they catch the urine droplets that Rats leave here and there to mark their territory.
What is a Pee Mat for Rats?
A pee pad often consists of a fleece part and a flannel. The fleece is not only soft on the paws, but also ensures that urine is absorbed and leaks through to the molton underneath, which then retains the urine. Once the mats are saturated, they can simply be washed out and used again.
What types of pee pads are there for Rats?
There are roughly three different plasmas:
Fleece with flannel
Fleece only
Natural pee (hemp)

The best absorption is achieved with the fleece + flannel combination and the hemp mat. The fleece blanket is best used when the animals are well house trained and do not pee much on the blanket anymore.