Organic Dwarf Hamster Food Senior 500 grams
Zaterdag verzending!

Altijd 14 dagen bedenktijd

Getest op geschiktheid

Ordered before 5 pm, shipped the same day!
Product description
Rodipet Senior Compound food for dwarf hamsters from 13 months
Mixture specially formulated for dwarf hamsters (Roborovski, Russian) from the age of 13 months. This age-adjusted food mix for young dwarf hamsters is based on the food as the animals eat it in the wild.
✔ Nutrition appropriate for the age
✔ With herbs and vegetables and high-quality, natural ingredients
✔ Corresponding to the hamster's natural diet
✔ From controlled organic cultivation DE-ÖKO-021
Over the course of life, the behavior and with it the nutritional needs of the dwarf hamster change. Young animals need a lot of protein, among other things, so that their bodies can develop healthily; young adult hamsters have a higher energy requirement as they move from their mother's nest to their own territory and from there look for a mate; and older animals need more fiber and vital substances to grow up healthy.
The basis of the Rodipet Dwarf Hamster food is a whole series of trips to central Asia, where the dwarf hamsters live in the wild. These observations have contributed to the creation of a diet that not only meets the nutritional needs of the dwarf hamsters, but is also true to nature and approaches the natural diet of the animals.
34 selected ingredients from certified organic cultivation
Each of the 34 components of our Organic Dwarf Hamster Food is selected based on the food available to wild Dwarf Hamsters in their natural habitat and is carefully controlled by us. Only ingredients that meet the highest quality standards are used in our feed mixes. This makes every bite a feast for the senses for your little gourmet. And to make sure no fertilizer or even pesticide residues spoil the little furry friend's appetite, we use 100% organic ingredients in this food.
Always fresh from our feed kitchen!
Vitamins and other micronutrients are broken down in long-term storage and especially through contact with air - that's why we keep our stocks small, mix our food fresh every day and fill it into airtight cans.
Why organic?
Convince yourself or your animal of the significantly more intense taste, the richer mineral and vitamin content and an impressive aroma! Your rodent will enjoy the difference with all its senses.
As an organic farm, we are subject to EC-ÖKO regulations. Closed business cycles are investigated according to the organic farming model, which dispenses with genetic manipulation, chemical crop protection and, especially important for small rodents, the renunciation of pesticides. The biological inspection body DE-ÖKO-021 regularly carries out annual biological inspections.
Including original measuring spoon
Our Rodipet® measuring spoon supports you during feeding, because its deep shape makes dosing the valuable food child's play.
Especially in the initial phase, when your pet is not yet used to your hand, the measuring spoon can be of particular use: Take a portion of our seductively scented food with the measuring spoon and keep it in front of the house of your new housemate. Soon he will approach you curiously and thus get to know you faster.
Composition Rodipet Organic Dwarf Hamster Food Junior
Buckwheat, platah millet, barley, cornflakes, oat flakes, rye, clover seeds, naked oats, hemp seeds, rapeseed, camelina seeds, quinoa, alfalfa seeds, carrots, amaranth, red clover seeds, parsnip, sunflower seeds, parsley leaves, sesame seeds, roasted birch leaves, roasted birch leaves, beetroot, blue poppy seeds, gold linseed, nettle seeds, hazelnut leaves, milk thistle, anise, black sesame, linseed brown (all ingredients from organic farming) DE-ÖKO-021
Analytical components: crude fiber: 8.3%, crude protein: 14.6%, crude fat: 8.9%, crude ash: 4.2% Naturally present elements per 100 g: calcium: 240 mg, phosphorus: 370 mg magnesium: 220 mg, potassium: 460 mg, sodium: 35 mg Naturally present trace elements: iron: 12.85 mg, manganese: 4.33 mg, zinc: 5.31 mg, copper: 0.11 mg
Specifications
| | |
| --- | --- |
| Content: | 500 grams |
| Composition: | Analytical components: crude fiber: 8.3%, crude protein: 14.6%, crude fat: 8.9%, crude ash: 4.2% Naturally contained elements per 100 g: calcium: 240 mg, phosphorus: 370 mg, magnesium: 220 mg, potassium: 460 mg, sodium: 35 mg Naturally contained trace ele |
| Analysis: | crude fiber: 8.3%, crude protein: 14.6%, crude fat: 8.9%, crude ash: 4.2% Naturally contained elements per 100 g: calcium: 240 mg, phosphorus: 370 mg, magnesium: 220 mg, potassium: 460 mg, sodium: 35 mg Naturally contained trace elements: iron: 12.85 mg, |
| Suitable for: | Rodents, dwarf hamster |
| Particularities: | - |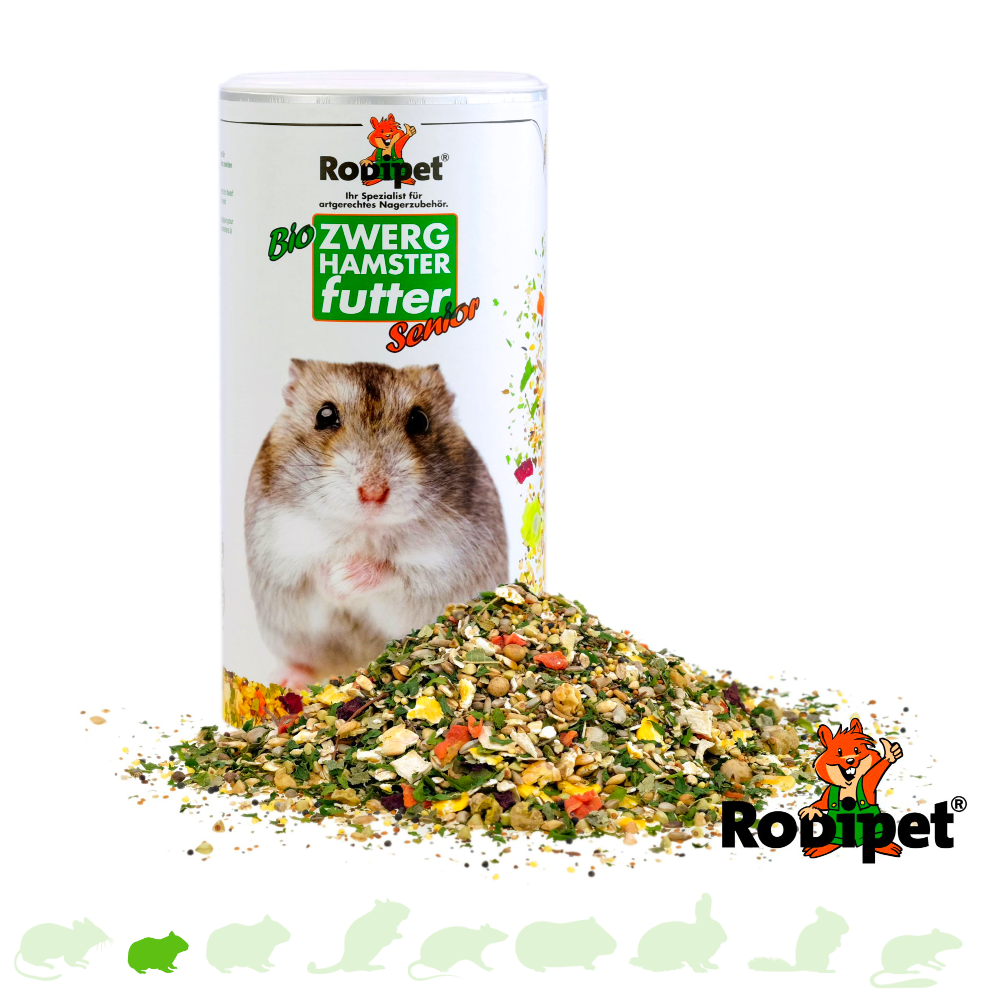 Reviews
No reviews found
Read or write a review