Naturals Kapok 2 pcs Yellow
Zaterdag verzending!

Altijd 14 dagen bedenktijd

Getest op geschiktheid

In stock soon!
Product description

Naturals Kapok nesting material for small rodents!
Kapok is a legume of the large Kapok tree, these trees can grow up to 70 meters high. The fruits of the tree are safely hidden in a hard shell and lie in a bed of very soft fibers. It is precisely these fibers that are very suitable as a nice soft and fine nesting material for small rodents.
But the kapok holds even more surprises for your rodent. In addition to the soft cotton-like content that can be used to make a delicious nest, it also contains tasty seeds that are delicious to eat.
✔ Pure Nature and sustainable
✔ Soft and warm nesting material
✔ Seeds are rich in vitamins and essential oils
The kapok fiber is a very soft, fine and especially fragile fiber. Due to its appearance, these fibers are often confused with hamster wadding, but that is completely unjustified. Both products may look alike in appearance, but in terms of texture, composition and material they are completely different products that do not have any properties in common.
Kapok keeps the nest dry
The kapok fiber is a water-repellent fiber that keeps moisture out of the nest. That way the nest is always nice and dry and the humidity will not be too high quickly. This is very pleasant on warm days.
Nice and warm during cold days
Kapok fiber is wonderfully warm. When it comes to nesting material, there is no other material that can match it when it comes to warmth. It is wonderfully insulated and maintains its temperature. The animals experience this as very pleasant. It's nice to know that small rodents regulate their nest temperature themselves. If it gets too hot, they remove nesting material from the nest in order to lower the temperature.
Instructions for use Kapok
Offer yourself to the animals
The skin of the kapok is quite hard and for that reason has to be opened for the animals. One kapok fruit contains a lot of nesting material. At first glance, this does not seem like the case when the kapok is opened. The fibers are pressed very compactly around the seeds. This makes it seem like little, but once the fibers are taken out and take on their volume, it is very much!
Let the animals do the work
It is also possible to offer half of the kapok in shell to the animals. They will be happy to work with it and eagerly remove the fibers from the kapok and then place it in their nest. In the meantime, the seeds are eaten and taken to the nest.
Eat the seeds in the kapok
The seeds contained in the kapok are safe for the animals to eat. These small seeds are contained in their own protective shell, which is opened by the animals in a professional manner so that the content can be swallowed. Small rodents are mainly seed eaters, which makes these seeds very popular.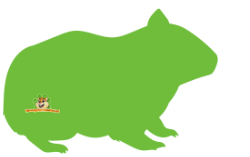 Kapok is really only suitable for small rodents that make nests such as Mice, Dwarf Hamsters, Hamsters and Gerbils. The seeds that can be found in kapok are also liked to be eaten by the animals. Kapok actually has no function for the larger rodents.
Specifications
| | |
| --- | --- |
| Content: | 2 pieces |
| Suitable for: | Rodents, Mouse, Dwarf Hamster, Hamster, Gerbil |
| Particularities: | - |
Paula Roza
08 January 2021
Hamsters zijn er gek op. Slepen al het katoen naar hun huisjes en eten de zaadjes op. Goede prijs en ideaal dat het per 2 gaat
Leuke activiteit voor de hamster. De zaden vindt hij erg lekker en het is zeer geschikt om nestjes van te maken.
Mariëlle
01 September 2020
Mijn hamsters vinden dit geweldig. Het is diervriendelijk en in de wintermaanden zijn zie hier lekker mee in de weer. Ook fijn dat er twee stuks in 1 verpakking zitten!
Super spul! De hamsters maken er graag gebruik van en is nog natuurlijk ook. Zeker aan te raden.
We hadden een aantal pakjes besteld. Het ene pakje was prima en daar heeft de hamster lekker mee gespeeld en zijn nest mee gevuld. Het andere pakje zaten twee verrotte vruchten in. Aan de buitenkant van de schillen zaten donkere gaatjes en de binnenkanten waren bruin-zwart.
Voor de gerbils bij mij thuis hoef ik geen begin te maken! En het spul wat erin zit is echt heel zacht . Wil je toch iets anders kopen vanwege de prijs? Koop GEEN hamsterwatten
Super katoen, dwerg hamsters zijn er helemaal gek op!
Mijn hamster vindt dit spul helemaal fantastisch!
Hamsters vinden dit helemaal te gek!
Onze goudhamsters vinden het geweldig om er een nest van te bouwen!
Lekker zacht nestmateriaal voor mijn hamsters.
Voldoet aan mijn verwachting al heb ik wel zelf het kapok er uitgehaald.
De verpakking is vrij hard en ruw
elsjedevisser
05 August 2018
Wat een geweldig mooi natuurlijk product. Ik had er in mn enthousiasme ook n aantal gekocht. Maar mn hamstertje was bij haar fokster en de dierenwinkel waar ik haar gekocht heb..gewend om n nestje te maken van versnipperd papier...dus ze raakt het niet aan. Maar als de winter er straks aankomt dan ga ik het nog ns proberen want het lijkt me heerlijk warm..te warm voor nu ..in deze bloedhete zomer..maar voor de winter lijkt t me heerlijk voor haar vooral omdat het swinters wel n beetje fris is op de kamer waar haar hok staat.
Mooi product. Hamster vindt het erg leuk! :)
sandra Haaring
29 November 2017
onze 2 dwerghamsters zijn er helemaal blij mee! ze slepen het mee om een lekker nestje mee te maken.
Manon H.
04 November 2017
Verrassend hoeveel er in zit. Mijn hamster sleept het de hele kooi door en heeft nu meerdere plekjes gemaakt waar ze lekker zacht kan liggen. Aanrader!