Silent Spinner Walking wheel 17 cm
Gratis verzending binnen Nederland vanaf €35,-
Gratis verzending naar België vanaf €45,-
Altijd 14 dagen bedenktijd
Veilig en achteraf betalen

Ordered before 4 pm, delivered tomorrow!
Information
Silent Spinner Walking wheel 17 cm
The Silent Spinner is a plastic wheel for small rodents. The walking wheel can be placed in the accommodation by means of the metal base. The Silent Spinner can also be attached to the bars thanks to the suspension system.
Pros Kaytee Silent Spinner Looprad 17 cm
✔ Made of plastic which makes it very easy to clean
✔ Can be placed both on the bars and on the bottom
✔ Closed running section with crossbars for good grip
✔ Thanks to ball bearings fairly smooth and quiet
Negatives Kaytee Silent Spinner Runrad 17 cm
━ When using the bars, the walkway can touch the bars
━ Plastic walkways can beep with time
Save
Save
Save
Save
Specifications
| | |
| --- | --- |
| Diameter: | - |
| Afmetingen: | - |
| Materiaal: | - |
| Geschikt voor: | Knaagdieren |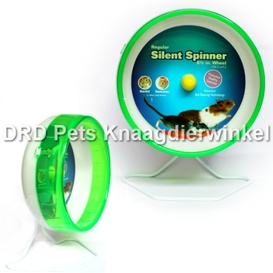 Het verschil zit uitsluitend in het feit dat er een kogellager wordt gebruikt ipv een glijlager. Met de juiste smering kan een glijlager ook gewoon stil zijn alleen gaat die smering minder lang mee. Het voordeel van dit looprad zit 'm dan ook niet zo zeer in het geluid want echt stil is ie nou ook weer niet. Wat bij mij wel heeft geholpen is om het lagertje de juiste lager olie te geven (in druppelen) want het vet dat er standaard in zit maakt meer lawaai. Qua grootte perfect voor ons dwerg hamstertje. We hebben ook de kleine variant van 12 cm geprobeerd maar die is echt te klein, hij kwam met z'n rug tegen de gele uitstende knop in het midden. Laatste puntje is wel dat beiden radjes draaien niet helemaal zuiver rond. Er zit een lichte slag in en dat staat erg slorig, het werkt wel gewoon maar kwalitetief is dit niet van het hoogste niveau. De 12cm moest ik zelfs met een plasic ringetje uitvullen want anders liep het rad aan tegen de gele as.
Ik heb 8 van deze Silent Spinners, momenteel zijn er 6 vd 8 in gebruik en allemaal lopen ze soepel en zijn ze muisstil.
Ze zijn ongeveer een jaar in gebruik en worden bijna elke week even proper gemaakt.
Al men hamsters zijn er dol op en het is voor sommige hun favoriete plekje om een dutje te doen of wat pitjes te snoepen.
Ook enorm makkelijk om proper te maken dus ik ben zeer tevreden!
slechte loopwiel , maakt veel geluid , En draait niet mijn dwergjes kunnen er niet in rennen, dit product is waardeloos en nog eens duur bespaar je geld en koop deze slechte loopwielen niet , er zijn veel betere zoals de loopwiel speedy van hout die is geluidloos . Ik las net op een hamsterforum dat deze silent spinners eerst eigenaar hadden die de loopwieltjes van stevige goede kwaliteit maakte en ook daadwerkelijk stil zijn , maar sinds er nieuwe eigenaar over heeft genomen is de kwaliteit slechter geworden en er zijn productie fouten gemaakt en ze maken geluid of ze draaien helemaal niet of soepel
Waardeloos, in het begin heel stil. Na minder dan een 4 maanden heel veel lawaai. Hij is wel makkelijk schoon te maken maar dat is ook het enigste positieve.
De Silent Spinner is mijn absolute favoriet als het om loopradjes gaat!
Juliet van Ree
01 April 2015
Ik heb 4 van deze loopwielen aangeschaft voor Campbelli dwerghamsters. Het zijn in mijn ogen de beste loopwielen omdat ze stil zijn en goed schoon te maken. Bovendien lopen ze lekker soepel en gaan ze lang mee. (Ik heb al eerder Silent Spinners gekocht en die gaan 5 jaar later nog mee!) Ook zijn ze veilig voor de hamster en dat is toch wel een vereiste. De 17 centimeter is ideaal voor dwerghamsters.
We hielden ons hart vast na wat filmpjes gezien te hebben op internet met hamstertjes die loopings maakten en werden gelanceerd in dit loopradje. Onze hamster die deed het in ieder geval uitstekend ...gelukkig maar.. Onze hamster heeft eerst een Karlie loopradje gehad, die ik wel stiller vind draaien als deze (en qua uiterlijk ook mooier). Maar hygiëne staat deze dan toch op nr. 1. Dit radje is zeer goed schoon te krijgen en is van zeer degelijk materiaal gemaakt. Een aanrader!
Dit vind ik zelf een erg fijn radje, die heb ik ook voor mijn rusje. ;)
Echt hele handige en leuke radjes, ze zijn echt stil en zijn goed schoon te houden.
Ik vind dat ze ook een heel mooi design hebben.
Echt een aanrader!!
geweldige radjes
niets dan goeie ervaringen hiermee

Heel stil en makkelijk schoon te houden.
Ben er heel tevreden mee
geweldige radjes
niets dan goeie ervaringen hiermee, mijn dwergjes zijn er dol op
en ze zijn ook makkelijk schoon te maken