Cotton N Cotton Cotton Ground Cover
Zaterdag besteld, maandag in huis!

Altijd 14 dagen bedenktijd
Veilig en achteraf betalen

Voor 16:00 uur besteld morgen in huis!

Customer service van

11:00

tot

16:00
Product description
Joris No Smell Cotton N Cotton
Joris No Smell Cotton N Cotton is a ground cover for all rodents such as: Mouse, Hamster, Gerbil, Rat, Guinea Pig, Rabbit and Degu. It is also excellent as a ground cover for birds!
See here the alternative to the N Cotton Cotton 140 Liter
Joris No Smell Cotton N Cotton is a 100% organic product, consisting of cotton seed fibers. It feels soft and the absorbent capacity ensures that moisture including odors are absorbed and retained in the cotton fibers. This way the loft stays dry and your room is free from odors.
Joris No Smell Cotton N Cotton meets the natural instincts of rodents, because it mimics the natural habitat. Its insulating effect ensures a warm and comfortable booth in which the animals can romp. For example, they love to dig tunnels and caves and to stretch out.
✔ It contains no dust particles - such as wood, hay and straw - and prevents breathing problems and skin irritations. No more problems with wet pens and bad odors
✔ It is ultra-absorbent: the loft remains clean and dry
✔ It feels soft while insulating properties ensure a warm and comfortable nest.
✔ Lasts much longer than other ground covers
✔ Dust-free: therefore also ideal for rats and ferrets
✔ 100% environmentally friendly: can therefore be used in the green box after use
✔ Promotes poverty reduction within the local West African population.
✔ It contains no artificial additives and prevents deforestation of our precious planet.
The color of Joris No Smell Cotton N Cotton has advantages!
"Vulnerable animals are always looking for shelter in their natural environment, they are constantly threatened. After all, an open area with an even, light background makes them prey for predators. Colors play an important role in this, protective colors give them a safe and secure feeling. Cotton N Cotton originally has natural and varied shades and offers ample shelter options. Rodents will feel safe as a result of which the welfare of the animals will increase "
Did you know about Joris No Smell Cotton N Cotton?
-When purchasing a suit of Cotton Comfort you support the SUNSHINE FOR AFRICA foundation?
The foundation promotes education for those who cannot read and write, is committed to creating as many jobs as possible and establishes food banks specifically aimed at the child.
Instructions for use Joris No Smell Cotton N Cotton
Spread a thick layer in the loft and lightly tamp it down to a layer of at least 5 cm. Depending on the rodent, change as soon as it starts to smell. A hamster change can sometimes last up to three months.

 

For animals, such as rabbits, who always have their needs in the same place, there is the following, more economical, way of maintaining their cage. Apply a slightly thicker layer in the corner where the animal usually does its needs. Remove only the dirty spot from the cage every week and leave the rest. Then, if necessary, replenish the cage with Cotton N Cotton. Changing the entire cage can be postponed for up to 4 weeks!

 

Keep the ground cover especially dry and cool.

Save Save

Keep

Keep

Keep
Specifications
| | |
| --- | --- |
| Materiaal: | - |
| Liter: | - |
| Gewicht: | - |
| Geschikt voor: | Knaagdieren |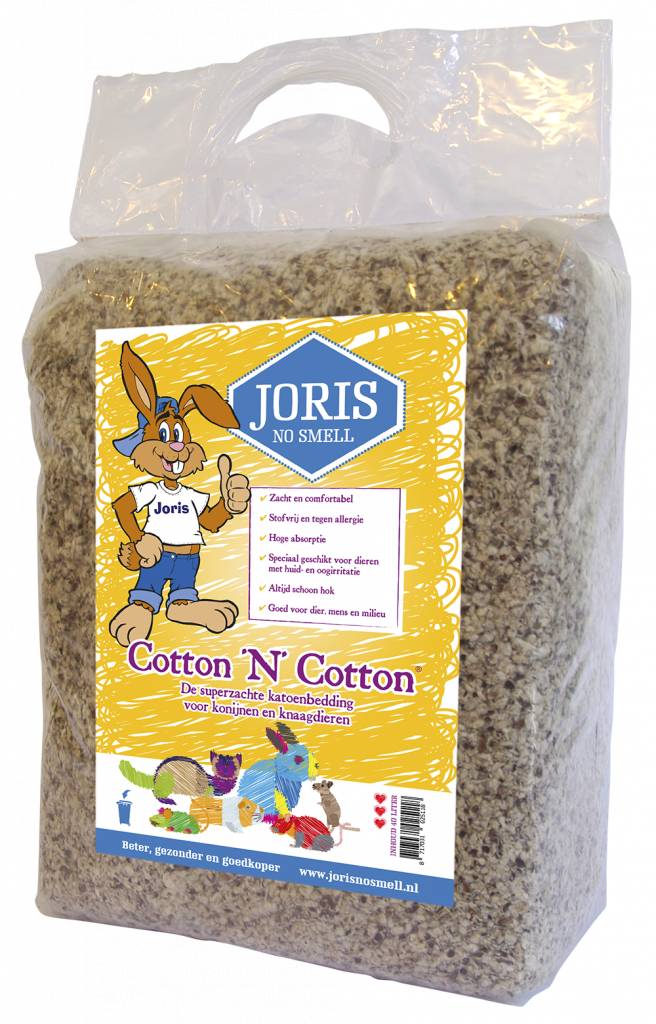 Super fijn mooi zacht.. ruikt niet stoft niet
Gaat lang mee
Ook erg fijn bij hamsterscaping.
Ik ben erg tevreden over deze bodem bedekking om de 14 dagen verschoon ik de kooi en je ruikt niks het is gewoon super
Angelique Stakenborg
30 August 2020
Super fijne bodumbedekking voor mijn goudhamster! Ze houd ervan om in te graven!
Hele goede bodembedekker. Mijn hanster kan er goed tunnels in maken en het ruikt niet.
Zacht als "hoogpolig" tapijt en heel goed absorberend.
Wat een bagger spul! Het wordt een plakkerige massa! Hamsters doen gelijk niets meer, niet graven. Hun vacht wordt raar. Zaagsel erin gedaan en ze komen weer tot leven.
Perfect. Geeft geen geur, en is stof vrij. Nee hamster vind het geweldig om er in te graven. En ziet er heel natuurlijk uit in zijn verblijf ⭐️ ⭐️ ⭐️ ⭐️ ⭐️
Wij gebruiken altijd Joris no smell Cotton N Cotton en ons Russisch dwerghamstertje vindt het heel fijn. Hij maakt er makkelijk tunnels in. Wij verschonen zijn kooi een keer in de maand zonder dat je overlast hebt vN de geur. Zeer tevreden met dit product.
Is lekker zacht voor de dieren ,en biologisch , en geen stof in huis of rommel veroorzaakt
Het is een goed product stof vrij en het ruikt ook niet zo erg als ander materiaal
Wij en Tijgertje vinden het de beste bodembedekker tot nu toe doordat het vocht opneemt, weinig stuift en je er gangetjes in kunt maken en lekker zacht en comfortabel aanvoelt als hoogpolig tapijt.
Goed spul, absorbeert goed en me hamster kan goed tunnels graven. Me favoriete bodembedekking!
Geweldige bodembedekking waar de hamster goed in kan graven en die niet gaat stinken
Perfect spul om als bodembedekking voor onze hamsters te gebruiken
Je ruikt de bodembedekking een beetje als je hem in het verblijf doet, en de absorbering is ook niet super (gemakkelijk op te lossen door gewoon een wc'tje met houtkorrels neer te zetten), bij de ene pak stoft hij meer dan bij de andere. Tunnels blijven echt super staan en het is totaal niet duur vergeleken met bv carefresh. Dit is ook mijn favourite bodembedekking en er gaan zeker 3 140L pakken per jaar door hier met mijn (kleinschalige) hamsteropvang. Super voor hamsterscaping
Onze hamster is dol op graven en dat kan ze hierin! Super!
Fijn en geurloos spul. Had alleen graag verpakking van 20 liter gehad. 40 liter is te groot om op te bergen.
geertruida
01 August 2019
Geen last.van geurtjes. Hamster kan er tunnels ingraven.
Voordeel het stinkt niet en het is stofvrij
En het is voordelig je hoef het pas na 3 weken te verschonen
Erg fijn spul ruikt niet.
Mooi spul om mijn hamster in rond te laten rennen. Ik gebruik het met andere vloerbedekkingen voor variatie, erg leuk en zacht!
Onze hamster voelt zich helemaal in zijn element met deze zachte en stevige bodembedekker. Hij is stofvrij en hypo-allergeen en dat merken we: geen jeukende loopneuzen hier. Fijne hoeveelheid; precies goed voor één keer verschonen (voor behoorlijk grote kooi).
Het is heel fijn materiaal voor mn ratje, hij maakt er een nestje in en hij stinkt nagenoeg niet.
nam te weinig vocht op en gaf vieze billetjes omdat het er aan bleef plakken
Ontzettend fijn als je hamsters hebt! Ik gebruik cotton comfort om het hennepvezel te versterken.
Tunnels en gangen en holletjes blijven zo beter/langer bestaan.
Ook in een tralie kooi valt het niet zo snel door de tralies heen. Het is zacht, warm en niet scherp voor de voetjes.
Bovendien is het ook niet gevaarlijk zoals hamsterwatten!
Dus heel dik tevreden mee.
Prima bodem bedekker. Eenvoudig dagelijks de bevuilde plekken verwijderen, dan is 1x per week verschonen zonder stank overlast prima te doen. Wij hebben twee tamme ratjes.
En die eten veel en poepen daardoor dus behoorlijk. Moet ik er wel bij zeggen dat ze meestal op de bovenste verdieping van de kooi plassen, (verdieping van plastic) Dus met een toilet papiertje de plasjes weg vegen is wel aan te raden.
Zachte bodembedekking, comfortabel voor haasachtigen en knaagdieren.
Wat voor mij een bijzonder pluspunt is: Het geeft nauwelijks stof. Geen ademhalingsklachten meer, wat wel het geval was bij zaagsel. Nadeel: Het is nogal prijzig. Anders had het product 5 sterren gekregen.
Rosan L.
01 February 2018
Fijn product , Stoft niet en je kunt er lang mee doen =)
Gekocht ivm het hypo allergene karakter van deze bodembedekker. Mijn dochter heeft astma en veel last van allergie. Zij heeft geen last en haar hamster is helemaal in zijn nopjes met dit spul. Helaas blijk ik (zonder eerder een aantoonbare allergie te hebben) er niet tegen te kunnen. Vooral bij en na het verschonen van de kooi krijg ik ademhalingsproblemen, niesbuien en jeukende handen. We stappen binnenkort dus weer over op een andere bodembedekker..
Michelle
01 December 2017
Super fijn spul!!! mijn hamster maakt altijd een holletje in deze bodembedekking! dat doet hij veel liever dan dat hij in zijn huisje met nestmateriaal gaat liggen! Vieze geurtjes worden heel goed opgenomen! Ik verschoon altijd de kooi na 5 of 6 weken omdat het er wat slordig uitziet, maar zelfs dan stinkt het nog niet!!
Wel 1 van mijn hamsters vond er niets aan lijkt wel. Hij vind Carefresh duidelijk veel leuker. Normaal ligt hij wel eens in de bodembedekking 'bloot' te slapen. Maar nu zat hij hoog en droog in zijn Sputnik.. Mijn andere hamster vond het super en had een prachtige tunnel gemaakt.
Géén geurhinder maar vind het qua uitzicht niet zo mooi ogen.
Ook kan ik zelf blijkbaar NIET tegen dit product. Ik had uren lang jeuk aan men handen en armen van het in de kooien te doen echt vreselijk.
Superfijn als bodembedekking en voor nestjes te maken
Super goede bodembedekking, stoft niet en gaat keilang mee :p Heb de zak al van begin mei en zit nog niet in de helft :D
Cotton comfort is echt een super goede bodembedekking! Ik ben er ontzettend blij mee, mijn hamstertjes zitten in een schoon en zacht verblijf
inderdaad,de allerbeste bodembedekker!D-e hamsters slapen er graag in,woelen,grave-n.En je hoeft het maar na 1 maand te verschonen,geen geurtjes meer
Mijn dochter is allergisch voor stof, dus we zochten iets wat niet stoft. Cotton comfort werd ons aangeraden en dat hebben we dan ook geprobeerd. Het stoft inderdaad niet en mijn dochter heeft nergens last van.
Supergoed product!!
Voor-heen gebruikte ik beukensnippers voor de hamsters.
Na enkele dagen stinkende urinegeur!
Met Cotton Comfort reeds 3 weken zonder 1 geurtje.
De bodembedekking is echt GEWELDIG. Ik denk niet dat ik ooit een andere ga proberen. Het is lekker zacht maar toch stevig voor Hamsie en vaak schikt hiij het ook zelf met zn pootjes. Het blijft heel lang goed. Ik ververs het om de 3 weken.

ENORM BEDANKT
Dit is echt een super bodembedekking!-!!:)
Ik ben zelf allergisch aan stof maar hier heb ik absoluut geen last van, het is wel wat duurder maar als je zaagsel neemt dan moet je de kooien om de week verversen terwijl bij cotton comfort kan het 2 weken blijven liggen.

Echt een aanrader, als je het uitrekent met een andere bodembedekker bespaar je zelfs geld.
Echt helemaal geweldig! Heel erg zacht maar toch stevig Mijn hamster vind het ook heel leuk om zelf het te schikken. Ik verschoon het om de 3 weken zonder moeite. Ik denk niet dat ik ooit wat anders zal proberen
Onz gezin heeft nogal last van astma waardoor niet elke bodembedekking geschikt is. Cotton Comfort is echter heel prettig voor ons in gebruik. Nadat wij dit pak een aantal keer hebben besteld zijn we met heel veel plezier overgegaan op de grootverpakking-.
Zeer tevreden over deze bodembedekking.
Je hoeft het verblijf bijna 3 weken niet te verschonen.
Het ruikt ook niet en we hebben geen last meer van urine luchtjes.