Cotton N Cotton 140 Liter
Gratis verzending binnen Nederland vanaf €35,-
Gratis verzending naar België vanaf €45,-
Altijd 14 dagen bedenktijd
Veilig en achteraf betalen

Voor 16:00 uur besteld morgen in huis!
Information
Joris No Smell Cotton N Cotton for rodents
Joris No Smell Cotton N Cotton is a ground cover for Rabbit, Hamster, Guinea Pig, Rat, Mouse, Ferret and other rodents. It is also very suitable as ground cover for birds.
Joris No Smell Cotton N Cotton is a 100% organic product, consisting of cottonseed fibers. It feels soft and the absorbent power ensures that moisture including odors is absorbed and retained in the cotton fibers. This way the loft stays dry and your room free from bad smells.
Joris No Smell Cotton N Cotton meets the natural instincts of rodents, because the natural environment is imitated. Its insulating effect provides a warm and comfortable cubicle in which the animals can romp. For example, they like to dig tunnels and holes and nestle out.
It contains no dust particles - such as wood, hay and straw - and prevents respiratory problems and skin irritations. No more problems with wet pens and bad odors
It is ultra-absorbent: the loft remains clean and dry, which significantly reduces the chance of illness.
It feels soft while insulating properties ensure a warm and comfortable litter.
It works preventively against dust lungs and prevents premature rodent death.
It lasts much longer than other ground cover plants
Loft / cage stays clean and dry longer
Dust-free: therefore also ideal for rats and ferrets
100% environmentally friendly: so after use in the green box
Promotes poverty reduction within the local West African population.
It can be used as a compost in the garden or in the green box after use.
It contains no artificial additives and prevents deforestation of our precious planet.

The color of Joris No Smell Cotton N Cotton has advantages!
"Vulnerable animals always look for opportunities for shelter in their natural environment, they are constantly under threat. After all, an open terrain with a uniform, light background makes them quickly prey for predators. Colors play an important role in this, they give protective colors a safe and comfortable feeling. Cotton N Cotton has originally natural and varied shades and offers ample opportunities for shelter. Rodents will feel safe as a result of which the welfare of the animals will increase "
Did you know about Joris No Smell Cotton N Cotton?
-You support the foundation SUNSHINE FOR AFRICA when you purchase a suit of Cotton Comfort?
The foundation promotes training for those who can not read and write, is engaged in creating as many jobs as possible and focuses food banks on the child.
Instructions for use Joris No Smell Cotton N Cotton
Spread a thick layer in the loft and stamp the light to a layer of at least 5 cm. Depending on the rodent change as soon as it starts to smell. A change of a hamster can sometimes last up to three months.

For animals, such as rabbits, who always do their job in the same place, the next, more economical, way of maintaining their cage exists. Apply a thicker layer in the corner where the animal usually needs. Remove the dirty spot from the cage weekly and leave the rest. Then fill the cage with Cotton N Cotton as necessary. Refreshing the entire cage can be postponed up to 4 weeks!

 

Keep the ground cover especially dry and cool.
Size

residence

Required soil

low 5 cm


50 x 30 x 30
7.5 liters
60 x 30 x 30
9 liters
80 x 40 x 40
16 liters
100 x 50 x 50
25 liters
Save Save
Save
Save
Specifications
| | |
| --- | --- |
| Materiaal: | - |
| Liter: | - |
| Gewicht: | - |
| Geschikt voor: | Knaagdieren |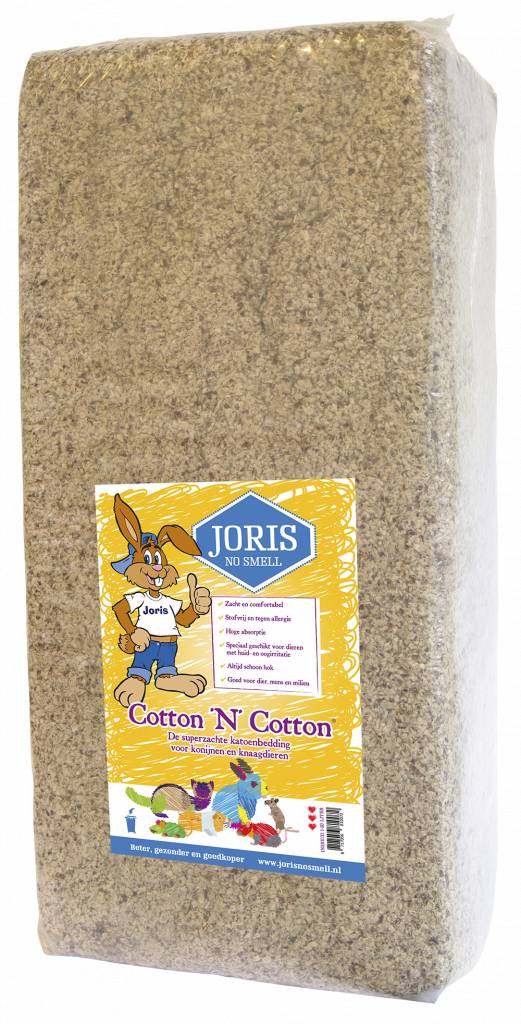 Mirte Van de Riet
12 February 2019
Erg fijn voor hamsters om tunnelstelsel in te graven. Wel vind ik het persoonlijk minder prettig ruiken als bijvoorbeeld Carefresh, maar dit is absoluut een goedkoper en prima alternatief!
Absorbeert goed, maar je blijft de cavia's helaas wel ruiken
Suler fijn spul vooral met een groot hok
helaas niet tevreden met cotton comfort.
het ruikt behoorlijk poeplucht dagelijks nieuw cotton in de kooi s avonds ruikt het weer de cavia s vinden het ook niks helaas.

m.v.g jo mevis
Geeft minder stof, dan zaagsel. Helaas vind ik 140 L lastig te hanteren en daarom ga ik voor de verpakking van 40 Liter.
Onze hamster kan er goed in graven en wij hebben geen last van allergieën: ideaal dus!
Heerlijk warm materiaal voor de wintermaanden. Voor nu tijdens deze extreem warme zomermaanden vind ik het persoonlijk iets te warm.
Geweldig spul om tunnels in te graven en het absorbeert ook goed de luchtjes. Veel hamsters schijnen de zaadjes in de katoen ook nog heel lekker te vinden dus dubbel plezier er van.
Goede vulling, makkelijk voor mijn hamster om te graven; ze nest er ook in. Geen stof of irritaties.
Makkelijk te bestellen , lekker zacht, neemt goed vocht op. Wekelijks verschonen van mijn 2 cavia's blijft nodig vanwege geur . Dan ga ik er wel snel doorheen, dus best kostbaar.
Absorbeert niet heel goed, maar het houdt de geurtjes goed tegen.
Op de foto leek het veel groter maar in het echt is het wel een beetje kleiner dan dat het eruit zag.
gaat lang mee en stinkt niet
Geweldig spul kooi stinkt niet scheelt veel werk
Mijn hamsters en Steppelemmingen vinden deze bodembedekking erg prettig :)
christa h.
02 February 2018
fantastisch spul. het is wat duurder maar je doet er langer mee. neemt zeer goed urine op. is makkelijk eruit halen bij vervuiling. gaat niet in de haren van de langharige konijnen zitten. top product.
Prima spul! Cavia's vinden het heerlijk. 1 x per week verschonen is voldoende om nare geurtjes buitenshuis te houden.
Eline van Bergen
10 September 2015
Ik ben erg tevreden over deze bodembedekker. Het is heerlijk zacht, absorbeert het vocht prima en stinkt niet. Omdat mijn cavia pododermatitis heeft en niet meer op zaagsel mocht lopen, moest ik op zoek naar een andere oplossing. Het was even wennen omdat het een hele andere structuur heeft en het niet zo makkelijk uit elkaar valt is als zaagsel (en het dus wat moeilijker te verdelen is over het hok) en het een andere kleur heeft, maar dat went snel. Het is natuurlijk duurder, maar het heeft vele voordelen. Zo heb ik geen last meer van mijn stofallergie en mijn cavia's niezen ook minder. Twee á driemaal per week verschoon ik hun vaste plas- en poepplekjes en de rest kan makkelijk 1 á 2 weken mee. Het is fijn dat hier een grootverpakking verkocht wordt, dat scheelt toch weer wat in de kosten.
Wietske Andringa
15 June 2015
Fijne bodembedekker voor hamsters. Vooral erg leuk voor ze, omdat ze er makkelijk holletjes en gangenstelsels in en van kunnen maken. Helaas toch een heel klein beetje stoffig als je cotton comfort vanuit de verpakking in de onderbak van de kooi doet. Verder heeft het een lichte, aanwezige geur, ik vind deze zelf niet storen. En gaat tevens ook lang mee betreft hygiëne, het absorbeert prima en hoef daardoor minder vaak schoon te maken, mits ik zo nu en dan wel op de gebruikelijke poep- en plasplekjes schoonmaak.