Running wheel 30 cm FPI 4607
Zaterdag besteld, maandag in huis!

Altijd 14 dagen bedenktijd
Veilig en achteraf betalen

In stock soon!
Product description
Ferplast Running wheel 30 cm FPI 4607 for small rodents!
Great running fun for small rodents!
Hamsters love to run, but there is a lot of difference in hamsters. For example, the Golden Hamsters need a larger running wheel than the Dwarf Hamsters. Fortunately, more and more manufacturers are beginning to realize this and more and more running wheels are being made. Similarly, this beautiful running wheel from Ferplast! The Ferplast Running wheel FPI 4607 is a very large running wheel for hamsters. The running wheel has a diameter of 30 cm and stands on a sturdy stand. Made of hard and durable plastic.
Pros Ferplast Running wheel 30 cm FPI 4607
✔ Made of plastic which makes it very easy to clean
✔ Can be placed on the bars as well as on the bottom (with holder and screw)
✔ Closed walking area with cross bars for good grip
Cons Ferplast Running wheel 30 cm FPI 4607
━ No ball bearing
The running wheel may be too heavy for some animals
Loop The running wheel is not balanced.

Save Save
Specifications
| | |
| --- | --- |
| Diameter: | - |
| Afmetingen: | - |
| Materiaal: | - |
| Geschikt voor: | Knaagdieren |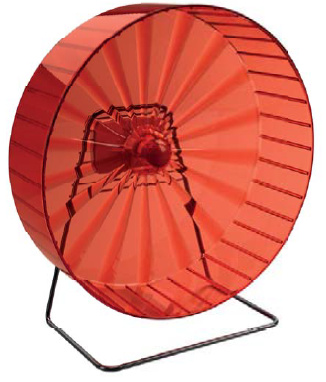 Het rad staat lekker stevig en mijn hamster kan er hard in rennen zonder dat hij neigt tot omvallen. Wel maakt hij écht heel erg veel lawaai. Niet overdreven, het komt boven de tv twee kamers verder uit.
Mooie, grote loopmolen gekocht voor Tummy... ons witbuikegeltje. Ze loop er aardig wat meters in. De molen is niet geruisloos, maar aangezien ze niet op de slaapkamer staat, vinden wij dat geen probleem. Makkelijk schoon te maken (egels multitasken altijd... ze lopen, plassen en poepen tegelijk). Ideale molen. (1 ster minder gegeven voor het geluid wat de loopmolen maakt. Verder: snelle levering! Ik ben zeer tevreden.
Top wiel! Mijn Syr is heel blij met zijn nieuwe wiel, enige waar ik tegenaan liep is dat ik het lastig vond om het te bevestigen aan de tralies..
De prijs, de verzending, prima. De rad opzich vind ik iets de ondiep, het loop gedeelte is een beetje smal, of mijn ratten zijn de groot. Lol.
Shirley
01 September 2019
Degelijk loop rad voor een mooie prijs, piept en rammelt ook niet. De ratjes zijn er erg blij mee
Doet goed zijn werk, piept niet en goed prijs.
Groot looprad voor mijn flinke Syrische hamster, hij vindt hem geweldig.
Na maanden in de opvang in een wat beperkte ruimte gaat hij nu helemaal los.
Ik ben er ontzettend blij mee!
De hamster loopt er graag in en mooi transparant en makkelijk schoon te maken
Mooi groot looprad die graag gebruikt wordt, maar het is niet bepaald stil.
kimberley
01 December 2018
Snel binnen en super kwaliteit

Me egeltje is er heel blij mee en rent weer vrolijk in het rond
Het looprad paste precies, ik had nog 3 cm over. En de egel heeft hem meteen in gebruik genomen.
Mooi stevig en makkelijk te bevestigen en schoon te maken .alleen mijn ratjes gaan er nog niet in beetje dom
Lucien B.
01 January 2018
Prima product. Op tijd geleverd.
Mooi radje, was helaas een hele tijd niet op voorraad maar meteen besteld toen ik zag dat hij er weer was. Het radje is niet exact 30 cm doorsnede maar staat stevig en is redelijk stil. +/- 9 cm breed loopvlak. Ik ben er tevreden mee.