Drinky 150 ml Drinking Bottle Mini Duna with suction cup
Zaterdag verzending!

Altijd 14 dagen bedenktijd
Veilig en achteraf betalen

Ordered before 4 pm, delivered tomorrow!
Product description
Drinky 150 ml Drinking Bottle Mini Duna with suction cup
The Ferplast drinking bottle has been specially developed for the Mini Duna Hamster + Decor cage. The Drinky 150 comes with a holder and suction cups to fix the bottle in the Ferplast Mini Duna. If the drinking bottles are used other than intended and placed in an aquarium or terrarium, they may slip out of the holder.
The Ferplast Drinky 150 ml drinking bottle with suction cup is suitable for
✔ Ferplast Duna Multy
✔ Ferplast Mini Duna Hamster
✔ Ferplast Mini Duna Multy
✔ Ferplast Combi 1
✔ Ferplast Combi 2
The Ferplast Drinky 150 ml drinking bottle with suction cup is not suitable for
x Hang it loose in a terrarium / aquarium
A drinking bottle gives animals dosed water. The animals have to press against the ball to get water. Each drinking bottle provides water in a different way. One drinking bottle gives water very easily so that it can drip / leak and the other drinking bottle gives water less quickly. These product properties differ per drinking bottle.
Social rodents that live in a group can best have several drinking bottles, so that enough water is available for all animals. Dominant animals can claim a drinking bottle that prevents other animals from drinking.
In addition to a drinking bottle, young animals should also be given a water bowl, so that they always have water until they are used to drinking from a drinking bottle.
With every change of drinking bottle it is recommended to also put a water bowl for the animals until they are used to the new drinking bottle. If the animals are used to a drinking bottle that water easily, they may have trouble with a drinking bottle that water less easily.
If the animals don't want to or can't drink from the water bottle, try another one that suits the animals. Every rodent is different and has its own preferences.
Always fill the drinking bottle until it is full and tap the spout to make sure that no air bubble is left behind. If an air bubble remains in the spout, no water will come out of the drinking bottle. Then hang the drinking bottle straight up and tap the water ball with your finger until the bottle gives water and your finger is wet. Now you can be sure that the bottle is watering and the animals can drink.
Specifications
| | |
| --- | --- |
| Inhoud: | - |
| Geschikt voor: | - |
| Particularities: | - |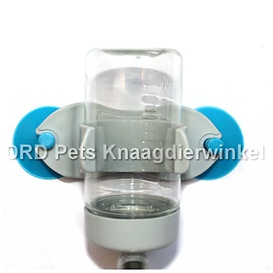 Goede fles en ook handig dat ze klemen erbij gedaan hebben om de kooi beter af te sluiten bij mij lekt die fles niet en laat ook niet los dus ik ben tevreden
wij zijn hier heel blij mee. Goedkoop en ook nog is top kwaliteit.
Janine Heerema
01 October 2019
Prima waterflesje.
Hij lekte eerst maar toen ik tape om de rand van het dekseltje had gedaan (zodat de deksel meer klemt/afsluit) was dat opgelost.
Ophang systeem is fijn voor een aquarium kooi maar het flesje werkt erg slecht. Komt regelmatig geen water uit. Deze heb ik dan ook vervangen
Prima flesje en houder. De zuignapjes laten wel eens los, maar als je ze schoonmaakt is het probleem verholpen. De fles blijft het beste zitten als bij de onderkant(de grijze dop) in de klem wordt gezet.
Kelly B.
01 February 2018
Flesje blijft niet goed hangen in de klem. Verder wel goed.