Hay is an essential diet for degus. Hay must be available in unlimited quantities for healthy digestion and healthy teeth. The hay is best offered in a hay rack. This way the hay stays neatly together, the stay stays ne
Read more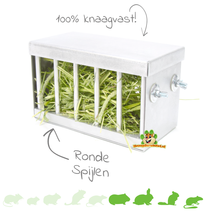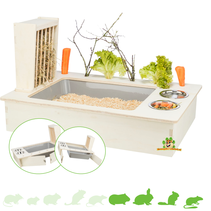 Voor 17 uur besteld dezelfde dag verzonden!

Achteraf betalen!

10 JAAR het BESTE voor knager & konijn!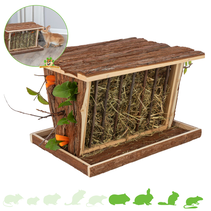 Hay is an essential diet for degus. Hay must be available in unlimited quantities for good digestion and healthy teeth. The hay is best offered in a hay rack. This way the hay stays neatly together, the accommodation stays tidy and the hay also stays clean.
There are many different types of hay racks, each of which can be used in its own way. One rack can be hung and the other can be put down. To give the animals more challenge and variety, several hay racks can be placed in the enclosure. Wooden hay racks have a beautiful natural look. Unfortunately, wood is not gnaw resistant and degus can easily gnaw a wooden hay rack. A more sustainable solution is a gnaw-resistant hay rack made of, for example, aluminum or metal.