Gratis verzending binnen Nederland vanaf €35,-
Gratis verzending naar België vanaf €45,-
Altijd 14 dagen bedenktijd
Veilig en achteraf betalen

Op werkdagen voor 16 uur besteld, zelfde dag verzonden!
Information
The Carefresh Baby Blue Pack is reminiscent of biscuits with white and blue mice. It is a nice combination of two different Carefresh colors. The package consists of 10 liters of Carefresh Ultra and 10 liters of Carefresh Blue. This cozy combination is not only beautiful to see, but also absorbs very well!
Mix carefresh together
The two colors can be mixed together. In this way creates a great cozy look reminiscent of the well-known biscuit with blue / white mice. The two colors contrast beautifully and give the stay a playful boys atmosphere.
Carefresh next to each other
The two ground cover plants can also be used very well next to each other. In this way the residence gets two different worlds where the boundary is clearly defined by the color difference.
Carefresh on each other
The Carefresh can also be used in layers. In that case the colors are stacked over the entire bottom. This way the stay will get a completely different look!
Have fun combining!
BOTTOM LAY OVERVIEW
Because it is sometimes difficult to determine how much soil cover is needed for a certain stay, we have made an overview for the most common stays and sorted according to the height of the soil layer. A thicker layer is recommended for excavable ground cover. A lower soil layer is recommended for non-digible ground cover plants.
* Most ground cover plants are compressed and therefore the volume is increased by disassembling and shaking the ground cover.
Specifications
| | |
| --- | --- |
| Materiaal: | - |
| Liter: | - |
| Gewicht: | - |
| Geschikt voor: | Knaagdieren |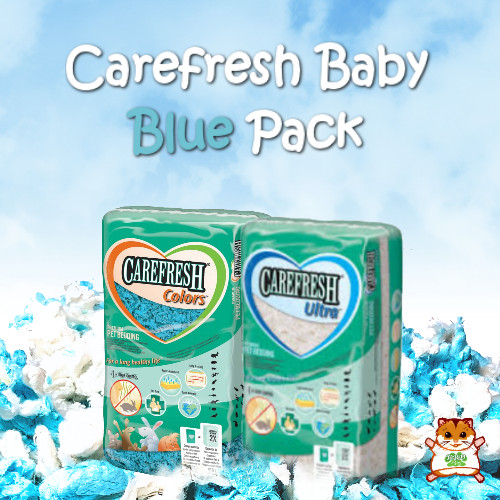 Fijn materiaal leuk voor bij nestjes hamsters als je ze gaat scheiden op mannen/vrouwen de mannen krijgen dan blauw carefresh als bodembedekking
silvia v.
08 November 2017
heerlijk spul, stoft niet, dieren vinden het heerlijk om erin te graven en de kleine hamsters lopen met stukjes in hun bekkie naar hun huisje om er een nestje van te maken, leuk ook gecombineerd wit met blauw staat heel lief