Gratis verzending binnen Nederland vanaf €35,-
Gratis verzending naar België vanaf €45,-
Altijd 14 dagen bedenktijd
Veilig en achteraf betalen

Leverbaar vanaf april
Information
Blue 50 liters for rodents!

Carefresh Blue 50 Liter is a colorful and trendy ground cover in a blue color. Carefresh Blue is made from cellulose fibers from organic cultivation. Carefresh Blue absorbs 2.5 times more than usual ground cover plants. In addition, Carefresh Blue is dust-free and therefore healthy for the respiratory tract. With this special ground cover from Carefresh you bring color into the life of your rodent! Carefresh Blue has a cheerful blue colored appearance in addition to its high functionality. This way the stay of your rodent quickly becomes a colorful blue eye-catcher!
The cellulose fibers in Carefresh Blue are very soft and give your rodent an extremely warm feeling in its stay and nest. A colorful blue background can also positively influence the mood. The dyes used in Carefresh Blue are all approved for the EU and are absolutely safe for health.
The Carefresh Blue ground covering convinces with its practical properties the entire range. For example, cellulose fibers absorb 2.5 times better than conventional soil coverings. Carefresh Blue is also 99% dust-free, which is very positive for the airways of your rodent. Carefresh Blue has a special odor control, which regulates odors for up to five days (large rodents). Thus no unpleasant odors spread through the house.
The cellulose fibers are biodegradable and therefore environmentally friendly. In this way not only your pet is fully cared for, but also good for nature.
Benefits of Carefresh Blue are:
Superior odor control
Can absorb up to three times its own weight of moisture
It lasts more than twice as long as wood shavings
Is safe for humans and animals, without aromatic oils and toxic or harmful substances
Offers Small animals natural comfort
Environmentally friendly and can be thrown away with green waste


Instructions for use Carefresh Blue
Fill the stay until the bottom is completely covered with Carefresh Blue. The layer should be at least 5 cm so that the ground cover covers the bottom of the stay well and can absorb it well. Below is a table in which we have indicated how many liters you need for each change in time.
BOTTOM LAY OVERVIEW
Because it is sometimes difficult to determine how much soil cover is needed for a certain stay, we have made an overview for the most common stays and sorted according to the height of the soil layer. A thicker layer is recommended for excavable ground cover. A lower soil layer is recommended for non-digible ground cover plants.
* Most ground cover plants are compressed and therefore the volume is increased by disassembling and shaking the ground cover.
Save Save Save
Specifications
| | |
| --- | --- |
| Materiaal: | - |
| Liter: | - |
| Gewicht: | - |
| Geschikt voor: | Knaagdieren |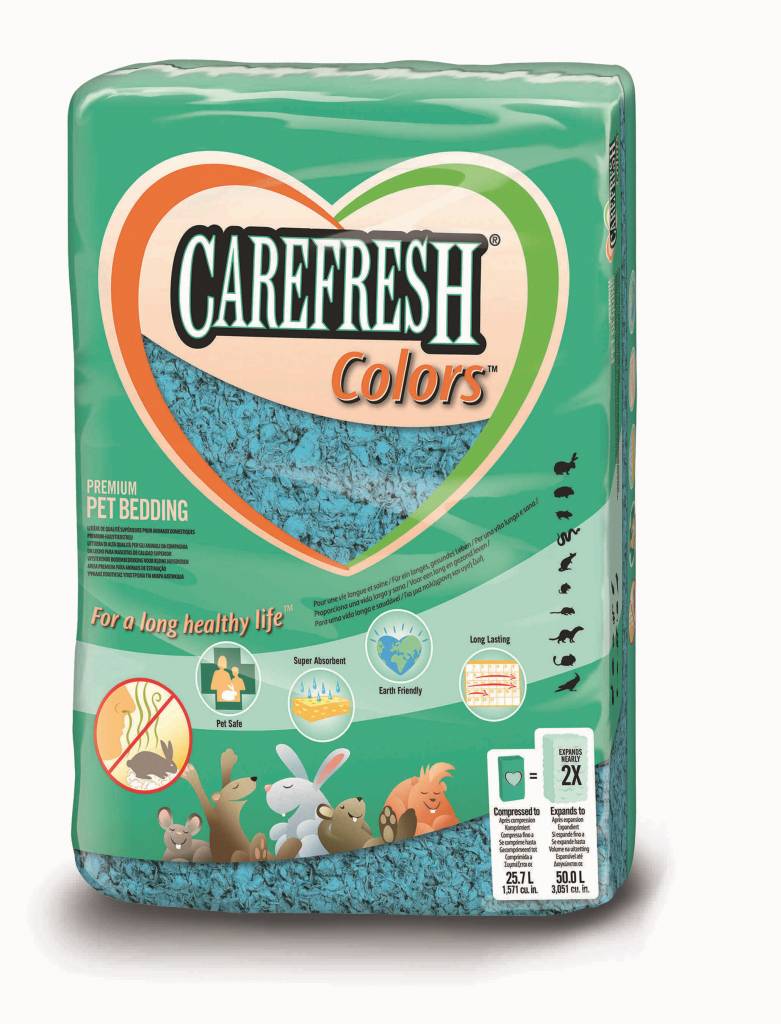 Geweldige bodembedekker..absorbeert goed de geurtjes en je hamster kan er heerlijk in rommelen. De kleur blauw vind ik vooral leuk om watertjes mee te maken in mn hamsterhok. De kleur blauw die je krijgt is niet constant. Het kan variëren van heel licht blauw tot fel blauw..maar ik vind dat juist wel leuk..dan kun je het met elkaar mengen als je nog n restje over hebt van het vorige pak en krijg je weer n heel ander effect.
Weinig stof
leuke kleuren
absorbeert goed
Mooie afwerking voor bodembedekking. Goede graafbodem. Zacht en stevig tegelijkertijd.
Heerlijk spul. Lekker zacht voor de hamster om in te graven.
Erg fijn, stinkt niet en hamster graaft en graag in!
Michelle R.
01 February 2018
Heel fijn om een groot pak te hebben ipv allemaal kleintjes. Super fijn voor een dikke laag, mijn hamster graaft er graag in,